Story Progress
Back to home
Sabut Arbi Recipe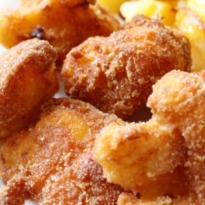 colocasia or arbi fried crisp in distinct flavours.

Ingredients of Sabut Arbi
500 gm colocasia
2 tsp ajwain
2 tsp mango powder
salt to taste
1/2 tsp chilli powder
1/4 tsp black pepper powder
2 tbsp chopped
coriander leaves to garnish
a few lemon wedges
oil for deep-frying
1.
Wash the colacasia and boil till almost tender.
2.
Peel the skin off when cool enough to handle, and press between palms to flatten.
3.
Heat the oil and put in as many pieces as will fit without touching each other, and fry over high heat till golden brown and crisp.
4.
When all the pieces are fried, heat a heavy-based pan over high flame and add the ajwain; stir for a few seconds.
5.
When they begin to pop, add the fried colacasia, mango powder, salt, chilli powder and black pepper.
6.
Stir well. Serve hot, garnished with chopped coriander leaves and lemon wedges.