Story Progress
Back to home
Saffron Cardamom Panacotta Recipe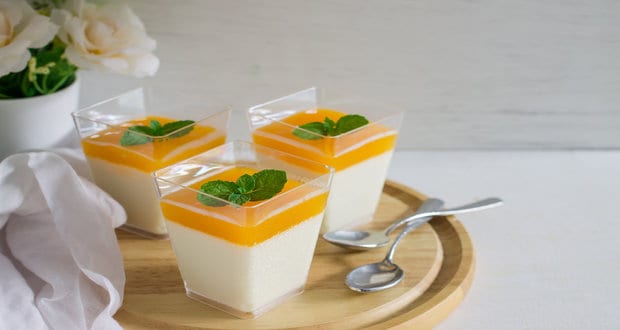 How to make Saffron Cardamom Panacotta
Panna cotta is an Italian dessert which translates to Cooked Cream. The dessert is usually prepared using heavy cream sweetened with sugar and thickened with gelatin. The cream is commonly flavored with vanilla, coffee, and rum. They can be flavored according to one's desire – with fruit sauces and nuts. An Italian dessert with Indian flavors – Sounds incredible! The spices enhances the rich flavors of the milk, cream and cinnamon pulls the whole thing together with a heady top note of flavor and perfume. An amazing fusion dessert with melt in the mouth texture and mildly sweetened with a subtle enticing aroma of cardamom. Make it your next dessert this festive season and see your guests asking for more!
Total Cook Time

2 hrs 35 mins

Ingredients of Saffron Cardamom Panacotta
450 Ml Fresh Cream
450 ml Milk
50 gram Sugar
12 gram Gelatin Sheets
6 sticks Saffron
5 sticks Cardamom
1.
Combine the milk and the cardamom sticks in a pan and bring to simmer.
2.
As soon you see bubbles to form on the top, turn off the heat.
3.
Cover the pan and let the cardamom infuse in milk for 10-15 minutes.
4.
Bloom the gelatin leaves in ice cold water for 10 minutes
5.
Strain the Cardamom infused milk.
6.
Combine milk, sugar and saffron in a pan and bring to boil.
7.
As soon as it boils, turn off the heat and dissolve the gelatin(strain the water).
8.
Pour the cold cream in a bowl and gradually combine the warm mixture into the cream.
9.
Pour it into desired glasses and let it cool in the refrigerator for at least 2 hours.
10.
Serve with garnishing of almond slivers, crushed pistachios and silver leaf.
Recipe Notes
Incase you are using gelatin powder, bloom the desired amount of gelatin into 4 times water.