Story Progress
Back to home
Salt Crusted Baked Snapper Recipe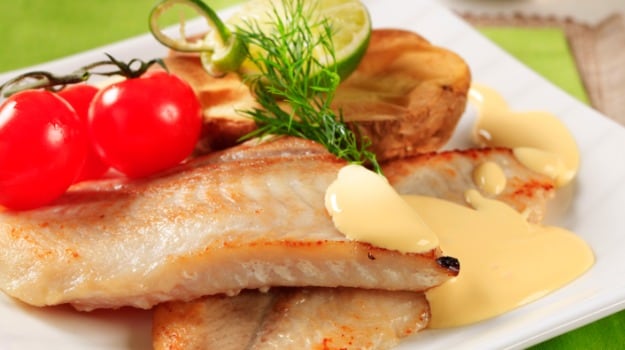 How to make Salt Crusted Baked Snapper
Whole fish marinated in spices and baked with a salt crust.

Ingredients of Salt Crusted Baked Snapper
For the Fish:
1 Tbsp oil
1 medium size red snapper (whole, gutted)
1 stalk lemon grass
3 - 4 lime leaves
1 knob ginger
4 tsp lemon juice
A small bunch coriander stems
2 tsp fish sauce
1 cup water
1 kg salt
For the Sauce:
150 gm jaggery
30 ml fish sauce
1 stalk lemon grass
2 lime leaves
2 tsp coriander leaves (chopped)
3/4 cup water
2 small red chillies
For Garnish:
1 carrots (fine julienne)
1 bell pepper (julienne )
1/2 green mango (julienne)
1 medium size daikon radish
2 tsp peanut oil
1 clove garlic/ginger
Salt & pepper (to taste)
1 cucumber
For the Fish:
1.
Wash, gut and pat dry the whole fish. Stuff the cavity of the fish with all the ingredients except the fish sauce and lemon juice.
2.
Whisk the lemon juice and fish sauce together, add the oil to it and pour the dressing over the fish.
3.
Coat the fish with a kilo of salt and bake for 30 minutes in a moderate oven.
For the Sauce:
1.
In a pot, combine all the ingredients, simmer till thick. Add the chopped fresh coriander leaves.
To Garnish:
1.
Heat the oil and very quickly stir fry the vegetables. Serve on top of the fish.