Story Progress
Back to home
Samandari Khazana Recipe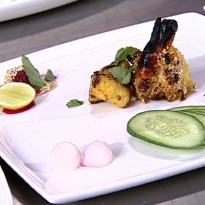 Prawns and fish are marinated in a host of spices, cream and flours, cooked perfect on charcoal.

Ingredients of Samandari Khazana
10 jumbo prawns (medium, without shell but with tail on)
300 gm hammour or grouper fish (option: 1 fillet of bekti, for 10 small cubes)
Salt to taste
2 tbsp ginger garlic paste
1 tsp carom seeds (ajwain), crushed
1 tbsp garam masala powder
1 tbsp black pepper, crushed
One and a half tbsp red chilli powder
1 tbsp green cardamom powder
1 tsp yellow food colouring
2 cups fresh cream
1 tbsp refined flour (maida)
1 tbsp gram flour (besan)
200 gm sesame seeds
For Sauce:
100 gm garlic, chopped
50 gm honey
1 tsp sesame seeds
Red chilli powder to taste
Salt to taste
Juice of 4 lemons
1.
Wash prawn and fish and marinate with salt and ginger garlic paste.
2.
Put all the spices and food colouring in fresh cream along with refined flour and gram flour and mix. Dip all the prawns and fish in that.
3.
Put it in the refrigerator for 10 minutes. Take prawns and fish out.
4.
Half cook them on charcoal. Put sesame on them and give them a golden colour on charcoal.
For Sauce:
1.
Saute garlic in a pan, add honey and roasted sesame seeds and season it with salt, red chilli powder and lemon juice.