Story Progress
Back to home
Sausage Wontons Recipe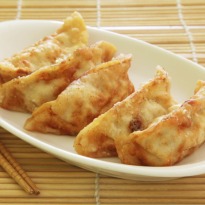 How to make Sausage Wontons
Sausages with delightful filling wrapped around wonton skins and fried crisp.

Ingredients of Sausage Wontons
12 Cocktail sausages (cooked)
For the Filling:
50 Gram Hung yogurt
1 Tbsp Mango chutney, chopped
1/2 tsp Garlic paste
1 Tbsp Herbs, chopped
2 tsp Tomato ketchup
Lemon juice
Salt and pepper
For the Wraps:
12 Wonton skins
3 tsp Prepared mustard
3 tsp Nuts, finely chopped
To moisten Water
For the Dip:
3 Cup Mayonnaise
2 Tbsp Pineapple (crushed)
1 tsp Soya sauce
1 Tbsp Celery (diced)
1 Tbsp Spring onion
1 tsp Honey
1 tsp Vinegar
1 Tbsp Thick cream
Salt and pepper
1.
Slit the sausages in half. Combine the filling ingredients.
2.
Use to fill the sausages. Spread a little mustard over the wontons skins.
3.
Scatter with nuts. Place sausages over the mustard.
5.
Roll wrapper around the sausages.
6.
Seal and fry in hot oil until crisp and golden.
7.
Drain and serve with dip.
For the Dip:
1.
Combine all the ingredients together. Season and serve.