Story Progress
Back to home
Lauki with Curry Leaves Recipe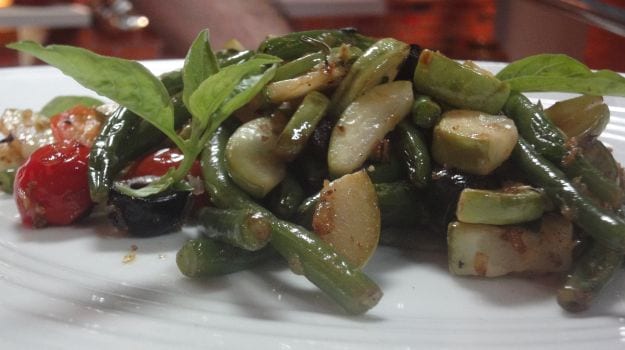 How to make Lauki with Curry Leaves
Bottle gourd, onions and green beans are sauteed with herbs, garlic-ginger, lime juice and curry leaves.

Ingredients of Lauki with Curry Leaves
1 Tbsp olive oil
250 gms lauki/ bottle gourd/doodhi
1/2 medium onion, chopped
1 tbsp celery (minced)
1 tsp garlic (minced)
1/2 tsp ginger (minced)
1 green chilli, sliced
4-5 curry leaves
A few fresh oregano sprigs
A few rosemary leaves
A few thyme leaves
A few capers (rinsed, optional)
1 tbsp parsley, chopped
4 cherry tomatoes cut into half
2 black olives
1 cup green beans (cut into half), blanched
1/2 lemon (juiced)
to taste salt and pepper
1.
Wash and dry the lauki, cut and trim away the pith and slice into funky bites.
2.
Sweat the onions and celery in the olive oil for a couple of minutes.
3.
Add the minced ginger, garlic and the minced chillies.
4.
Add the slices of bottle gourd and roast in the pan.
5.
Add the green beans,curry leaves and olives and continue to toss well.
6.
Add the cherry tomatoes, dash of lemon juice and some freshly chopped parsley, thyme, oregano and rosemary.
7.
Garnish with basil leaves