Story Progress
Back to home
Savoury Drop Scones Recipe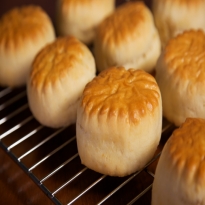 Stovetop scones with a stuffing of your choice.

Ingredients of Savoury Drop Scones
225 gm flour
1/2 tsp soda bicarbonate
1 tsp baking powder
250 ml yogurt, well beaten
125 ml milk
2 eggs
50 gm dry grated cheese
Salt & pepper
1.
Mix all the dry ingredients.
2.
Blend in the remaining ingredients & stir to form a smooth batter. Set aside for 30 minutes.
3.
Heat a little oil over a moderate flame. When hot, pour on a spoonful of the batter.
4.
Cook for about 3 minutes on each side, turning once only.
5.
Serve immediately spread with a little butter.
6.
Fold over the drop scones around a grilled mushroom, pickled onion or bacon roll.