Story Progress
Back to home
Shanghainese Prawns Recipe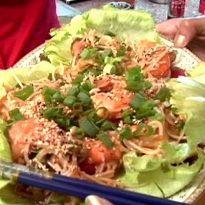 Prawns cooked in tomato, soy and corn flour flavours, fused with succulent seasoning.

Ingredients of Shanghainese Prawns
6-8 deshelled large prawns
3 tbsp groundnut oil
1 tsp green chillies - chopped
1 tbsp minced garlic
2 tbsp tomato sauce
2 tbsp white vinegar
3 tbsp light soya sauce
2 tsp cornflour starch
1/2 cup of chopped spring onion whites
1/2 cup of chopped spring onion greens
1 cup of bean sprouts
1 tsp sesame oil
1 tsp of mildly roasted sesame seeds for garnishing
1.
Heat the groundnut oil in a wok.
2.
Saute the green chillies and garlic for a bit. Stir in the spring onion whites. Add the prawns and continue stirring. Add the tomato sauce, white vinegar and light soya sauce. Mix in the corn flour starch. Then toss in the spring onion greens and bean sprouts. Drizzle the sesame oil over it, stirring all the while.
4.
Garnish with sesame seeds and serve hot.