Story Progress
Back to home
Shrimp Patia (Curried Shrimps) Recipe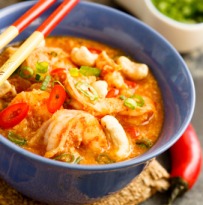 A delicate and fiery Parsi curry that adds a funky twist to your usual dinner.

Ingredients of Shrimp Patia (Curried Shrimps)
250 gm shelled and cleaned shrimps
20 gm tamarind - soaked in 1 cup hot water and strained
1 Tbsp jaggery, blended
1 cup onions, grated
3 Tbsp oil
Salt to taste
Grind together:
5 whole, dry red chillies
1 tsp cinnamon powder
4 cardamoms
6 cloves and 6 peppercorns
1 tsp each, garlic and ginger paste
1 tsp turmeric powder
1.5 Tbsp coriander seeds
2 tsp cumin seeds
2 Tbsp chopped coriander leaves
1 Tbsp green chillies, chopped or to taste
1.
Mix all the ingredients, except coriander leaves and green chillies.
2.
Place them in a heavy based pan and cook till the fat separates.
3.
Garnish with coriander and green chillies. And serve hot.