Story Progress
Back to home
Simple Tuna Quesadillas Recipe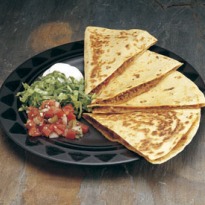 How to make Simple Tuna Quesadillas
Quesadillas are very simple to prepare and taste great with a variety of interesting fillings. This recipe uses a tuna filling.

Ingredients of Simple Tuna Quesadillas
2 soft flour tortillas(available at modern bazaar by golden crust)
60 gm canned tuna in water drained
40 gm cheddar cheese grated (kraft is super)
2 spring onion, peeled and sliced thin
Few green chillies, thinly sliced
A little olive oil
Equipments Required:
Spoon
Chopping board
Frying pan
Spatula
2 dinner plates
Small sharp knife
Fork
Grater
2 mixing bowls
1.
Lay out on of the tortillas on a board or clean and dry surface.
2.
Leave 2 cm border around edge and spoon the tuna on top.
3.
Sprinkle cheddar cheese over the tuna and add the spring onions and green chilli.
4.
Place second tortilla on top and press down firmly.
5.
Brush olive oil on a large frying pan.cook quesadilla over med heat. Press down with spatula to make sure cheese melts.
6.
Now you need to turn the tortilla over. Carefully slide it onto a larger plate.Put another plate on top and gently turn the plates over.
7.
Carefully put the quesadilla back in pan and cook the other side for about 2 minutes.
8.
Remove cooked quesadilla from pan and cut into wedges. A pizza cutter works great.
9.
Serve with sour cream,salsa and guacamole.