Story Progress
Back to home
Sookhe Kofte Recipe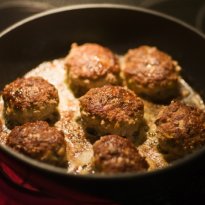 Minced meat finely ground with a range of spices and fried.
Total Cook Time

4 hrs 30 mins

Ingredients of Sookhe Kofte
500 gm minced meat
2 Tbsp strained yoghurt
1 tsp ghee
Grind to a smooth paste:
10-12 almonds
1 Tbsp chopped ginger
3-4 green chillies
1 Tbsp poppy seeds-roast and dry grind
5-6 mint leaves
1/2 cup bhuna chana
2 tsp roasted cumin seeds
1/2 tsp garam masala
Salt to taste
2 Tbsp ghee
1 Tbsp ginger-shredded
Garnish:
1 tsp chilli powder
2 Tbsp finely chopped coriander leaves
1.
Mix the ground ingredients and the meat together.
2.
Grind to a slightly grainy consistency, a little finer than the finely minced meat.
3.
Mix in the yoghurt and 1 tsp of ghee and shape into balls of desired size.
4.
Heat the ghee in a heavy-based pan and add the meatballs to it.
5.
Cover and cook for about 3 minutes.
6.
Uncover, and turn the meatballs, which should be brown on the underside by now.
7.
Sprinkle the shredded ginger over them, and cook till brown all around.
8.
Transfer the meatballs to serving dish, sprinkle the chilli powder and coriander leaves and serve.