Story Progress
Back to home
Soya Dumplings in Tomato Sauce Recipe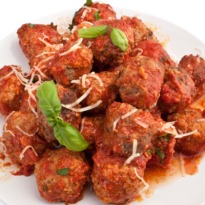 Deep fried soy delights mingled with a thick tomato gravy.

Ingredients of Soya Dumplings in Tomato Sauce
For Soya Dumplings:
2 cups soya granules
Water to soak
2 Tbsp vinegar
4 bread slices-crumbled fine
1 Tbsp salt
2 tsp garlic paste
1/2 tsp powdered black peppercorns
2-3 cups oil to deep fry
For Tomato Sauce:
1 cup tomato puree
1 tsp ajwain
1 Tbsp oil
1 tsp salt
1 sugar
1/2 tsp chilli powder
Coriander for garnish
1.
Mix the soya, bread, salt, garlic paste, vinegar and pepper.
2.
Blend well together and form into round balls.
3.
Heat the oil and deep fry to a golden.
4.
Heat 2 Tbsp oil in a kadahi, add the ajwain and then the puree, salt, sugar and chilli powder.
5.
Saute till well blended, add the fried dumplings and stir to mix well.
6.
Serve the Soya Dumplings hot, garnished with the coriander and with noodles if you like.