Story Progress
Back to home
Soya Florentine Recipe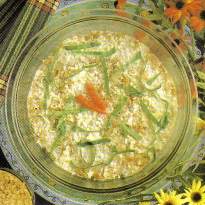 How to make Soya Florentine
Soya Florentine: Soya granules baked with spinach, white sauce and cheese.

Ingredients of Soya Florentine
120 Gram Soya granules
300 gram Spinach
2 tsp Butter
2 tsp Garlic, chopped
to taste Green Chilli Paste
to taste Salt
1 Onion, chopped
to taste Pepper Powder
1/2 cup Tomato Sauce
1 tbsp Refined Oil
1/2 cup White Sauce
For garnishing Cheese , grated
1.
Wash soya granules and drain the water. Keep aside.
2.
Blanch the washed and chopped spinach in boiling water for 30 seconds.
3.
Wash in cold water and drain. Add butter in a pan and fry chopped garlic.
4.
Add spinach, green chilli paste and salt to taste.
5.
Cook for five minutes and transfer it into a serving dish.
6.
Heat oil in a pan and fry onions till they are light brown in colour.
7.
Add granules and cook for a few minutes.
8.
Add salt, pepper powder, tomato sauce, mix well and pour this mixture over the cooked spinach.
9.
Cover it with white sauce.
10.
Spread grated cheese and bake in a preheated oven for 15 minutes.