Story Progress
Back to home
Soya Murtabak With Tomato-Lemon Sauce Recipe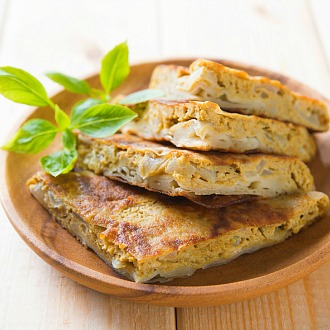 Chef Ajay Chopra gives the traditional murtabak recipe a vegetarian makeover. Murtabak originated in Yemen and Saudi Arabia and traveled all across the globe to embrace variations in its preparation. It is essentially a pancake stuffed with originally stuffed with minced meat which has been replaced with soya in this recipe.

Ingredients of Soya Murtabak With Tomato-Lemon Sauce
For the soya mix:
2 cups soya keema, soaked and drained
1 medium tomato, finely chopped
1 medium onion, finely chopped
1 Tbsp ginger-garlic paste
1/2 tsp fennel seeds
1/4 tsp turmeric powder
1 tsp garam masala powder
1/2 tsp red chilli powder
Salt to taste
For the sauce:
5-6 medium tomatoes
3 Tbsp olive oil
2 green chillies, broken
4-5 garlic cloves
1/2 inch ginger
1/2 Tbsp red chilli powder
Salt to taste
1 Tbsp cashew nut paste
1 Tbsp white butter
3 Tbsp grated khoya
1 tsp honey
1 kaffir lime
For the dough:
2-3 cups refined flour + for dusting
Oil for shallow-frying
Refined flour slurry for sealing
Fresh coriander sprigs + for garnishing
Fresh mint sprigs
For the soya mixture:
1.
Heat olive oil in a non-stick pan, add onion, fennel seeds and saute.
2.
Add ginger-garlic paste to onions, mix and saute well.
3.
Add chopped tomato, mix and saute well.
4.
Add turmeric powder, garam masala powder, red chilli powder and salt, mix well.
5.
Add soya keema, water and cook. Now add chopped coriander and mint sprigs, mix well and cook till done. Set aside.
For the sauce:
1.
Cut tomatoes into dices and put in another non-stick pan on heat.
2.
Add water, green chillies, garlic cloves and chopped ginger, mix well and boil.
3.
Switch off the heat, puree tomatoes with a hand blender.
4.
Place the pan back on heat and simmer for a minute or two. Keep aside.
5.
Heat remaining olive oil in another non-stick pan. Add red chilli powder and saute. Add pureed tomatoes, cashew nut paste and stir well.
6.
Add white butter and simmer till the sauce thickens. Add khoya, honey, mix well and simmer for 2 minutes.
7.
Grate kaffir lime into it to get the rind and mix well. Once the tomato-lemon sauce is ready, keep aside.
For the dough:
1.
Combine refined flour and salt in a bowl.
2.
Add sufficient water, olive oil and knead into a soft dough. Set aside.
For the main preparation:
1.
Divide the dough into equal portions and roll out into large thin rotis dusting with flour.
2.
Place a roti on the worktop.
3.
Put a generous portion of cooked soya keema mixture in the centre.
4.
Bring one edge over, spread flour slurry on edges and bring other edges over, press to stick and make a parcel. repeat for remaining murtabaks.
5.
Heat some oil in a non-stick tawa.
6.
Place murtabaks on it and shallow-fry till both sides turn golden and crisp.
7.
Spread tomato lemon sauce on a serving plate.
8.
Cut murtabaks into squares and place them on the sauce.
9.
Garnish with coriander sprigs and serve.