Story Progress
Back to home
Spanish Potatoes Recipe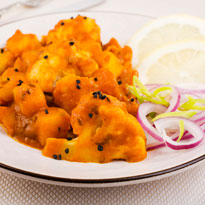 How to make Spanish Potatoes
Soft potatoes cooked in a paste of garlic, chilies, cumin, paprika and vinegar.

Ingredients of Spanish Potatoes
675 Gram Potatoes, small
5 Tbsp Olive oil
2 Garlic cloves, sliced
1/2 tsp Chillies (crushed)
1/2 tsp Ground cumin
2 tsp Paprika
2 Tbsp White wine vinegar
1 Red pepper , sliced
1.
Cook potatoes in a saucepan of boiling salted water till its almost tender.
2.
Drain and cut into chunks.
3.
Heat olive oil in a large frying pan and fry the potatoes, keep turning them often until they turn slightly golden.
4.
Crush together garlic, chillies and cumin.
5.
Mix with paprika and vinegar to form a thick paste.
6.
Add the garlic mixture to potatoes with sliced pepper and cook, keep stirring for 2 minutes.
7.
Leave till it turns cold, serve.