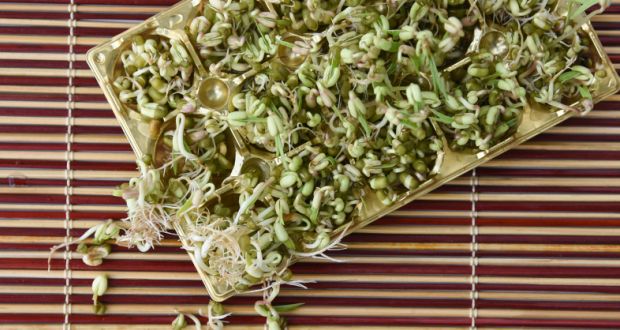 A healthy snack of sprouted lentils and beans with lemon juice and spices.
Ingredients of Sprout Chaat
1 cup kala channa-sprouted
1 cup soya beans-boiled
1 cup moong daal-sprouted
1 cup rajmah
1 cup paneer-diced
1/4 cup coriander leaves-chopped
Green chillies-chopped to taste
1 cup onions-chopped fine
1 cup tomato-de-seeded and chopped fine
1.5 tsp salt
2 tsp chaat masala
1 tsp cumin seeds-roasted and ground
Lemon juice to taste
How to Make Sprout Chaat
1.

Mix all the ingredients together and serve.

2.

You can also add a little curd or sonth ki chutney if so desired.

3.

You can vary the combinations according to your liking or choose only moong sprouts if you like.
Key Ingredients: 1 cup kala channa-sprouted, 1 cup soya beans-boiled, 1 cup moong daal-sprouted, 1 cup rajmah, 1 cup paneer-diced, 1/4 cup coriander leaves-chopped, Green chillies-chopped to taste, 1 cup onions-chopped fine, 1 cup tomato-de-seeded and chopped fine, 1.5 tsp salt, 2 tsp chaat masala, 1 tsp cumin seeds-roasted and ground, Lemon juice to taste