Story Progress
Back to home
Sticky Rice with Mango Recipe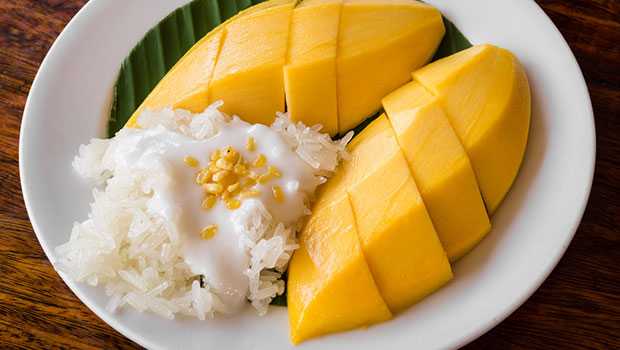 How to make Sticky Rice with Mango
This dish is also know known as 'Khao Neow Ma Muang'. A classic Thai dessert where sticky rice are cooked with coconut milk and served with diced mangoes.
Total Cook Time

1 hr 15 mins

Ingredients of Sticky Rice with Mango
30 Gram White sticky rice
60 ml Coconut milk
5 gram Sugar
1 gram Salt
2 gram Sesame seeds, roasted
1 Ripe mango
1.
Wash sticky rice and soak it for 8 hours. Put it in muslin cloth and steam it till half done.
2.
Put coconut milk in a pot, add sugar and salt. Keep on stirring it on slow flame till it becomes a little thick.
3.
When sticky rice is fully done, pack it with coconut milk, leaving 1 tbsp of coconut milk aside for garnishing.
4.
Peel the mango and dice it.
5.
Put sticky rice in a small mould. De-mould it onto a plate. Garnish with a tbsp of coconut milk and sesame seeds.
6.
Serve it with dices of mango.