Story Progress
Back to home
Strawberry Mousse Recipe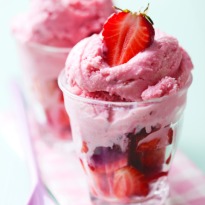 A soft and creamy mousse with juicy strawberries, puree and whipped cream.

Ingredients of Strawberry Mousse
250 gms sliced strawberries
1 Tbsp sugar
1 tsp corn flour
1 Tbsp rum (optional)
4 egg whites
100 gms castor sugar
375 ml strained strawberry puree
375 ml whipped cream
1 1/4 Tbsp gelatine soaked in 7 Tbsp water
1.
Place strawberries in a pan and add sugar.
2.
Cook on slow flame until juice runs. Thicken with cornflour mixed with rum or water.
3.
Pour into serving dish and cool. Whip whites until stiff.
4.
Gradually whisk in sugar. Stir in strawberry puree, followed by gelatine that has been dissolved over gentle heat.
5.
Fold in whipped cream. Bring to setting point and pour over strawberries.
6.
Chill well before serving.