Story Progress
Back to home
Sultanpur Style Suji Ka Halwa Recipe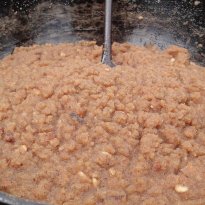 Easy-breezy and so delicious. Semolina halwa made with dry coconut, raisins, almonds and cashew nuts.

Ingredients of Sultanpur Style Suji Ka Halwa
2 - 3 cups clarified butter
1 kg suji (Semolina)
1 kg sugar
1 cup dry coconut
1 cup almonds
1 cup cashew nuts
1 cup raisins
4 litres water
1.
Heat up the clarified butter in a wok and add the suji (Semolina).
2.
Keep stirring until the suji becomes brown. It is essential for the suji to get brown.
3.
Add the sugar, dry coconut, raisins, almonds, cashew nuts and some water.
4.
The starch in the suji will glutenize and will swell.
5.
This will create a nice thick halwa. Keep stirring while boiling.
6.
Once the halwa becomes nice and thick, this means its ready.