Story Progress
Back to home
Tabriz Kofta Recipe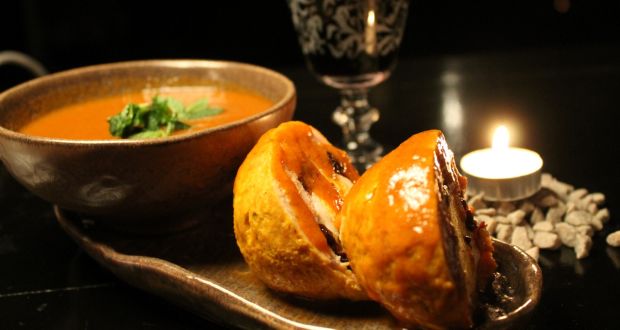 A popular Persian recipe with meatballs made with chicken mince, nuts, eggs and apricots which dipped in a rich, nutty gravy.

Ingredients of Tabriz Kofta
For the Kofta:
500 gm chicken minced
50 gm boiled chana dal
50 gm boiled rice
20 gm salt
10 gm saffron
1 chili chopped
3 boiled egg
20 gm prunes
10 gm walnuts
1 raw egg
10 gm black pepper powder
20 gm dry apricot
For the Gravy:
300 gm sliced onion
200 ml olive oil
500 ml tomato puree
20 gm salt
1 litre chicken stock
30 gm degi chili powder
100 gm cashew nut
20 gm ginger
40 gm garlic
5 gm basil leaf
1.
Make kofta with minced chicken, boiled lentil and boiled rice .
2.
Stuff the boiled egg and all dry fruits.
3.
Cook by putting the kofta in a pan full of stock.
5.
Heat olive oil and sauté sliced onion till golden brown .Then add ginger garlic paste.
6.
Add tomato puree, salt and powder masala.
7.
Finish with cashew nut paste, and chicken stock.
8.
Strain the gravy and serve it hot.