Story Progress
Back to home
Talumein Soup Recipe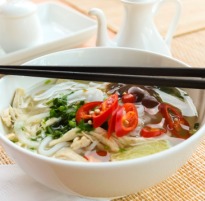 How to make Talumein Soup
A delicious and healthy soup made with noodles, eggs and corn. Just one hot cup can leave you feeling relaxed and rejuvenated.

Ingredients of Talumein Soup
1 cup vegetables (cabbage, carrot, capsicum, spring onion)
2 eggs - beaten
2 Tbsp Soya sauce
25 gm noodles - boiled
2 Tbsp tomato sauce
3 Tbsp cornflour - dissolved in
1/2 cup water salt - to taste
Ajinomoto - to taste
4 cups water
2 cups corn - cream style
2 Tbsp oil
1.
Heat oil and saute the cabbage, carrot, capsicum and spring onions over high heat, till glossy.
2.
Bring the water to a boil and add the corn, vegetables and cornflour mixture. Bring to a boil again, then lower the heat and simmer.
3.
Add the soya sauce, tomato sauce, noodles, ajinomoto and salt.
4.
Mix well and add the egg, stirring all the time.
6.
If you do not eat egg, just avoid it and increase the sweet corn to three cups.
7.
Boil vegetables in water for 5-8 minutes in a pressure cooker.
8.
Add corn and boil for another five minutes.
9.
Remove corns and shred the corn pods.
10.
Keep about one cup in a mixer and extract twp cups of creamed corn.
11.
Boil noodles in salt water and drain.
13.
Dissolve corn flour in water and mix with creamed corn.
15.
Separate the cooked vegetables.
17.
Saute the vegetables slightly in it.
19.
Pour the drained soup with sautéed vegetables.
20.
Add egg, 1 cup of corn, noodles, Soya sauce and stir well.
22.
Keep in the flame for a few more minutes.
23.
Remove and serve hot topped with shredded cheese.