Story Progress
Back to home
Thai Noodle Soup Recipe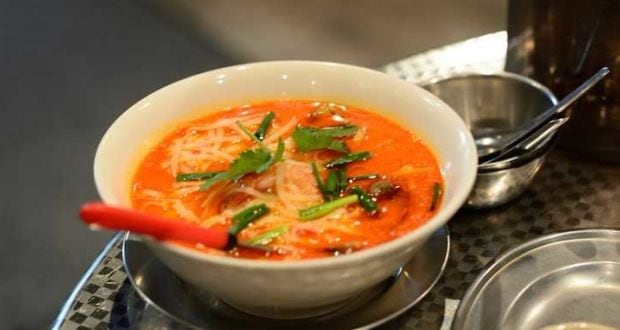 How to make Thai Noodle Soup
A variation of the classic Thai noodle soup. This soup is made with the goodness of chicken, peanuts, broccoli, rice vermicelli, coconut and fried garlic.
Total Cook Time

50 mins 15 seconds

Prep Time

10 mins 15 seconds

Ingredients of Thai Noodle Soup
For the chicken stock:
1 onion
3 stalks celery
1/2 ginger
Chicken bones
Cold water
For the soup:
1 chicken breast, sliced
1/2 tsp chilly powder
A dash of turmeric
1 tsp green chillies, chopped
1/4 cup lime juice
5-6 florets broccoli
1 tsp fish sauce
A pinch of sugar
1/2 garlic, chopped fine
1/2 cup coconut milk
1/4 cup coconut powder
1 cup vermicelli, cooked
For garnish:
Fried garlic
Peanuts, mashed
2 scallions (spring onions), sliced
1.
Let the chicken stock simmer on low heat for about one and a half hours.
2.
Once done, strain the liquid in another pan and put it over heat again.
3.
Add the spices to this chicken broth.
4.
Add the green chillies, lime juice, fish sauce.
5.
Then throw in the broccoli. (You can add any vegetables that you like)
6.
Add the chicken and a pinch of sugar. Mix well and let it simmer.
7.
While the chicken cooks, in another pan, heat some olive oil and add the garlic. Fry the garlic till it becomes brown.
8.
Once the garlic is done, drain it on an absorbent paper. Garlic burns really fast so be careful not to burn it.
9.
Add the coconut milk to the soup. And leave it to simmer.
10.
In the meanwhile, toast (dry roast) the coconut powder.
11.
Once done keep it aside. (It's done when it browns)
12.
Now add the vermicelli to it.
13.
Check if the chicken is cooked.
14.
If it is pour the soup out into the bowls.
15.
Garnish it with the peanuts, fried garlic, scallions and the roasted coconut.