Story Progress
Back to home
Hot Noodle Soup Recipe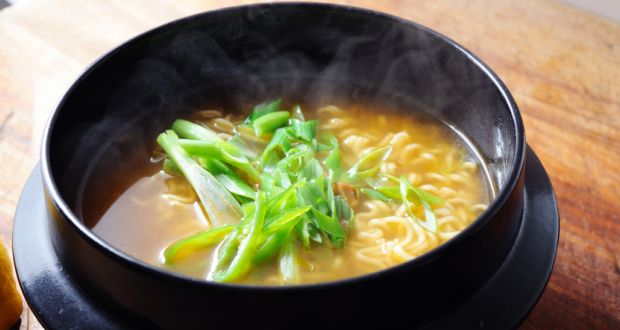 How to make Hot Noodle Soup
Lap up a hot bowl of soup bursting with soothing flavours of coconut milk, garlic and juice. Throw in some noodles and sauteed chicken strips to make a wholesome meal.

Ingredients of Hot Noodle Soup
1 cup noodles
2 Tbsp chilli oil
1 onion, chopped
5-6 garlic cloves, finely chopped
1 ginger
1 green chilli
1 Tbsp curry powder
1 Tbsp curry paste
1 jar vegetable stock
4 tsp lime juice
1 cup coconut milk
1 tsp soya sauce
300 gm chicken strips
2 lemons
Coriander leaves
Salt and pepper
For the soup:
1.
1. Take a pan, let it get heated. Add red chilli oil and onions.
2.
2. Add garlic, ginger, green chillies and saute well.
3.
3. Add some curry powder and curry paste. Pour a jar of vegetable stock. Add lime juice and coconut milk. Let it simmer for sometime.
4.
4. Season it with salt, pepper and coriander.
For the chicken strips:
1.
In a pan heat chilli oil. Add chicken strips, salt and pepper. Garnish the chicken with mint leaves and soya sauce.
2.
Take 1 lemon and squeeze the juice.
3.
Add onions, crushed peanuts and lemon slices to the chicken.
4.
Now take a large bowl and add chicken strips with the soup. Serve soup with boil noodles and garnish with some fresh coriander leaves.