Story Progress
Back to home
Thai Pineapple Rice Recipe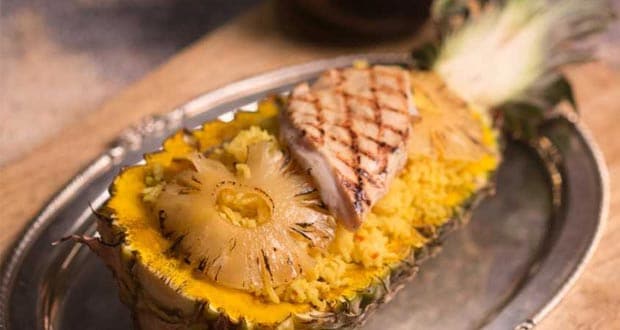 How to make Thai Pineapple Rice
The magical combination of sweet pineapple chunks and hot thai spices is one to devour with all your heart!
Total Cook Time

1 hr 25 mins

Ingredients of Thai Pineapple Rice
250 Rice
80 Onion, chopped
2 Thai ginger , chopped
5 Fresh turmeric
2 Curry leaf
2 Lemon grass, chopped
100 Coconut milk
to taste Salt
2 Hot curry powder
40 Pineapple chunks
20 Oil
300 Water
2 Turmeric powder
1 piece Fresh pineapple
1.
First soak the rice at least for 30 minutes.
2.
Now take a pan put oil in pan then heat the oil then add onion chop saute till golden brown.
3.
Now add Thai ginger curry leaf, fresh turmeric crushed, lemon grass chop cook together.
4.
Now add soaked rice mix well then add curry powder, turmeric powder and salt saute for some time. Now add coconut milk, pineapple chunks and water.
5.
Cover with tight lid then keep for dum on slow fire.
6.
Now take pineapple cut into two part from middle and scoop out the pineapple like barrel shape.
7.
Stuff the pineapple with curried rice then cover with foil and cook for some time.
8.
Serve hot with top of Grill pineapple slice.