Story Progress
Back to home
Thai Pork Salad Recipe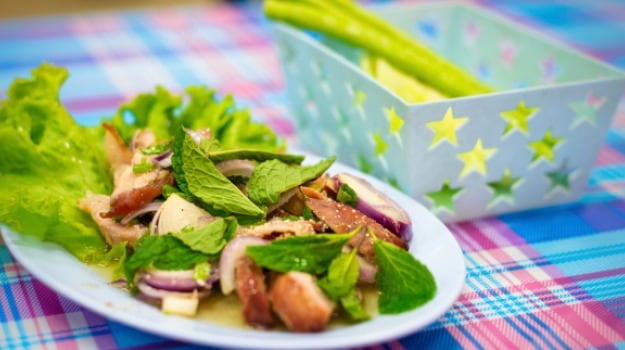 How to make Thai Pork Salad
Lean pork sauteed and tossed with salad greens, avocado, jalapenos, cucumbers, sesame oil and spring onions.

Ingredients of Thai Pork Salad
100 gms lean pork (fat trimmed off)
1 cup lettuce (6-7 leaves)
1/2 avocado
2 shallots, chopped
1/2 cucumber, sliced
Handful of jalapenos
1 spring onion, sliced
1/2 bell pepper, sliced
sesame oil
to taste salt and pepper
3 garlic cloves, chopped
1 tsp oil
1/4 onion, sliced
1/2 tsp fish sauce
For the dressing:
2 tbsp lemon juice
1/2 tsp fish sauce
basil leaves (as required)
A pinch of pepper and sugar
1 tsp sesame oil
1.
Slice the pork pieces. Mix it with a little bit for sesame oil (1 tsp), salt and pepper (1/2 tsp).
2.
Heat some oil in a pan and saute the garlic. Throw in the sliced onions. And finally add the pork. Pork cooks really fast.
3.
Add some fish sauce to it and saute for a while.
4.
In a bowl, add lettuce (cut into halves), avocado, cucumber, shallots, jalapenos, spring onions, a pinch of salt and bell peppers.
5.
Now, add veggies to the dressing ingredients. Finally add the pork. Serve and enjoy!