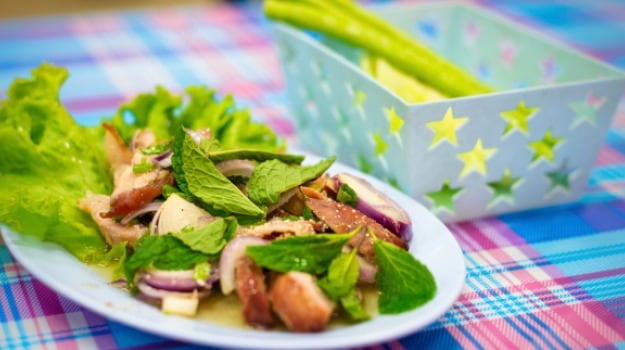 Lean pork sauteed and tossed with salad greens, avocado, jalapenos, cucumbers, sesame oil and spring onions.
Ingredients of Thai Pork Salad
100 gms lean pork (fat trimmed off)
1 cup lettuce (6-7 leaves)
1/2 avocado
2 shallots, chopped
1/2 cucumber, sliced
Handful of jalapenos
1 spring onion, sliced
1/2 bell pepper, sliced
Sesame oil
to taste salt and pepper
3 garlic cloves, chopped
1 tsp oil
1/4 onion, sliced
1/2 tsp fish sauce
For the dressing:
2 tbsp lemon juice
1/2 tsp fish sauce
Some basil leaves
A pinch of pepper and sugar
1 tsp sesame oil
How to Make Thai Pork Salad
1.

Slice the pork pieces. Mix it with a little bit for sesame oil (1 tsp), salt and pepper (1/2 tsp).

2.

Heat some oil in a pan and saute the garlic. Throw in the sliced onions. And finally add the pork. Pork cooks really fast.

3.

Add some fish sauce to it and saute for a while.

4.

In a bowl add the lettuce (cut into halves), avocado, cucumber, shallots, jalapenos, spring onions, a pinch of salt and bell peppers.

5.

Now add to the veggies the dressing ingredients.

6.

Finally add the pork.

7.

Serve.
Key Ingredients: lean pork (fat trimmed off), lettuce (6-7 leaves), avocado, shallots, cucumber, jalapenos, spring onion, bell pepper, Sesame oil, salt and pepper, garlic cloves, oil, onion, fish sauce, lemon juice, fish sauce, pepper and sugar, sesame oil