Story Progress
Back to home
Tossed Salad Recipe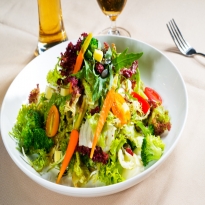 How to make Tossed Salad
Just throw everything together and eat - nothing could be easier!

Ingredients of Tossed Salad
2 medium tomatoes - de-seeded and cut lengthwise
20 lettuce leaves - washed and crisp
1/2 cup carrots - sliced into thick rounds
1/2 cup cucumber - peeled and sliced into rounds
2 Tbsp olive oil
2 Tbsp vinegar
1 Tbsp honey
2 tsp salt
1/8 tsp freshly ground black pepper
1 tsp mustard powder/mustard oil
1.
Break the lettuce leaves into small pieces.
2.
Mix the oil, vinegar, honey, salt, pepper, and mustard and blend well together.
3.
Keep the vegetables and the dressing separately till ready to serve.
4.
Mix the two together and serve immediately.