Story Progress
Back to home
Valentine Strawberry Mousse Recipe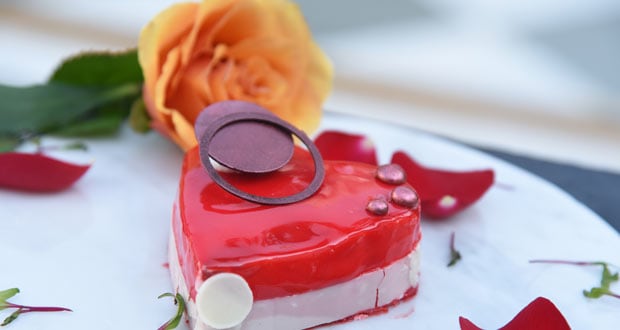 How to make Valentine Strawberry Mousse
A great way to shower some love on your Valentine, this delicious strawberry mousse is easy to make and too good to resist!

Ingredients of Valentine Strawberry Mousse
450 Ml Milk
90 gram Butter
55 gram Egg yolk
14 gram Gelatine
250 ml Strawberry puree
450 ml Double cream
100 gram Sugar
2.
Fold in egg yolk & sugar mix and thicken the mix on stove with morris.
3.
Add the softened gelatine and mix well.
4.
Pour strawberry puree to above mix.
5.
Chill the mix over ice cold bath and in the mean time whisk double cream to semi-whip stage.
6.
Once the mix is cold fold in double cream.
7.
Pour the mix in desired rings already lined with sponge sheet.
9.
Cover them with red mirror glaze and garnish with Chantilly and chocolate disc.