Story Progress
Back to home
Whole Baked Raan Recipe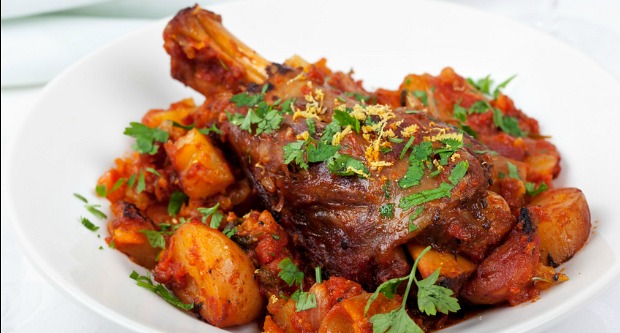 This rustic and hearty raan boasts of a shahi taste that will leave you wanting more.
Total Cook Time

1 hr 15 mins

Ingredients of Whole Baked Raan
1 1/2 kg leg of lamb
3 onions, chopped
3 Tbsp whole garlic cloves
2 pieces of sliced ginger
1 Tbsp black peppercorns
Water to cover
For the marinade:
3 Tbsp hung yoghurt
2 Tbsp lemon juice
1 tsp grated ginger
2 Tbsp coriander paste
1 Tbsp roasted, ground coriander
1 tsp roasted, ground cumin
1 tsp chilli powder
1/2 tsp nutmeg powder
4 Tbsp oil
For mint chutney:
4 Tbsp mint leaves
2 Tbsp chopped coriander
4 green chillies
1 tsp garlic paste
2 tsp sugar
3 Tbsp lemon juice and salt
1.
Place lamb in a large pan with onions, garlic, ginger, pepper and some water.
2.
Cook for 30 minutes. Cool the lamb with liquid.
3.
Score meat with a sharp knife.
4.
Combine marinade ingredients.
5.
Rub it into meat and set aside for 5 hours.
6.
Bake leg in a very hot oven at 220 degrees Celsius for 30 minutes.
7.
Baste occasionally with oil.
8.
For the mint chutney, grind all ingredients together.