Story Progress
Back to home
Whole Wheat Lamingtons Recipe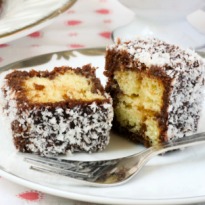 Do away with the refined flour and bake a beautiful batch of lamingtons with whole wheat flour.

Ingredients of Whole Wheat Lamingtons
For the sponge cake:
125 gms whole wheat flour
1 tsp baking powder
1/2 tsp baking soda
125 gms powdered sugar
125 gms butter, at room temperature
2 eggs, at room temperature
2 tsp vanilla extract
For the chocolate coating:
200 grams powdered sugar
50 grams cocoa powder
25 grams butter
5-6 Tbsp of milk
200 grams of desiccated coconut for the final coating
For the sponge cake:
1.
Preheat the oven to 180 degrees, while you gear to whip up the batter for the sponge cake.
2.
Sieve the dry ingredients - flour, baking soda and baking powder together into a clean dry bowl.
3.
Add the powdered sugar and the eggs and whisk in till frothy.
4.
Now add the butter and the vanilla extract and whisk in again.
5.
Into this add the flour mixture and whip until thick and gooey.
6.
Immediately pour into a grease pan and bake it in a preheated oven for about 30 minutes. Cool completely before cutting them into squares.
7.
Place a wire rack over an aluminum foil and place the cubes of cake over the wire rack. Let them cool completely, before you pour the chocolate coating.
For the chocolate coating:
1.
Sieve the powdered sugar and cocoa together and keep aside in a bowl.
2.
Melt the butter in a pan and turn off the heat. Into this add the milk and whisk in.
3.
Now pour liquid mixture into the dried mix slowly, whisking in constantly to prevent the formation of lumps. The chocolate batter should have a smooth satiny feel to it.
4.
Now with the help of a toothpick, pierce each cube and dip it in the chocolate liquid, until it gets covered completely. This should be done very gently or you might break the soft cake cube.
5.
Place them over the wire rack, to drip the excess of the chocolate coating and also to dry completely.
6.
Once dry, roll them gently over desiccated coconut and serve.