Story Progress
Back to home
Zaffrani Pulao Recipe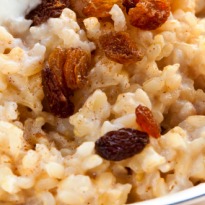 How to make Zaffrani Pulao
Rice cooked with saffron infused milk, jaggery, nuts and ghee. The sweetness and nuttiness of the rice is absolutely divine.

Ingredients of Zaffrani Pulao
1/2 cup basmati rice cooked
1/4 cup ghee
3 Tbsp butter
1/4 cup raisins
1/4 cup almonds
1/4 cup cashew nuts
1/4 cup chironji seeds
A few saffron strands
1/2 cup milk
1/4 cup jaggery
1.
Heat a deep, heavy cooking vessel and add the ghee. Once the ghee is hot add the dry fruits and fry them until they are a lovely, rich golden in color.
2.
Now, add the cooked rice in the ghee until all of the rice is richly coated with the ghee and dry fruit.
3.
Heat the milk until tepid, add the saffron and leave to infuse in the milk until it is rich saffron yellow in color.
4.
Add the jaggery to the rice, turn down the heat and cook gently until the jaggery has metled and has sweetened the rice with its rich, deep sweetness.
5.
Finally add the saffron infused milk, turn up the heat and cook, stirring gently until the rice is a lovely light yellow in color and the whole dish is delicately infused with the flavor and aroma of the saffron.
6.
Add the butter, stir once or twice more and serve hot.