It's cold outside and some sipping is needed.
Tea
for everyone? There's no better way to
beat the chill
than with your hands wrapped around a warm cup. My electric kettle has been breathing out steam for a couple of years now. As I pour in water, I know it's time to part.Kettles were placed over flame until the tea tradition took over England. The first electric kettle was invented sometime towards the end of the nineteenth century. The earliest versions were made of iron or copper and were seated on individual electric coils. Later, heating elements were built in and more refined models appeared. I tested 14 electric kettles to find a new favourite and to help you make the smartest choice.
What is an electric kettle?
An electric kettle is used to boil water in a matter of minutes. Water simply needs to be poured into the kettle and followed by a click of a button, it begins to heat. For an electric kettle to work, it requires a heating element which is a metal coil. When plugged into a power source, electricity flows through the heating element, causing the element to heat up due to its resistance. This heat is then transferred to the water in the kettle, through the process of conduction. It's convenient for several reasons. First, it consumes less energy than the traditional stovetop kettle and second, it allows the user to boil water at the appropriate temperature.
Basic features you must considerBoiling Time:
The main purpose of using an electric kettle is to boil water quickly. For those of you who are always on the run and need a quick cup of tea handy, boiling time is crucial. Anything between 3-4 minutes is appropriate, depending on the amount of water you use.
Body:
The efficiency of an electric kettle is reflected in its minimalist look. A large variety of electric kettles are available in the market, ranging from those made of stainless steel and aluminium die cast to heat resistant plastic such as polypropelene (PP) and polythylene (LLDPE). Given that plastics are often likely to have BPA i.e bisphenol A., an industrial chemical which could have possible adverse health effects, most people avoid buying them. Moreover, the
plastic may break down over time
and allow BPA to leach into water that can alter the taste of water (and affect its composition). Metal kettles last longer. The body might become hot, so buy one with a plastic handle to keep your knuckles from getting burnt.
Water Level Indicator:
Another important feature to look out for when purchasing an electric kettle is whether or not the body of the kettle has a water level indicator on it. This takes the guesswork out of your task, and allows you to determine the amount of water to be poured using clearly marked measurement indicators, and the progress of boiling.
Usability:
For a
kitchen appliance
, which is used as often as a kettle, usability is a key feature. Two things to keep in mind, the handle should be sturdy to hold easily and the spout of the kettle should be wide enough to ensure that no spillage is caused. Most of them have a base that can rotate 360 degrees and are cordless which means they can be detached from the base. The one problem you might face is when the power cord attached to the base is too short. This can make it a bit inconvenient to charge. They also come with the feature of a light indicator on the body, letting the user know whether the kettle is operational or not. Due its regular use, it is best to ensure that the kettle you purchase isn't too heavy, and is easy to use or carry around the kitchen, if required.
Noise:
While some kettles can be extremely loud, others simply make a humming sound to announce the boiling of the water. Personally, as a tea lover, I enjoy the whistling sound of a tea kettle. It alerts my senses that a hot cup of tea is close at hand. To prevent the annoyance caused by a loud kettle, it is always recommended to choose kettles, which are not as intrusive with their noise level.
Automatic Shut-Off:
This feature shuts off the kettle automatically after the water reaches the boiling point.This switch acts as a thermostat, which is a device that responds to a change in temperature. Therefore, when the water heats up to boiling temperature, the thermostat is activated, and the kettle comes to a stop. Kettles without this feature have the danger of catching fire, in case the water in the kettle has evaporated, and the kettle continues to boil with no water in it. Some kettles also come with a feature known as boil dry protection, which ensures that if your kettle doesn't have enough water in it, it shuts off on its own. Consider this a critical safety measure.
Energy Efficient:
Most electrical kettles consume much less energy, as compared to other older forms of kettles. The energy remains within the kettle itself, ensuring that none of it is wasted due to no contact with the water, as is often the case with boiling water on a stovetop.
Heating Element:
The heating element in the kettle is of utmost importance to the functioning of the kettle. The speed at which the water boils depends largely on the power of the heating element. In many kettles, this element is concealed to improve the appearance of the
appliance
and also making it easier to clean.
Customer Service:
It is best to choose one, which offers you aspects like a long-term warranty, or exchange or return of the item in case it is faulty.
Additional featuresTimer:
Ideal for the working man or woman, this feature allows you to set a timer on the kettle, at which time the water boils on its own. Perfect for a timely cup of tea in the morning.
Temperature Settings:
Some kettles offer you the option to choose the temperature you want to pull the water off at. So even if you're not a fan of a scorching hot tea, or coffee, these kettles are ideal for you to choose a temperature that suits you.
Keep Warm:
This feature allows the water to remain warm for quick reboils. You save the extra time required to heat up water from scratch.
Lighting Feature:
Certain kettles come with the additional feature of changing lights according to the temperature of the water. For instance, in some kettles the colour of the water changes from green to blue to purple and finally red, as the water boils. So even if you're not there to monitor the time, the colour of the water will be enough to inform you of its temperature.
Filter:
While a kettle will work just as effectively even without a filter, the purpose of a filter is to reduce the lime scale deposit in the kettle while enhancing the flavour, and fullness of the water you drink.
What is the best way to clean your kettle?
There are several effective ways to clean an electric kettle. One of these is to fill half the kettle with an equal mix of
vinegar
and water. This mix should then be brought to a boil, and once it finishes boiling, made to sit in the kettle for about fifteen to twenty minutes. Following this, the mixture can be thrown out, and the kettle must be rinsed thoroughly to remove any remaining lime scale sediment.Another easy way to clean an electric kettle is to fill it with water and lemon juice, and also leave some slices of
lemon
in the kettle. Bring this solution to a boil, and leave it in the kettle for an hour. Later, the kettle should be drained, and the bottom of the kettle should be cleaned using a clean cloth and baking soda. For the outside of the kettle, a wet cloth, or a dishwashing liquid works. Use any of these tricks, and your kettle shall be as good as new.
How we picked and tested
We picked the basic models of all popular brands available in the market based on user preferences and market share. All kettles were physically tested in-house keeping in mind the above factors. The boiling time was assessed using the same amount of water (1/2 litre) for every kettle. The price range varies from Rs. 1000 to Rs. 4000, depending on the capacity that went up to 1.7 litres.
Brands
Capacity (liters)
Boiling Time
Power (watts)
Body
Warranty
MRP (INR)
Havells - Vetro
1.7
1 min 54 secs
2200
Glass
2 years
3995
Usha - 3217
1.7
1 min 49 secs
2400
Plastic
1 year
2995
Chef Pro - CSK812
1.2
2 mins 6 secs
1350
Stainless steel
18 months
1349
Inalsa - Spectra
1.2
2 mins 14 secs
1630
Stainless steel
2 years
2295
Prestige - PKPWC
1.7
3 mins 21 secs
900
Plastic
1 year
1495
Orpat - OEK8137
1.2
2 mins 23 secs
1350
Stainless steel
1 year
1025
Kenwood - JKP280
1.6
1 min 28 secs
2520
Plastic
1 year
3990
Orient Electric - KT1702P
1.7
2 mins 2 secs
2000
Plastic
2 years
1799
Russell Hobbs - RJK1515S
1.5
2 mins 12 secs
1500
Stainless steel
2 years
2145
Bajaj - Majesty KTX11
1.2
3 mins 17 secs
1300
Stainless steel
2 years
1699
Philips - HD9303
1.2
2 mins 5 secs
1800
Stainless steel
2 years
2495
Butterfly - ST5524
1.5
1 min 42 secs
1850
Stainless steel
1 year
1800
Kenstar - KKH10C5S-CXF
1.0
1 min 59 secs
1500
Stainless steel
1 year
1890
Morphy Richards - 590000
Tea Maker
1.5
1 min 29 secs
1850
Stainless steel
2 years
3295
Here's a detailed analysis of the best and the rest.
Havells:
This glass beauty lets you see the water bubble and that's what you're probably paying for. It is the most expensive of the lot. The glass body makes it fragile and you need to be careful to avoid breaking the glass. One of the heaviest models we tested and the handle was not really comfortable to hold.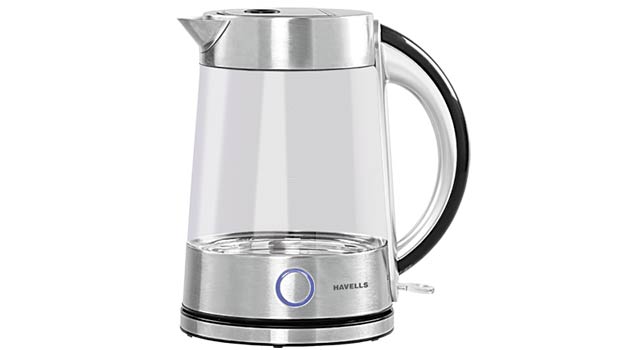 Usha:
This jug-style kettle is very functional but can't make a fashion statement in your kitchen. The design is awkward. It has a large opening which makes it easy to fill in water. Measurement markings are distinct and easy to read. The few problems – the kettle needs to be placed in a set position on the base to connect to power unlike others that can be plunked anywhere, the design makes it bulky and it has a plastic body. Another thing we noticed was the spout which was too small and made it inconvenient to pour water.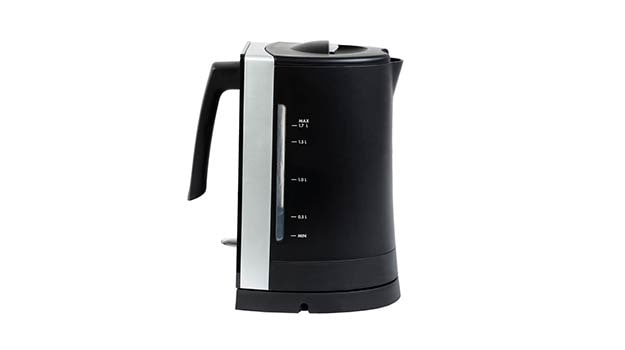 Chef Pro:
The kettle does not have a water level indicator or measurements which make it inconvenient to judge the amount of water used. It released an odd smell, something like Teflon fumes.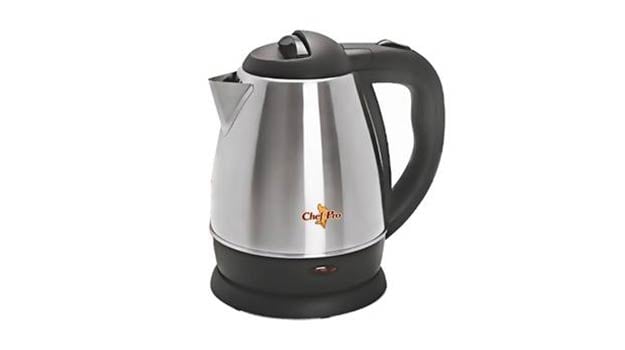 Prestige:
This one took the maximum time to boil water. The body gets extremely hot and the lid was a bit inconvenient to open as it tends to get stuck sometimes.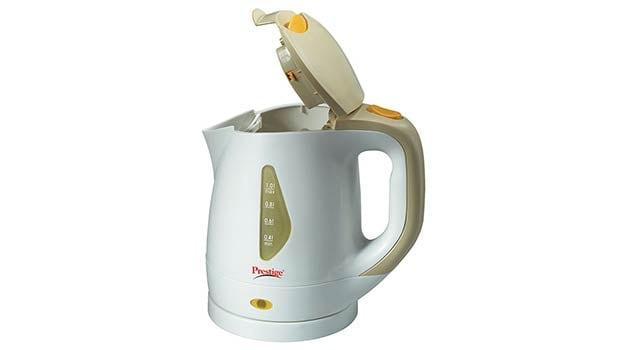 Orpat:
It was sturdy but often leaves a burning smell. It was one of the noisiest kettles and also lacked water level indication.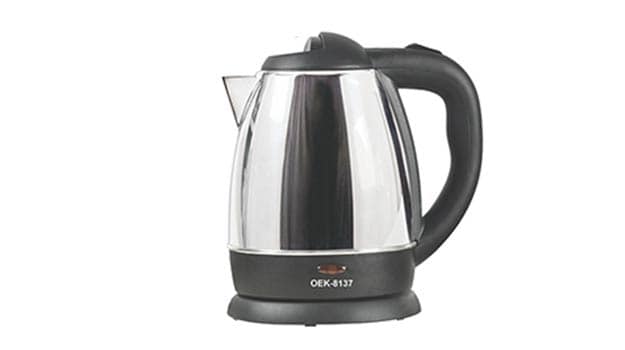 Kenwood:
It boiled water fastest amongst all other kettles due to the high power consumption. The design makes it a bit bulky and the body heats up quite a bit.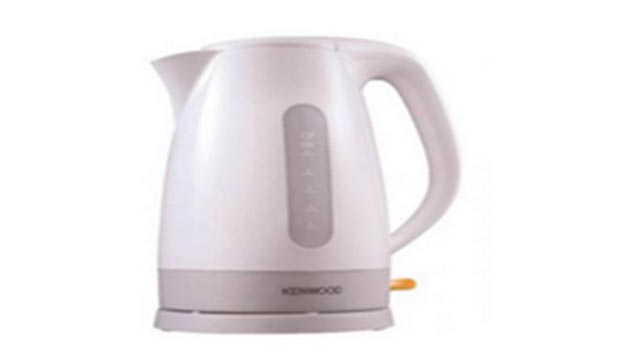 Orient:
It was visually appealing to see the orange panel of the water level indicator turn blue as the water boils. But the plastic body with the bright orange design may not everyone's cup of tea.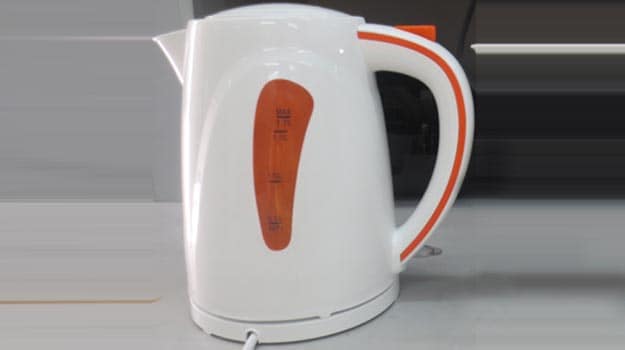 Russell Hobbs:
This vintage looking kettle will take you back in time with its traditional appearance. It is shaped somewhat like a stovetop kettle. The lid comes off completely unlike other kettles and allows you to pour the water easily. However, it might be cumbersome to remove and replace the lid every time. Temperatures on the lid were hot after boiling. It isn't particularly user-friendly without a water level indicator, an on/off light and measurement markings expect minimum-maximum level.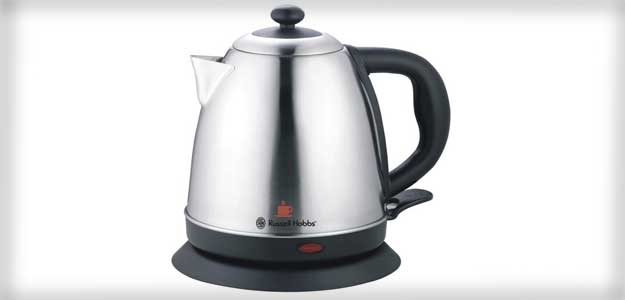 Bajaj:
The water window is difficult to see as it is placed on the handle. It takes more than three minutes to boil water which is too long in comparison to others.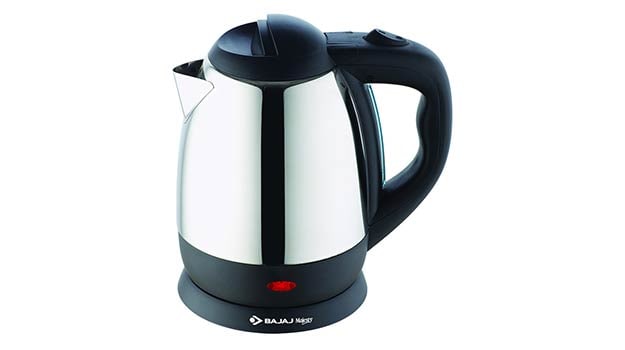 Butterfly:
The shape of the kettle makes it inconvenient to pour out the water with a small spout. There are no measurement markings on the outside.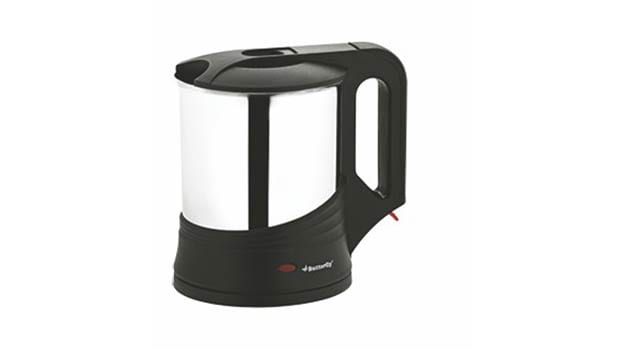 The brands that stood out4. Kenstar:
It is super light and has a sleek design. The half-handle is comfortable to grasp and the lid can be opened simply with a push of a button. It has an exceptionally thorough and informative user manual. It might be hard to clean as the circumference is not large enough but it has a detachable scale filter. There is no water window on the outside and only markings inside. The biggest drawback was that it tends to heat up very quickly and that it has only 1 year warranty in comparison to other contenders.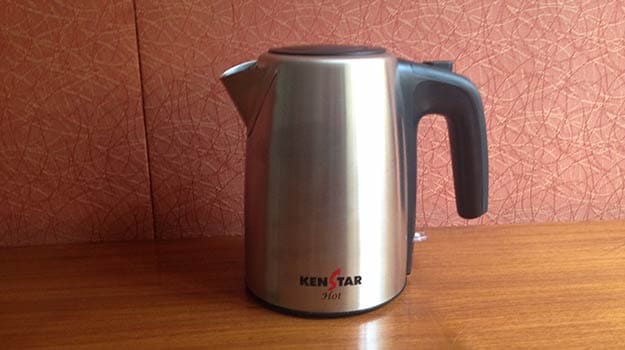 3. Morphy Richards:
The wide mouth makes it easy to pour in water and clean, but we're not a fan of the rounded shape. The lid becomes very hot and the spout was a bit too wide. It needs extra attention while pouring to avoid spillage. The bulky handle makes the kettle quite heavy. It has two switches – one is the power button and the other for keeping the water warm. While the keep-warm mode is an great feature, the two switches might be confusing for the user as there is no indication. I had to read the manual to find out that the other switch allows the water to remain hot. It was one of the best performers without consuming much energy. This is probably due to the dual element. Another interesting feature was the filter basket where you can place your tea leaves. But for all these qualities, you'll have to pay a higher price.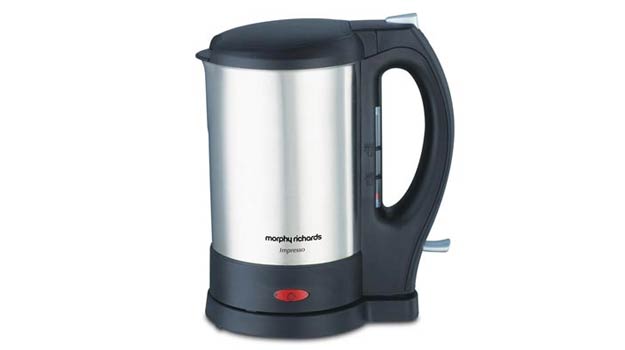 2. Inalsa:
If you're looking for value for money, you'll want to grab this. Distinct measurement markings are given clearly on both sides with a water level indicator that turns blue and bright to show when the kettle is on. The see-through glass window allows you to determine the water level and the progress of boiling. It's easy to maneuver, quick and doesn't consume a lot of energy.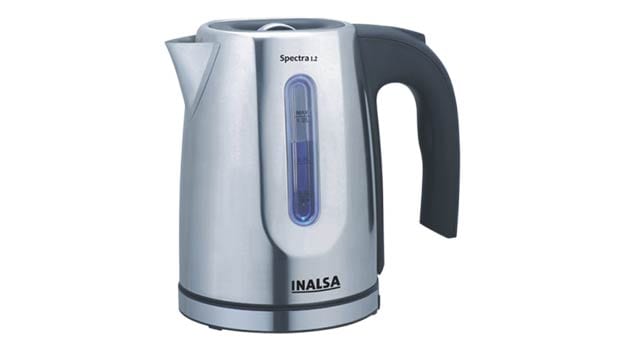 1. Phillips:
This handsome model comes with a stainless steel finish and is relatively light weight. It's a winning combination of speed, accuracy and ease. It doesn't have a water window but marked measurements are placed inside the kettle that even indicate cup measures while all other kettles only mention litres.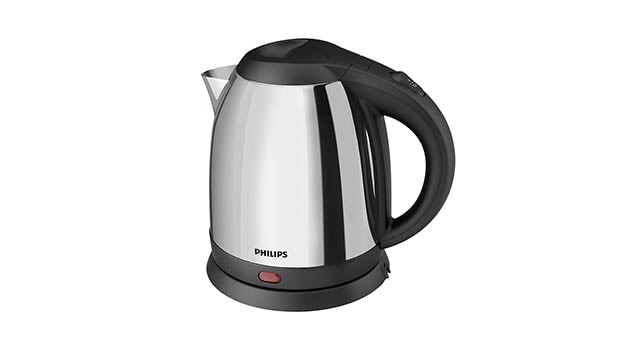 Conclusion
Both the kettles I recommend are stainless steel. Inalsa ranked high in most categories. However, if looks and the brand name are important aspects for you, we would recommend Phillips. There's not much difference between the two in terms of time taken to warm water - both took about 2 minutes to boil half a litre of water and the price is similar as well.