A chilled glass of buttermilk bursting with fresh spices and a creamy undertone, isn't this just the thing to get you back on your feet on a hot day? Well, we definitely think so and that prompted us to gulp down six different brands of this refreshing drink in a quest to find out the best among the rest.
What is buttermilk?
For those who haven't been introduced to this creamy concoction yet, buttermilk is actually the liquid that is collected when cream is churned and butter is produced. In India, it is made by adding water to
yoghurt
and straining the whey through a muslin cloth to do away with thick cream or butter. It is mildly salted (rock salt) and spiced with cumin powder (
zeera
), ginger, fennel and black pepper. Adding fresh herbs like mint and coriander gives it a pleasant aroma. Also known as
chaas
or
chaach
, it's a refreshing finish to any meal. The one from South India, called Neer More, uses asafoetida and curry leaves along other ingredients.
(Recipe: Buttermilk Sambar by Chef Aditya Bal)
Goodness in a glass - buttermilk benefits
Since buttermilk is collected after the butter has been removed, it is lower in fat and calories. It is a great digestive and helps in reducing acidity after a heavy meal by washing down the fat and oil that coat the lining of the stomach. Besides this, spices like ginger and pepper used to flavour the drink also help in improving digestion. A soothing glass of buttermilk relieves stomach problems like indigestion and constipation, and fights dehydration.
(10 Things You Can Make With Yogurt)
Selection Procedure
We picked some of the leading brands of spiced buttermilk that were easily available in general stores and supermarkets. We tried our best to find buttermilk packs that were manufactured around the same dates. Few were several days older than others, but all within the best-before date. Interestingly, some of them were said to last for only 15 days in contrast to others that were mentioned could last for as long as six months. Surprisingly, this didn't seem to affect the overall rankings. This could also be due to the difference in packaging.
(Green Tea Taste Test - Which One's the Best?)
The Contenders
Mother DairyAmulDanoneNestleParamParag
(Taste Test: Orange Drinks)
The Criteria
We blind tasted all brands to find the distinct differences and rate them. The tasters gave their personal scores and feedback which were later compiled to get the average results. We used cookies as palate cleansers. All brands were served at room temperature.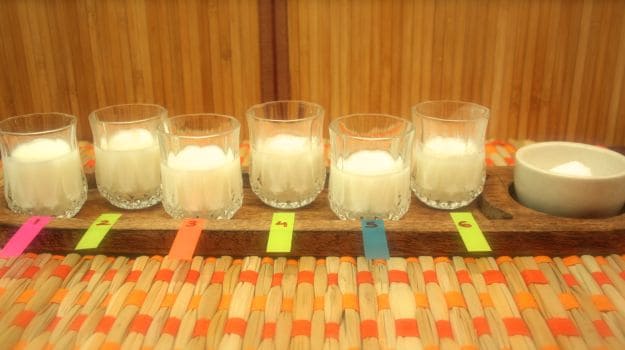 Each of them were ranked on the following three parameters -
Flavour:
Buttermilk is slightly sour and acidic which is due to the presence of lactic acid. It's tangy without cloying sweetness.
Texture:
You'd want your drink to be smooth. It should be creamy but not artificially slimy.
Freshness:
Was the first sip crisp and cool or stale and artificial?
What does the nutritional label say?
After the taste test, we took a quick look at the back of the packs for calories given the fact that some of you may consume this drink daily. We found that the sodium content is one of the main ingredients along with added flavours and preservatives. We have to confess, this exercise is always full of surprises.
The Results
Brand 1 - Param
Score: 4/10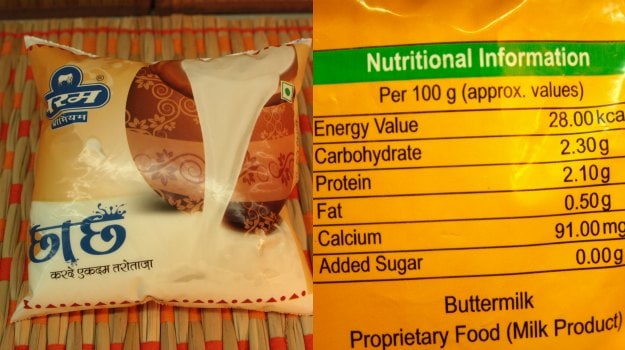 This one was slightly sour and tasted more like watered curd. It lacked flavour and freshness. The runny texture and bland taste were quite a disappointment.On the label: Param was high on calories in comparison to others (28kcal per 100ml). There was no mention of the sodium content on the pack.
Brand 2 – Amul
Score: 7/10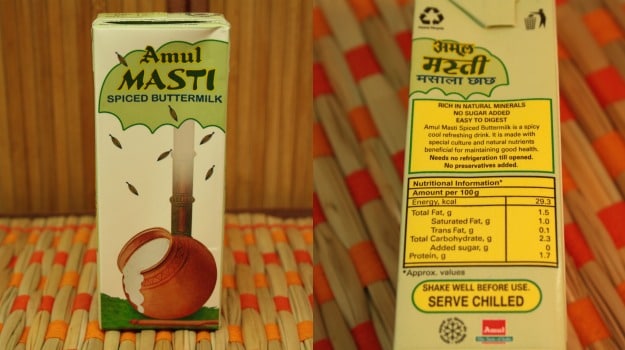 The preferred one! The texture was creamy, smooth finish – not too thick or thin. The flavour was nice and tangy with a great balance of
masalas
. Despite the fact that it is sold in Tetra Pak® and is on the shelves for longer (best before six months), it scored highest in terms of freshness especially when compared to Mother Dairy and Nestle that would last only for 15 days. Some felt that it could do with a tad less salt.On the label: No added preservatives and sugar. Surprisingly, it contained the highest calories (29.3kcal per 100ml). There was no mention of the sodium content but common salt is one of the ingredients.
Brand 3 – Go Buttermilk by Parag
Score: 4/10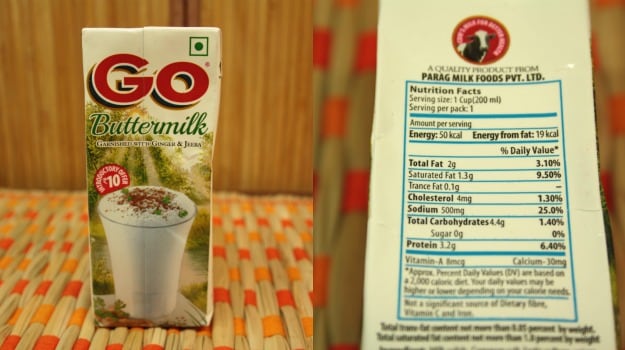 Parag buttermilk lacked the inviting aroma of spices. It had a weird fizzy, cola-like aftertaste and the flavour seemed synthetic. The texture was light. Most tasters found it to be quite salty.On the label: No added preservatives. After Amul and Param, Parag buttermilk contained the most calories (25kcal per 100ml). The sodium content was 250mg.
Brand 4 – Danone
Score: 3/10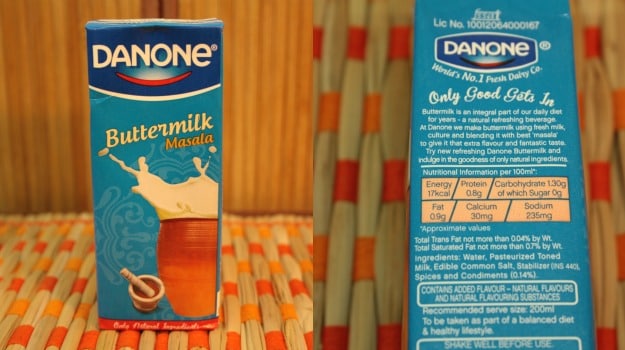 This one was dismissed by most tasters. It was pungent maybe due to excessive cumin and salt. It also had a bitter after taste. The texture was runny. Plus, it was more expensive than the other so not too friendly on the purse either.On the label: No added preservatives. It contained the least calories, same like Nestle's buttermilk (17kcal per 100ml). The sodium content was 235mg. This was also the one brand that highlights the fact that it uses only natural ingredients everywhere on its pack.
Brand 5 – Mother Dairy
Score: 6/10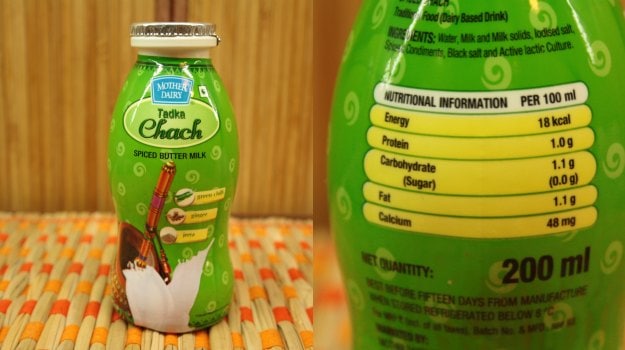 Another stunner, this one was light yet lively. It was a good blend, buttery and well spiced, though some felt it could do with more
masala
which is why they preferred Amul. Some tasters found it to be slightly grainy.On the label: No mention of the sodium content and the calorie content was decent in comparison to others (18kcal per 100ml).
Brand 6 – Nestle
Score: 5/10
Nestle's buttermilk pack lists 'mint' as a special ingredient but you can't taste the mint at all. It just has a distinct aroma which suggests there's mint in there. It also had a strange taste, somewhat overpowering and chemical-like. It was mildly fresh.On the label: Again, the sodium content was not mentioned and it contained the lowest calories (same as Danone's – 17kcal per 100ml).
Conclusion
If you go for the taste, Amul excelled. However, calorie-wise it's not the best choice. Nestle and Danone contained the least calories but majorly lost out on flavour. Our second favourite was Mother Dairy that only lacked the fresh feel when compared to Amul.
Disclaimer
This taste test was in no way sponsored by any brand(s). All expenses were borne by NDTV. All reviews are strictly personal opinion of the authors. The same should not be construed as the opinion or policy of NDTV. Always do your own research on products and companies before using a product you choose. NDTV, its affiliates and its management does not claim responsibility for any of the products/ or companies discussed on this site.