With all that talk of Vitamin C being good for you, these days we find that when it comes to orange drinks or juices, you are spoilt for choice. If you're confused about which one should you reach out for, here's some help. To make life a tad easy for you, we grabbed six brands of orange drinks that are easily available in the big cities and slurped our way through a citrus-y taste test.Here's our verdict on the best and the rest.
Contenders
We picked up drinks that can be easily purchased all over India. As the packs suggest, we made sure the drinks were chilled before the taste test. To avoid diluting the flavor, no ice was added. (
More: Read your labels - Top 10 things to look out for
)
All the brands that were tasted

Real
Real Activ
Tropicana
Ceres
Minute Maid
Safal
Methodology
We blind tasted six varieties of orange drinks in order to avoid bias, and we have to admit, it threw up quite a few surprises! On a scale of 1-10, where 10 was the highest, we rated them on the following parameters -
The drinks poured anonymously before the blind taste test

How orange-y did it taste?
The intensity of orange flavor.
Overall taste
Did the drink taste artificial and synthetic or have a natural orange taste?

Bitter Aftertaste
If the bitterness was low, we gave it a low score and vice versa.
Price
Value for money
Sugar content
The amount of sugar per 100 ml.
Brand 1 - Real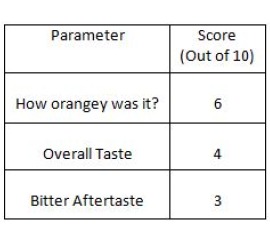 As we enthusiastically took our first sip, we found it to be too sweet; one reason could be the added sugar along with the natural fruit sugar. It was quite watery in comparison to its counterpart - Real Activ. It also seemed to have a synthetic aftertaste. To our surprise, it doesn't mention the word 'juice' on the pack, instead it uses the words - 'orange beverage'. We did like one feature about this drink, in that the warning label - 'Do not buy if the pack is puffed' was highlighted loud and clear.
Brand 2 - Real Activ

We rated it high on taste and were delighted to come across a natural orange-y kick. It was our second favorite, but it lost out on the bitter aftertaste. Since it has no added sugar or preservatives, it definitely scores more points according to our health index.
Brand 3 - Tropicana
A clear winner, it offered us a good balance between the natural orange taste, freshness and a subtle bitterness that comes with fruit. We found a thick consistency and the sweet-sour blend was spot on perfect. We were disappointed with the labeling - warnings about expiration date and puffed packs could have been highlighted better.
Brand 4 - Ceres
The pack screams the word 'orange' in big bold fonts along with illustrations of the orange fruit but to our surprise, it's not just orange juice! It is actually a blend of orange, apple and pear juice. To be fair, it does mention '100% juice blend' on the pack, but then that's easy to miss. Low on taste with a bitter aftertaste, it failed to work for us.
Brand 5 - Minute Maid
We always considered Minute Maid to be good old orange juice. On closer inspection, we found the pack doesn't not mention the word 'juice', rather, it says - 'Ready to serve fruit drink.' It has a dense consistency with quite a bit of pulp but we also found some peculiar red specs floating in it. Some of the older age-group tasters thought it had an artificial taste and could do with less sugar.
Brand 6 - Safal
Technically, it's not juice and nor does it claim to be. Not only does it have an unnaturally orange color, it also tastes like a soft drink without the fizz. We found the flavors to be imbalanced - it was too sweet and syrupy, and after a few sips, left a synthetic taste in the mouth. As a consumer you must read the fine print to see if you're buying an orange juice or a just an orange drink. Tell us which brand tops your list?
Disclaimer
All reviews are strictly personal opinion of the authors. The same should not be construed as the opinion or policy of NDTV. Always do your own research on products and companies before using a product you choose. NDTV, its affiliates and its management does not claim responsibility for any of the products/ or companies discussed on this site.