The beautiful thing about mayonnaise is that it's one of those condiments that clings to your food. It's creamy yet has some airiness to it, it's part sweet and part acidic, emulsified and fresh. It goes well with bagels, breads and in-between ham or egg sandwiches. It makes a smashing dipping sauce for chips and things that are sun-kissed and batter fried.(
10 Best Mayonnaise Recipes
)Mayonnaise has a reputation of being too complex: it is difficult to get it right and often ends up being thick, eggy and a confusion of sweet and sour. But if you've ever tried to make this classic at home or even read the recipe for that matter, you'd know that it's actually really simple. All you need is an emulsion of oil and yolk, some salt, mustard and something acidic like vinegar or lime juice to balance that out. But if whisking it up yourself seems like too much work, there's always the option to buy branded packaged mayonnaise from the store.
Mayonnaise has been America's number one selling condiment for decades and today, India isn't far behind. According to a 2014 report, India's mayonnaise market stands at Rs.350-400 crores with an expected growth rate of 25% per annum. And you'd get a glimpse of its popularity if you strolled down the condiments aisle at any supermarket. In the last 3-4 years, the range of brands that offer mayonnaise has gone up considerably.
(
How to Make Mayonnaise | Make Your Own
)
Home-made mayonnaise, if you've ever tried it, is jaw-dropping delicious but has a shelf life of 2 to 3 days. Whereas store-bought mayonnaise has a shelf life of a few months but whether it tastes as good as home-made mayo is what we set out to discover.(Eggless Mayonnaise)
The Contenders:
The brands we picked range from domestic ones priced as low as Rs.70 going up to foreign brands costing Rs.400. And within this wide range we managed to include most of the popular brands available in the Indian market.
Remia
American Garden
Fun Foods
Cremica
Hellmans
Kraft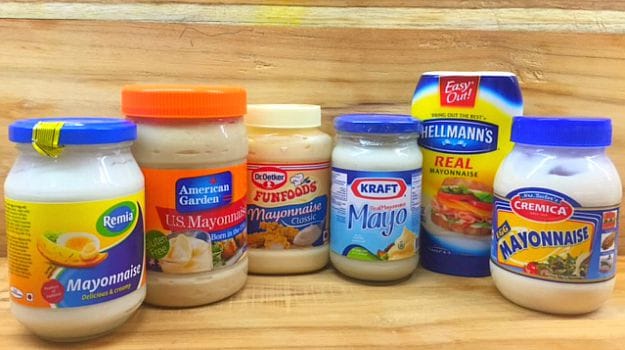 Criteria:
It's customary to eat mayonnaise with sandwiches and burgers but we knew we'd never get through six brands if we went down that route. Also, the the sandwich/ burger may overpower the intricate flavour profile of mayonnaise. So we tried mayonnaise with two sorts of ingredients: one, carrot and cucumber sticks to provide a neutral base and the second was tortilla chips. We also tried a spoonful of mayo each, to distinguish between the flavours of each brand. The blind taste test was conducted by the NDTV Food team. (10 Quick Party Snacks)
Parameters:
It's not often that we have a taste test of something which excites each member of the team, but when we decided to work with mayonnaise, we had several nodding heads. The taste test was done silently and scores were given by each team member in secret, so as to avoid biases. Below is what we were looking for in the perfect Mayonnaise.
Taste - It shouldn't be too sweet or tangy, but also not bland. The salt, vinegar and sugar (if any) should be nicely balanced. It shouldn't taste artificial or of preservatives. It shouldn't taste like raw eggs. Note: Sugar isn't a basic ingredient required to make mayonnaise, thus one which is too sweet may not be a classic version of the condiment.
Texture - Home-made mayonnaise is airy, silken smooth and consistent. Our aim was to try and find a brand that comes close to that. It should be more firm than runny and not paste-like. However, it should be spreadable and not pulpy. Sometimes, if the mayonnaise has been emulsified too much it seems more foamy than usual which is avoidable. It should also not be too oily.
General Appearance - Mayonnaise should be white in colour and not yellow. Not unless mustard is one of the ingredients and even then it can go as far as being off-white.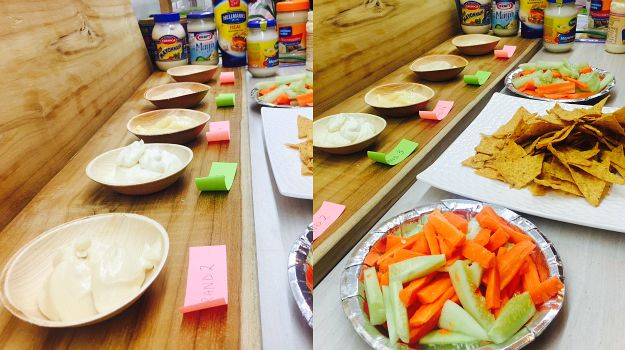 Test Results:
We pitted brands like Hellman's and Kraft that are enjoyed all over the world with brands of Indian origin to find that jar of mayonnaise that could rule them all. And the results were nothing short of remarkable.
Dr.Oetker Fun Foods
Score: 8/10
This was the winner of our taste test and pleased all of our tasters. It had a lovely consistency and airiness to it. Plus, it was priced most reasonably at Rs.80 for a 270 grams bottle. The sweet and sour were perfectly balanced and it complimented both the chips and the vegetables. In terms of ingredients, what struck us as odd was the egg yolk powder but it was also present in a few other brands.
Nutritional Information: This is where it gets interesting. Every 100 grams of Fun Foods mayonnaise has around 618 calories which is something we didn't count in the taste test because we judged the mayonnaise on taste only. It's also got permitted acids, permitted emulsifying & stabilising agents, permitted class 2 preservatives and permitted antioxidants.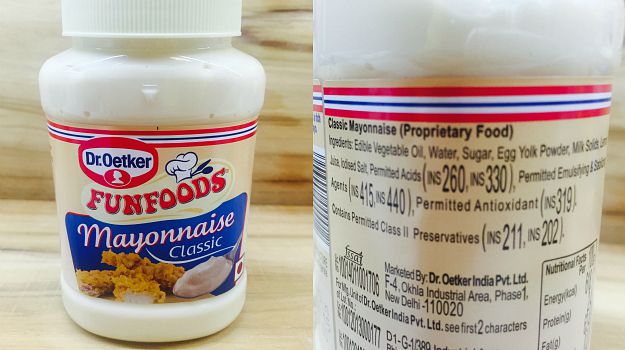 Hellman's
Score: 7/10
It had the most beautiful texture of all and if that were our only criteria Hellman's would be the clear winner. It oozes out of the bottle with marvellous ease and is a delight to scoop up. But when it came to taste, there was just one element which put it second. It was mostly sour with little or no trace of sweetness even though sugar was listed as one of the ingredients. And with every bite, the acidity just stood out more making it a no-go with the chips and carrots.
Nutritional Information: 692 calories in a 100 grams. Each serving of 13g has 0 grams trans fat, 0 grams carbs, <5mg cholesterol and 1.5g of saturated fat. It uses only natural colours and no preservatives which was a real delight.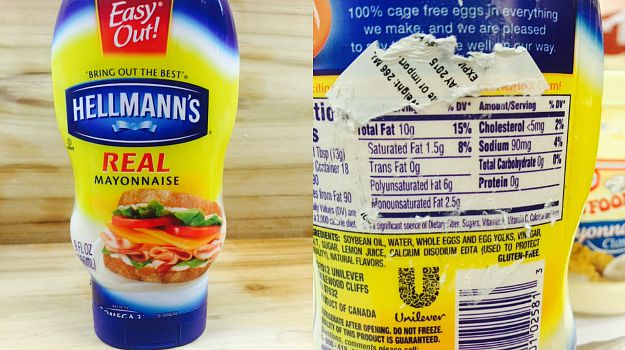 Remia
Score: 6/10
This gorgeous looking mayonnaise was as white as whipping cream which added to the appeal of its appearance. It had a beautiful cream-like light texture. It was well rounded with sweet, sour and all other elements intact but the reason it came third was that a few of the tasters found it too bland and one of them called it 'dull'.
Nutritional Information: It's got 580 calories per 100ml which is was the lowest amongst all. Each 100ml also has 2.7 grams of carbohydrates of which 2.2 grams is sugar.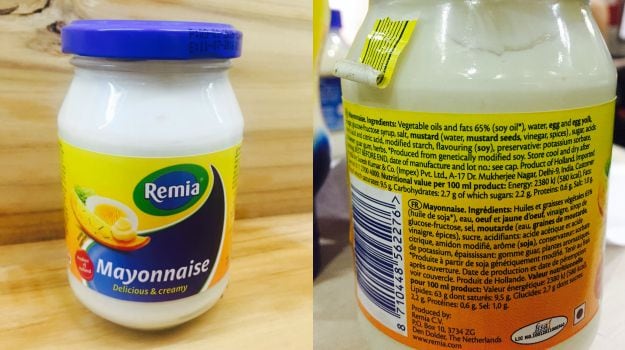 Kraft
Score: 5/10
Kraft's odd but distinct aroma put us off before we even tried the product. It was consistent but more like cream cheese in terms of texture. And in terms of taste, it was really sweet but left a creamy and pungent after-taste. We turned around and asked ourselves if we'd try it again and the answer was a flat out no. In terms of ingredients, it's got mustard, black pepper, garlic and onion but we couldn't taste any of these in the mayonnaise.
Nutritional Information: It had 620 calories per 100 grams which is considerably high. It's also got 9.9 grams fat and 1.4 grams of carbs per serving of 15 grams.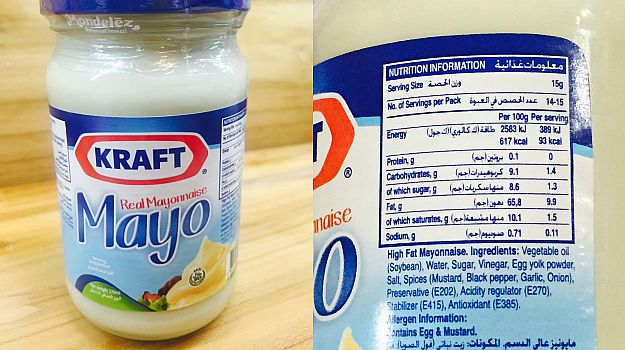 Cremica
Score: 5/10
Like Kraft, Cremica too had a very odd and vinegary aroma. It's consistent and spreads well though some found it to be 'too thick'. When it came to taste, it was extremely sweet and even left a sweet after-taste which didn't make us go back to it. And that was a disappointment considering that it has mustard and acidity regulators as part of its ingredients.
Nutritional Information: It's got 636 calories per 100 grams which again, is exceptionally high. Total fat stands at 66.6 grams and it contains 411 mg of sodium and permitted class 2 preservatives.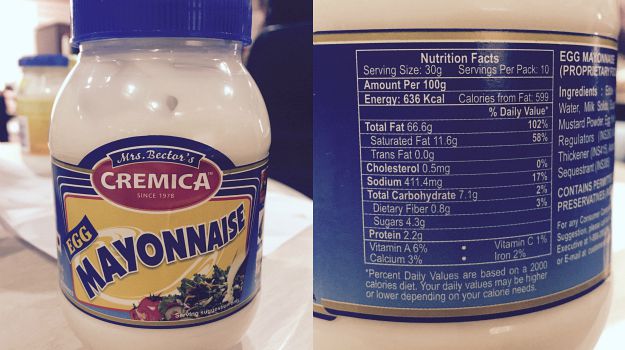 American Garden
Score: 4/10
It's an odd off-white colour that stood out, not in a good way, in our taste test. It smelled highly acidic, more than any other brand in the taste test. It was consistent but dense with very low spreadability. One of our tasters nailed its description: 'it tasted like sour butter'. It was very heavy and sour in flavour.
Nutritional Information: It has high fructose corn syrup which none of the other brands did , less than 2% salt and mustard seeds. It has 714 calories per 100 grams which is the highest amongst all the contenders. In every serving of 14 grams, it contains 11 grams of fat, 5mg cholesterol and 65mg of sodium.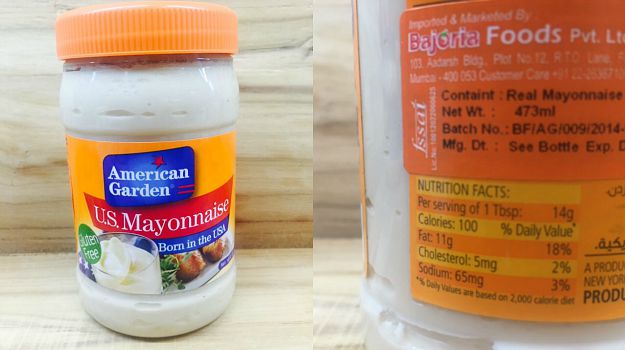 Disclaimer
This taste test was in no way sponsored by any brand(s). All expenses were borne by NDTV. All reviews are strictly personal opinion of the authors. The same should not be construed as the opinion or policy of NDTV. Always do your own research on products and companies before using a product you choose. NDTV, its affiliates and its management does not claim responsibility for any of the products/ or companies discussed on this site.