Mayonnaise Recipes: It's thick, it's creamy, it's rich and it goes perfectly well with bread, bagels, potatoes and sandwiches among others. It makes an excellent salad dressing and a perfect accompaniment for freshly grilled meat; it hits the spot each time. But the kind of mayonnaise we're talking about here isn't the kind you can pick up from the grocery shelf. It's the kind you can make at home and which is far healthier than what you buy from a store.

Mayonnaise when done right is really easy to make and can be customized to suit both your taste and your diet. You can opt for regular mayonnaise, tofu mayonnaise, eggless mayonnaise, dairy-free mayonnaise, or give the usual mayonnaise a jolt of fresh herbs and garlic.


There's a bit of a conflict when it comes to the history of mayonnaise. Where did it originate: France or Spain? One story suggests that 'the first batch of egg yolks, oil and seasoning was whipped up in 1756 to celebrate the French capture of Mahon, a city on the Spanish Isle of Minorca'. Although many food writers refute this theory and instead endorse the Spanish view which suggests that mayonnaise was invented in Spain. What we can say for certain is that mayonnaise quickly showed up in a lot of cookbooks and was mostly attributed to French cuisine. It transcended countries and made its way to America in 1838 when French chefs migrated to the States.


How to Make Mayonnaise | Tips and tricks To Prepare Mayo (by Chef Niru Gupta)
Take a big clean bowl and break an egg in it. Add 2 Tablespoon vinegar, 1/2 teaspoon sugar, 1/2 teaspoon salt. 1/2 teaspoon mustard powder or mustard oil and 1/4 teaspoon powdered black pepper. Whisk these ingredients together till the mix becomes fairly thick.


Now, add 1 Tablespoon of oil and continue beating till it thickens further. Add another spoon of oil and keep repeating the same process till you finish 1 cup oil. Since mayonnaise is made of mostly oil, it's important to choose the right one. Most chefs recommend extra virgin olive oil, but you can also use canola or sunflower oil.


Tip: If you get the desired consistency of mayonnaise before the one cup oil is over then you can let the remaining oil be. Feel free to add any flavouring at the end: crushed garlic, fresh herbs, lemon etc.


If you've managed to follow this recipe to a T and not let your mayonnaise split or curdle, then you deserve a pat on your back. And also a list of deadly recipes you can cook with mayonnaise.


Here are our 13 best mayonnaise recipes:
If you're a pure vegetarian or just don't fancy the eggy taste in mayonnaise, then we've got a brilliant option for you. This eggless recipe uses an intelligent mix of flour and milk instead of eggs which lets mayonnaise keep its silky texture.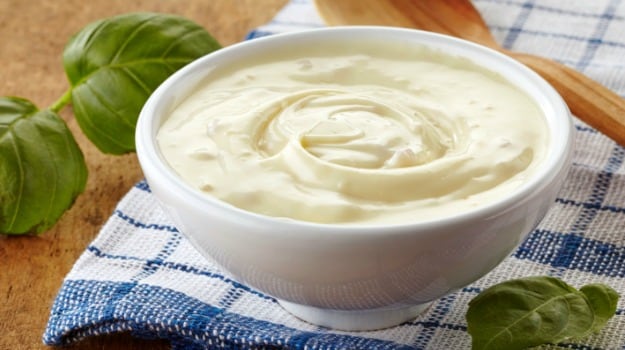 Here is the classic mayo dip recipe that you can easily prepare at home in just 15-20 minutes.
Imagine mayonnaise without oil, without eggs and completely dairy-free. It's a health freak's dream come true and one you'll also want to try. Take some silken tofu and throw it in a blender with cashew paste, lemon juice, mustard powder, salt, wasabi paste, sugar and pepper. Blend this mix and serve with crackers.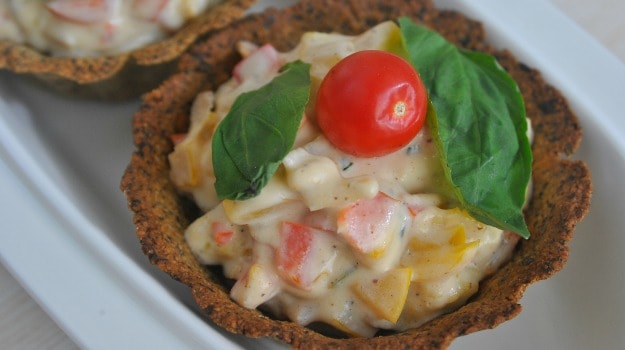 Without any eggs. Totally vegan. Made with tofu, this mayo recipe is all things delicious!
We take on the delicious task of making bread crumb coated chicken breast, chunky potato wedges and a bowl of spicy mayonnaise. After you're done frying the batter coated chicken to perfection, take a bowl of mayonnaise and blend it with some chopped chilli, lemon juice, salt and pepper. Dip it in and enjoy!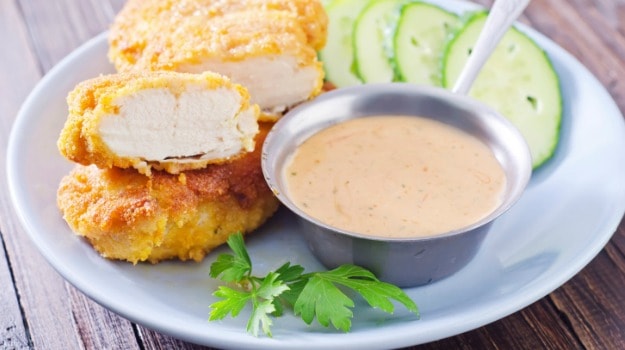 Bread crumb coated chicken breast fried crisp and golden, served with chilli mayo.
Layer after layer of goodness is what you get when you take on the task of cooking this mind-blowing sandwich. Grab some tomatoes, cheese slices, fry two eggs, cabbage leaves, mustard and a bit of mayonnaise. Now dig in!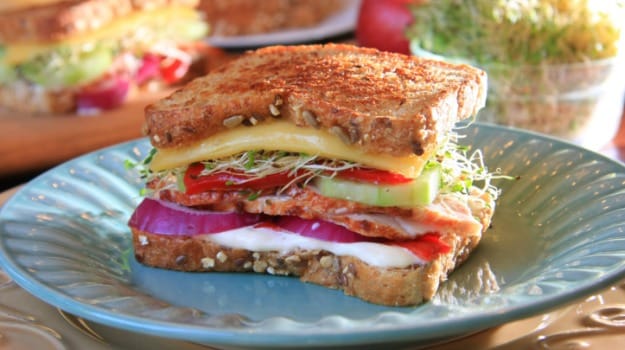 Scrumptious sandwiches with a generous helping of chicken slices, spreads, egg and veggies.
If you're looking for a creative alternative to your everyday dinner, then this is a must-try. Blend together some eggless mayonnaise and then add to that some yellow chilli and parsley. Now take this mix and pour it over some boiled vegetables, season it with salt and pepper, and serve.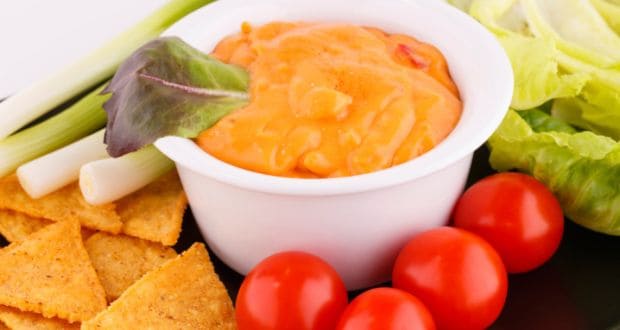 Egg-less mayonnaise infused with the flavors of yellow chilli and parsley.
This mayonnaise drenched potato salad is the perfect comfort food on a nippy rainy night. Take some boiled potatoes and mix them up with butter, yogurt, mayonnaise, spring onions, basil leaves and a bunch of aromatic herbs.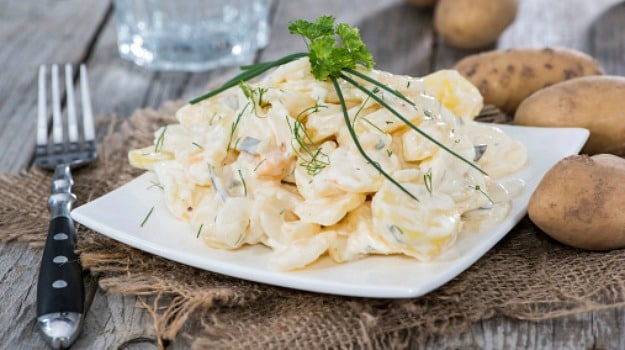 A rich potato salad with loads of mayonnaise and cream.
This Coronation chicken is an intelligent mix of pre-cooked chicken, creamy mayonnaise sauce, herbs, spices, some curry powder, mango chutney and lemon juice. You can eat it as a salad or use it as sandwich filler.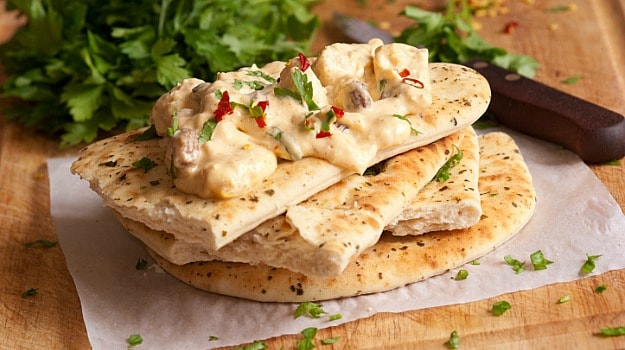 This recipe combines cold chicken meat with tomato puree, mayonnaise and herbs, which can be eaten as a salad or as a sandwich filler.
Sweet potatoes and a mayo based amla dip sounds like an odd combination but we promise it's probably the best thing you'll ever have. Thin strips of sweet potatoes fried to perfection served with a bowl of aioli which is made with eggless mayonnaise, roasted garlic, shallots, jalapenos, basil leaves, salt, pepper and thyme.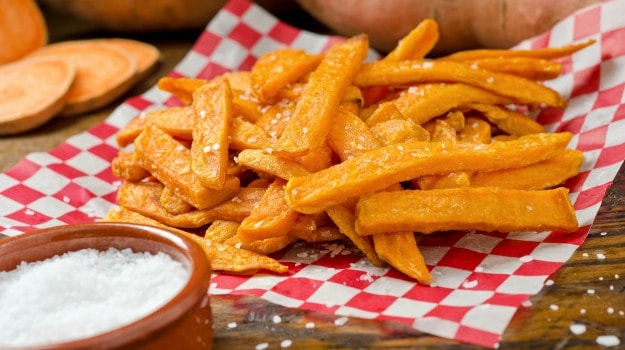 Dipped in a luscious batter, thinly sliced sweet fries are fried crisp and served with a zingy dip.
Tartate sauce was named after the Tartars of Central Asia of the French and has been one of the most popular cream-based sauces around the world. It's always been associated with a plate full of fish and chips but basically goes well with all kinds of batter-fried foods.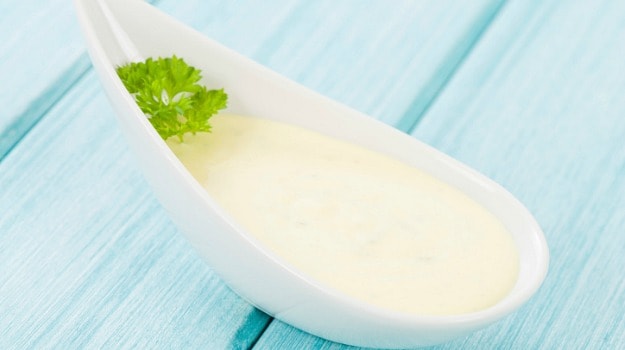 A creamy dipping sauce made with mayonnaise. Usually used with sea food, this dip is loaded with flavor.
You might have heard of this dreamy salad dressing time and again, but did you know it's made with mayonnaise? Grab a bowl of freshly made mayonnaise, take a boiled egg, some tomato ketchup, chilli powder, chopped celery and blend till you get a thick, sauce like texture.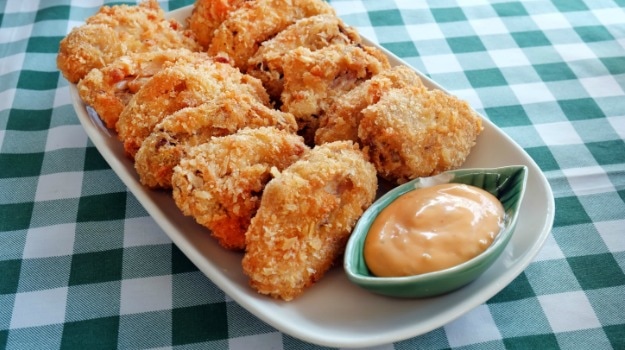 Thousand Island Sauce is frequently used as a dressing for salads.
Succulent fish fillets basted with lemon and salt, steamed to perfection. Topped with celery and dollops of salted mayonnaise. This is a perfect starter to any party at home since it is easy, quick and fuss-free to prepare.
Devilled eggs, also known as picnic eggs, egg mimosa and Russian eggs, are stuffed with a creamy mayonnaise filling that can be spruced up in numerous ways using spices, herbs and sauces.
Light, fresh and delicious - Oven poached salmon in fish stock served with perfectly cooked prawns and a bowl of shrimp mayonnaise.
Now you know some of the best and healthy options of preparing your own mayonnaise at home. It is way healthier and of course tastier than what you buy at a grocery store. Let us know which one is your favourite mayonnaise recipe!