The kebab may be best known to Brits as a down-and-dirty snack, but the real deal is a venerable, varied dish. Here are the the winners of the 2015 British Kebab awards
A grey lunchtime in Stoke Newington, north-east London, and I'm standing in the entrance to Super Kebab, an unexceptional-looking takeaway. For all of January's belt-tightening, there is a queue. I wait for four others to order before opting for a lamb doner and tucking in. It delivers: freshly minced, juicy lamb shoulder seasoned to perfection, offset by crisp salad, all comfortingly swaddled in pitta.
It is no surprise that on Wednesday, Super Kebab (and its sister restaurant Super Ocakbasi, a few minutes down the road) was named best takeaway in London at the British Kebab awards. Competition was stiff - there were more than 500 nominations for the top London slot, and more than 2,000 businesses around the country were nominated across 14 categories. As well as Super Kebab, the winners - judged by a panel of 19, Labour MP Keith Vaz, the Tories' Nadhim Zahawi and restaurateur James Breslaw among them - included Kebabalicious in Manchester (best delivery), Sheesh in Chigwell, Essex (best fine dining) and Haci Akdogan of Haz, London (best chef).
The awards were established in 2013 and, says their founder, 34-year-old Ibrahim Dogus of the Centre for Turkey Studies, aim "to help the industry and the community to realise its potential". But they hint at something else: a growing appreciation of the kebab as more than a late-night, drunken snack. "Our customers pass 100 kebab shops and come to us," says Abdullah Sahiner, Super Kebab's 40-year-old manager, who opened the takeaway 10 years ago with four partners. "Why? Because they know our food is homemade, and they know the quality."
According to the award organisers, kebab businesses contribute more than £2.2bn to the British economy each year. The first is said to have opened here, in Stoke Newington, in 1966. It's not clear how and when kebabs became the late-night reveller's snack of choice but, somewhere along the line, they did - accompanied by horror stories (a 2009 study by food standards officers found some kebabs containing up to 1,990 calories, 70g of fat and 16.5g of salt, as well as lamb kebabs testing positive for beef).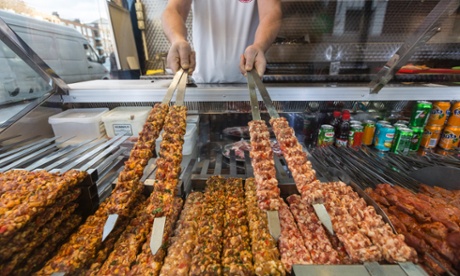 For restaurateurs, this stereotype is frustrating. "The association doesn't do justice to the quality and range of food that we have," says Ali Dirik, 52, of Mangal 2 in Dalston, east London, who picked up chef of the year at the 2014 awards. "Our cuisine isn't just doner kebabs; we sell hundreds of dishes that have been developed by professionals over decades."
But still. A great kebab is a wonderful thing - a perfect marriage of succulent, subtly spiced meat, pillowy bread and fresh, crunchy salad. "You don't need anything else - it's the complete meal in a handful," says Sabrina Ghayour, author of Persiana (recently named best new cookbook at the Observer Food Monthly awards). They are centuries old: in medieval Persia, soldiers are said to have used their swords to cook meat over open fires. Ottoman travel books from the 18th century talk of layered meat being cooked vertically on a stick - an early incarnation of the doner.
Much of their enduring appeal lies in their simplicity. As the Observer's Jay Rayner puts it: "It's a piece of meat on a stick - there's very little space to hide. So if you do them badly it immediately becomes very, very obvious." There are myriad regional incarnations, from the Pakistani seekh kebab (minced meat, skewered and cooked in a tandoor) to the Persian kabab barg (flat, pounded, marinated lamb fillet).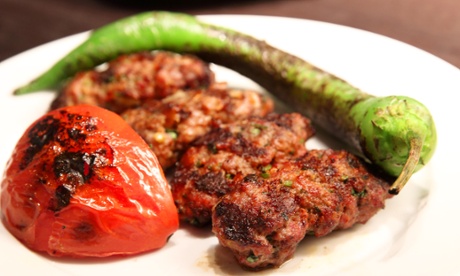 Yet they work across the spectrum, from down-and-dirty (for all the shame that accompanies the late-night takeaway, there's no denying its potency) to, increasingly, high(ish)-end. This year, Yotam Ottolenghi's business partner, Noam Bar, will launch a fast-food business with kebabs at the centre. Alan Yau, the legendary restaurateur behind the Wagamama chain and Hakkasan in London, has just opened Babaji Pide, also in London, which sells beef and lamb kofta kebabs cooked over charcoal alongside the Turkish-style pizzas it is named after. "My wife is from Istanbul, so I felt compelled to offer a gesture of fond respect," says Yau of the new venture. "I have eaten my share of kebabs - the good, the bad and the potentially lethal. The perfect one, lovingly made with the finest fresh ingredients, is a timeless, irresistible culinary prize."
With food this good, there is no shortage of high-profile fans. As well as Yau and Ghayour, Heston Blumenthal and Ottolenghi have spoken of their fondness for the kebab. The artists Gilbert & George famously eat nightly at Mangal 2. Vaz says he has been a devotee all his life: "I think we should honour the kebab for being an extremely simple food that's very tasty and perfectly shaped to go straight into your mouth." He has one a fortnight, a lamb doner with salad, tomatoes and hummus, from Kebabish in his Leicester East constituency.
Those behind the awards hope that they will further raise the kebab's profile. Mustafa Demir, manager of The Best Turkish Kebab, another Stoke Newington joint, says business increased 10% after they picked up last year's best takeaway in London gong. For kebab lovers everywhere, that can only be a good thing.
The winners
Best takeaway
Super Kebab/Super Ocakbasi, Stoke Newington, London
Botan Kebab House, Liverpool
Runner-up: Archway Kebab House, London
Runner-up: The Kebab Shop, Birmingham
Best delivery
Kebabalicious, Manchester
Runner-up: Istanblue, Rochdale
Fine dining
Sheesh, Chigwell, Essex
Runner-up: Sarastro, Covent Garden, London
Best value
Selale Restaurant, Harringay, London
Wood Oven BBQ, Potters Bar, Hertfordshire
Runner-up: Stone Cave, Dalston
Best newcomer
Pivaz, Hackney, London
Hill Café and Bistro, Huntingdon, Cambridgeshire
Runner-up: Diyarbakir Kitchen, Harringay
Best in Northern Ireland, Wales, Scotland
The Sphinx, Belfast
Pizza Choice, Cardiff
Javits, Edinburgh
Kebabs cooking over coals at Super Ocakbasi, Stoke Newington, London. Photograph: David Levene/Guardian