Ice cream was perhaps our first sugar love and ever since it's been the answer to every mood swing. If you've ever given in to a tub of ice cream, you'll know what we mean. From the very first lick to the last bite, you can't help but lose yourself to its charm. It's the kind of stuff that sweet memories are made of. We all need our fix of something sinful, don't we?This time around, we went scoop by scoop to find out the most delicious vanilla ice cream that you'd love to end your meal with. A spoonful of this old-fashioned flavour is the only thing that can make a fudgey slice of cake or a warm apple pie memorable. It can make your senses sing and whisk you away to a happy land. It's the one flavour that you can pair with a million things and still love.
(How to Make Ice Cream at Home: An Easy, Foolproof Recipe)
At the start, many tasters were tempted to ask if there would be much of a difference in the taste of the ice cream between brands. Some even confessed that all vanilla ice creams almost taste the same – plain and simple. Turns out we were wrong.
Selection Procedure
The blind taste test was conducted by the Food Team at NDTV. We picked six leading brands of ice cream across the country depending on their availability and popularity. We made sure they were all within the best-before date. We were disappointed on not being able to find Amul ice cream across retail shops and it had to be excluded due to unavailability.
(10 Ice Cream Flavours You'd be Crazy (Not) to Try!)
Below are the contenders –Cream Bell
Mother Dairy
Vadilal
Giani's
Baskin Robbins
Kwality Wall's
The Criteria
We blind tasted all the brands to find the best vanilla scoop -one that can sit pretty in a cup and even on top of a cone or give company to a dessert. The ice cream was tasted plain without any toppings. We nibbled, scored and broke down the nutrition labels. First, all brands were ranked on the following two parameters and then the labels were studied.
Taste:
The first thing to hit your taste buds should be the toasty vanilla bean flavour along with the signature fragrance. It should be milky and rich but that shouldn't overpower the vanilla flavour. Balanced sweetness and slight buttery notes round off the flavour.
Texture:
Good quality ice cream should be beautifully creamy, smooth and light at the same time. It's a disappointment when it's airy, foamy or icy - more like a mousse or sorbet. The texture should be firm. You don't want it to melt till you put it in your mouth. We love the snow-white appearance, bright and lively. Some of them may be pale with a faint yellow tinge.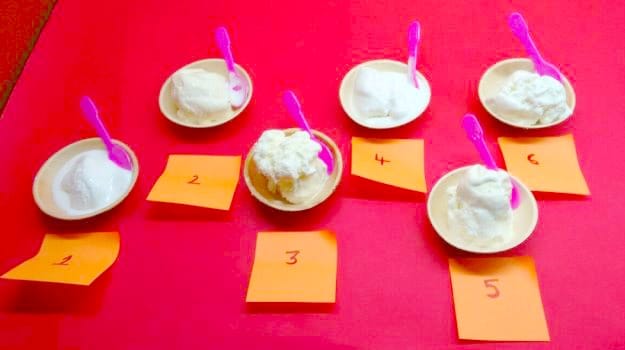 (Ice cream Vs. Frozen dessert - The Chilling Truth)
According to the Food Safety and Standards Authority of India, the definition of an ice cream, kulfi or softy ice cream means that the product is obtained by freezing a pasteurized mix, prepared from milk and /or other products derived from milk with or without the addition of nutritive sweetening agents, fruit and fruit products, eggs, etc. The packaging and pictures on a pack may make you think that it's ice cream but it is only when you pay attention to details and read the labels will you be able to distinguish.
Finally, which one did we love?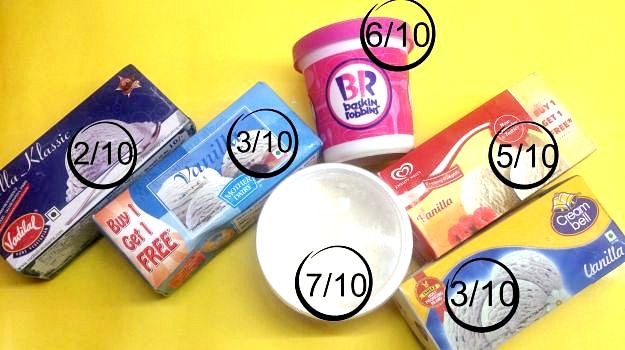 1. Giani's
Score: 7/10The winner, hands down! This one really stood out for capturing the essence of vanilla. Most other brands just tasted sweet but Giani's managed to bring out the vanilla flavor well. It was beautiful in its simplicity. The texture was silky and smooth, it did not taste of ice crystals nor did it melt away quickly like a few others. Taste and texture go hand in hand for any food item and especially so in ice-creams. It is very important to taste delicious as well as have the perfect consistency. One thing that can keep you away from this one is the calorie content which was the highest amongst all brand.
2. Baskin Robbins
Score: 6/10If you're the kind of ice cream lover who likes it sharp, intense, buttery and browned – this one's for you. The ice cream had a nice dense texture that held its shape for the longest time. This is useful if you are pairing the ice cream with deserts like cake, brownie or apple pie. It also has a distinct taste which many tasters could identify with the brand, even though this was a blind taste test. While most were hooked on to it, some felt it had a muted vanilla flavour and was a bit frosty. It lacked the smooth, creamy goodness that an ideal scoop of ice cream should have. It narrowly missed the overall win due to the icy texture which made it somewhat sorbet-like.It broke many hearts when we found that it was quite high on calories. It was also considerably high on sugar. On the pack, they mention nothing about ingredients or nutrition. We had to call retailers and source information from their website which can be a tedious task for consumers.
3. Kwality Wall's
Score: 5/10This one really took us by surprise. Sounds strange but it would have been a good contender in a butter scotch ice cream taste test. The colour was not as bright as others and was slightly off-white. It offered a caramel-like after taste which most tasters loved but it lacked an authentic vanilla flavour. It was delicious but not the best 'vanilla' ice cream. Again, it uses edible vegetable oil in its making and also mentions the fact that it's a frozen dessert. The texture was well-rounded and creamy. The ice-cream did not melt quickly, neither was it very icy or have crystals. If it were not for the butterscotch flavor or the vegetable oil, Kwality Walls would have been a strong contender in this taste test.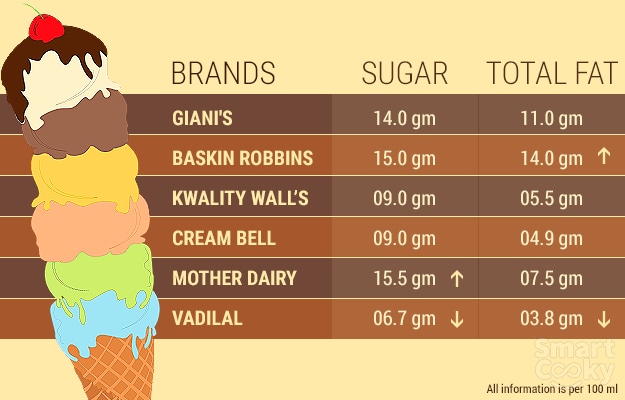 Score: 3/10'Bland and boring,' said one of the tasters. It lacked the essential vanilla flavour and was more on the milky side. The texture was light and foamy which was another downer. It melted before you could enjoy it and also left a buttery coating on the palate. It seemed very sweet but its sugar count was lower than most of the brands. If you read the label, you'll find edible vegetable oil as one of their ingredients. If you search more, you'll spot frozen dessert tucked away in the corner of the pack.
5. Mother Dairy
Score: 3/10The first thing that we noticed about this was the texture or the lack of it. It was too airy and melted quickly. It didn't have much of a distinct flavour and was kind of underwhelming. Its tendency to melt quickly would make it unsuitable as an accompaniment to desserts like pies. It was the only other brand, besides Giani's and Baskin Robbins that does not contain vegetable oil but it had the highest sugar count.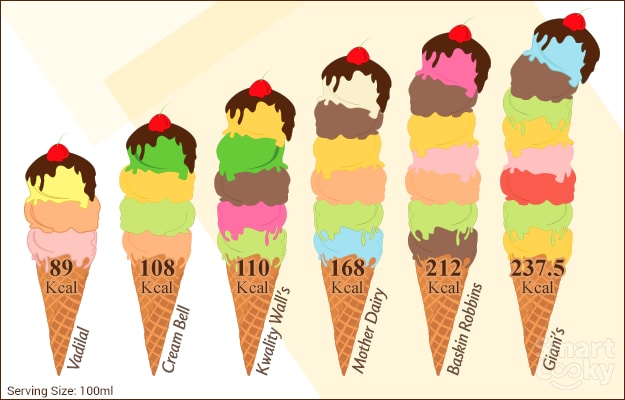 6. Vadilal
Score: 2/10It was very light, almost like vanilla frosting. It was softer and the flavour was a little bland which got easily lost with others. It didn't have much depth. Nothing that really set it apart, besides the fact that it had the least calories and sugar content. On the pack, they mention the use of edible vegetable oil and also the fact that it is a frozen dessert.
(Nigel Slater's Recipe for Marmalade and Chocolate Chip Ice-Cream)
Conclusion
Most brands were within the range of Rs. 80 to Rs. 100 while Baskin Robbins and Giani's were on the steeper side. But in both cases, we felt that the taste justified the price. All brands use artificial colours and flavours. Mother Dairy, Giani's and Baskin Robbins do not contain vegetable oil and qualify as ice creams while the others fall under the category of frozen desserts and they mention the same on the pack. We missed the vanilla fragrance in most brands. As far as taste is concerned, Giani's topped our list although taking the health factor into consideration it contains the maximum calories.
Disclaimer
This taste test was in no way sponsored by any brand(s). All expenses were borne by NDTV. All reviews are strictly personal opinion of the authors. The same should not be construed as the opinion or policy of NDTV. Always do your own research on products and companies before using a product you choose. NDTV, its affiliates and its management does not claim responsibility for any of the products/ or companies discussed on this site.