Florence's food scene is being celebrated at its annual Taste gastro-fest from 7-9 March but year-round the best of the city's restaurants offer innovative meals that are perfect for travellers on a budget
This weekend, food enthusiasts will be piling into the vast, early 19th-century spaces of the Stazione Leopolda in Florence for Taste, the city's annual gastro-fest. The event, now in its 10th year, sees producers and industry pros, plus an estimated 10,000 visitors, come from all over Italy and beyond for two-and-a-half days of tastings, round-table discussions and food chat. Tickets cost €20 (€15 if you book at pittimmagine.com) and allow you to feast on free tastings of the best gourmet food Italy has to offer. Look out also for the peripheral Fuori di Taste, with gastro-events held all over the city during the weekend. Taste is open on Saturday and Sunday from 1.30pm-7.30pm and on Monday from 9.30am-4.30pm. If you can't make this festival of food but are planning a visit to Florence, there's no reason why you can't still explore its food scene in depth. Here, we select 10 restaurants that are good for the tastebuds without necessarily busting your budget.
Mercato Centrale
The recent conversion of the first floor of the magnificent 1874 iron-and-glass market building into a stylish food court provides not only a showcase for producers but also a buzzy, affordable eating and drinking venue that is open daily from 10am-midnight. Stands selling everything from freshly made mozzarella to fresh pasta, fried fish, pizza, truffle sandwiches and barbecued ribs are set around a huge central area with communal seating: you choose your food, grab a drink from one of the bars and sit anywhere you find space. Expect to pay around €9 for a dish of gnocchi with squash and pancetta, €10 for a platter of mixed cheeses or meats, €8 for a burger made from prized Chianina beef, and €7 for one of the best pizzas in town. Regular evening live-music sessions add to the party spirit.
Piazza del Mercato, mercatocentrale.it
L'Osteria de L'ortolano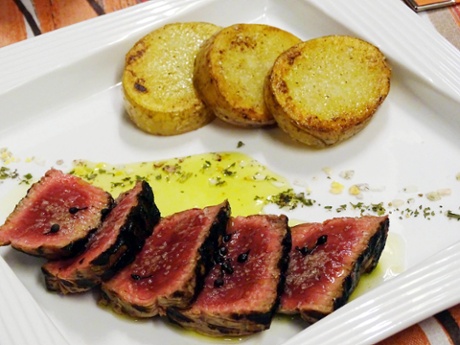 A convenient stop-off after a visit to the Accademia, Massimo and Marta's gourmet grocery store and small osteria is an Aladdin's cave of edible goodies: its shelves packed with jams and honey, balsamic vinegar and olive oil, pasta, homemade biscuits and wine. It's also a great place for a quick lunch. The choice of fresh pasta dishes and mains (from €6) changes daily and plates of mixed meats and cheeses cost from €8; many of the seasonal ingredients are sourced from the family farm. In the evenings, the menu ratchets up a notch or two in terms of sophistication, but prices remain remarkably low for the likes of hand-rolled ravioli stuffed with ricotta and wild herbs served in a puddle of melted butter, vin santo risotto and seared fillet of Fassona beef from Piemonte. The excellent house wine, I Veroni from Rufina, east of Florence, costs €12 a bottle.
Two-course dinner excluding drinks about €20. 91r Via degli Alfani, +39 055 239 6466, osteriafirenze.com
Il Guscio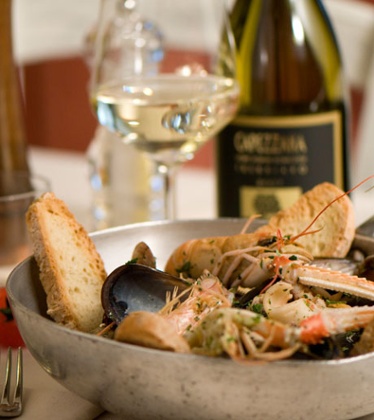 This lively, out-of-the-way Oltrarno osteria serves extravagant fillet steak and grilled tuna in the evenings but weekday lunches are a great deal - and the place is often packed. The menu changes daily to include dishes like spaghetti alla trabaccolara (with a garlicky seafood-and-tomato sauce), or farfalle withbaccala (salt cod), smoked scamorza cheese and artichoke terrine and succulent roast beef, plus inviting homemade puds, such as pear-and-pinenut tart. There's always a choice of three or four wines by the glass (€3) but the long and interesting wine list offers temptation from all over Italy, if you feel like a treat.
Two-course lunch excluding drinks about €15. 49 Via dell'Orto, +39 055 22 44 21, il-guscio.it
Le Volpi e l'Uva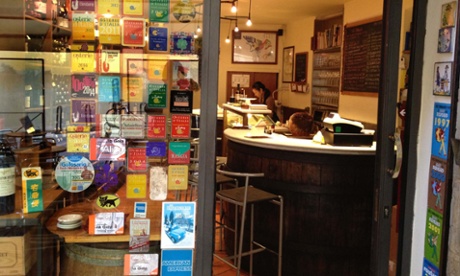 In a tiny piazzetta, just off the crowded Ponte Vecchio-Palazzo Pitti tourist drag, this bright, modern squeeze of a wine bar has a firm local fanbase. Perch on tall stools at the bar counter or bag a table on the terrace and order from about 30 wines by the glass (from €4), made from a selection - that is changed regularly - of small, lesser-known producers from all over Italy. Eats include smoked trout fillet (€8.50), tasting boards of top-notch meats and cheeses (from €8) and a choice of melting crostoni (rustic open sandwiches toasted under the grill, €7.50). The one with bubbling asiago cheese and slivers of crispy speck, drizzled with honey, is highly recommended.
1 Piazza de'Rossi, +39 055 239 8132, levolpieluva.com
Gnam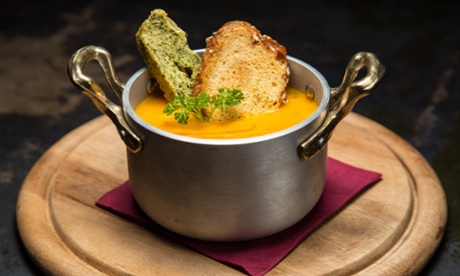 This "natural soup" and burger joint only opened in January, and lies far from the tourist hordes, on a quiet residential street in the San Frediano neighbourhood. On one side of the road is the kitchen and takeaway operation, while opposite there is a stylishly spartan modern restaurant with stripped wood tables, a long bar counter, and a tiny courtyard that opens for dinner. Organic vegetables and herbs and locally produced beef go into tasty, seasonal soups (zingy carrot and ginger or earthy lentil and kale, €7.50) and juicy burgers (from €8) and there are a number of gluten-free, vegetarian and vegan options. Desserts such as a sinfully rich, flourless chocolate cake (€4) are well worth leaving space for and the drinks list features excellent organic wines from the owner's estate, craft beers and organic fizzy drinks.
2r Via Camaldoli, +39 055 22 39 52, gnamfirenze.it
Trattoria da Rocco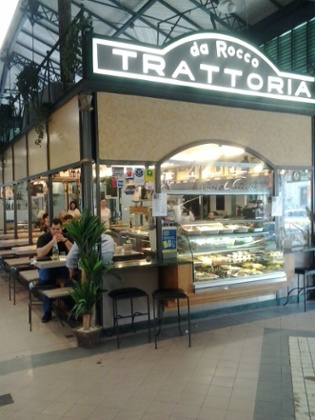 Rocco has been serving up wholesome, home-cooked food to stall-owners, local shoppers and the odd bewildered tourist within the very Florentine Sant'Ambrogio market since 1986. Two rows of bare tables and a hot-food counter are squashed into a long, narrow glass-and-iron structure: it feels a bit like eating in a train carriage and you may easily end up sharing a table, but that's part of the fun. Prices are rock bottom for no-nonsense pastas and soups (pasta e fagioli is a reliable regular) and mains such as spezzatino, a hearty beef and potato stew. Round it off with panna cotta or a baked pear.
Three-course meal, including wine and water, €15. Mercato di Sant'Ambrogio, Piazza Ghiberti, +39 339 838 4555, trattoriadarocco.it
Ditta Artigianale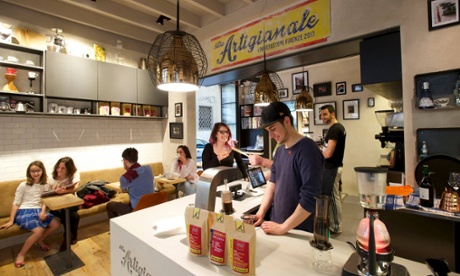 The main player at Ditta Artigianale - a hip, bustling new venue near Santa Croce, with a shabby-chic aesthetic - is coffee and award-winning barista Francesco Sanapo is roasting and brewing some of the best in Florence. But there's a well-priced food menu, too. It kicks off with pancakes and maple syrup or scrambled eggs and bacon in the mornings (from €5), moves through lunchtime soups (€6), salads (€8) and croque monsieur (€6), teatime muffins and cakes (from €2), and on to dinner with tuna carpaccio, melanzane alla parmigiana and steak tartare (from €6). Apart from a wide choice of coffees and teas, the drinks menu includes organic juices, craft beers and over 90 different types of gin, making this one of the hottest aperitivo addresses in town.
32r Via dei Neri, +39 055 274 1541, dittaartigianale.it
Il Chicco di Caffe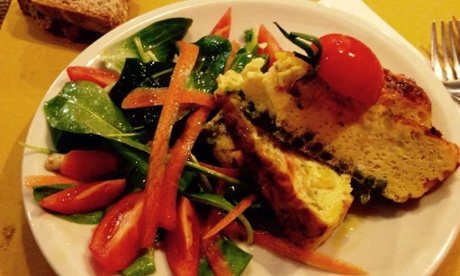 Santo Spirito is one of the more authentic neighbourhoods in Florence and this convivial, mod-rustic corner bar is always packed at lunchtimes with an egalitarian mix of local artisans, staff from the nearby Gucci headquarters, students and tourists in-the-know. Aka Lola's, after owner Maurizio's 80-something mum who was the original cook, it is famous for its long, lazy lunchtimes, bargain prices and good, homely food. These days, Lola only cooks on Saturdays, but her culinary spirit lives on in the likes of tagliatelle with artichokes, baccal a (salt cod) in tomato sauce and roast guinea fowl. In the evenings, a different kitchen crew moves in and the place morphs into Trattoria La Lola with a different menu and slightly higher prices.
Two-course lunch (Mon-Sat) €14, excluding drinks; two-course dinner (daily), €20 excluding drinks, 16r Via della Chiesa, +39 055 265 4354
Zeb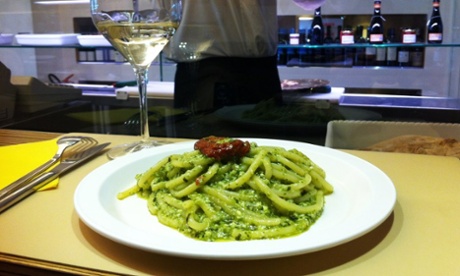 Standing on one of the prettiest spots of the eastern Oltrarno, Zeb was a family-run grocery shop until its 2009 transformation into a sleek, contemporary gastronomia and enoteca. You sit elbow-to-elbow at the long, wraparound counter, where Alberto Navari and his mother, Giuseppina, take you through the day's specials, the highlights of which are fabulous pasta dishes such as cappellacci stuffed with pecorino and pears or taglierini with fresh black truffles. But you will also be tempted by the likes of melanzane alla parmigiana, peppery peposo stew, a fantastic array of seasonal vegetable dishes and wonderful desserts. A sophisticated choice of wines rounds things off nicely.
Two courses excluding drinks costs about €16. 2r Via San Miniato, +39 055 234 2864, zebgastronomia.com
Semel
There are plenty of places in Florence where you can get a really good sandwich but at Semel, a miniscule hole-in-the-wall overlooking the Sant'Ambrogio market, the tasty combos - though not what you would normally expect to find in a bun - are delicious. The choice changes daily but a recent visit turned up cinghiale (wild boar) with blackcurrants and polenta, orange-spiked porchetta (roast suckling pig) stewed with cavolo nero and lambs lettuce, pecorino cheese and honey. Inside seating is limited to a few stools, so you'll probably be joining the happily munching crowd spilling onto the pavement. Panini cost from €4 and the house wine is €1 a (tiny) glass.
44r Piazza Ghiberti
Hot stuff ... lunch is served at a stall in Mercato Centrale. Photograph: Gianluca Moggi