In the last piece, we helped you pick up the best basic pressure cooker in the market. We also talked about safety mechanisms, how to cook with a pressure cooker and budget buys. This piece is for all those who need something more than just basic, everyday cooking and expect a little more from their pressure cooker. Almost all fancy pressure cookers these days are anodized and compatible to varying heat sources - halogen, induction, gas stove and electric plate. They are also a great gifting option for Dhanteras, Diwali or on any other occasion.
In an age of multitasking where most of us are strapped for time, we expect speed and efficiency beyond all else. A certain level of class and style gives the product an extra edge. We bring you some of the latest and most stylish pressure cookers in the market that are not only super efficient, trendy but also make great gifting ideas. Welcome to the world beyond pressure cookers, here we are talking about appliances that are chic, stylish, colourful and come with attractive additional features.(How to Cook Rice, Pulses and Meat in a Pressure Cooker)
Pigeon All in One Super Cooker: The latest from the house of Stovekraft is the All in One Pressure Cooker which not only lets you pressure cook but helps in straining food efficiently and presenting it well. We reviewed a five litre model which comes with a strainer and a serving lid. It has an inner ceramic non-stick coating which lets you stir-fry or cook curries with ease. The model is backed by one year's warranty including a one year warranty on the inner surface. The appliance is made of high grade aluminum with a stylish, calibrated weight valve. It comes with a standard safety valve and additional safety features of gasket release and gasket vent system.
Available in three stylish colours - red, green and black - this model is an outer lid one with an induction base thick, heavy disc bottom for quick cooking and keeping the food warm for longer. The warranty, however, is against manufacturing defects and/or faulty material only. It will be repaired or replaced in parts or as a whole, free of cost during the warranty period. Outer lid models are relatively difficult to assemble for Indian users who are traditionally used to inner lid/traditional stove top cookers. The same may be felt in case of Pigeon All in One Pressure Cooker; despite which, the overall efficiency and style factor of the product makes it a hot buy for the season. It is attractive, multipurpose, easy to use and clean, fuss-free priced at an extremely competitive price of INR 2495/-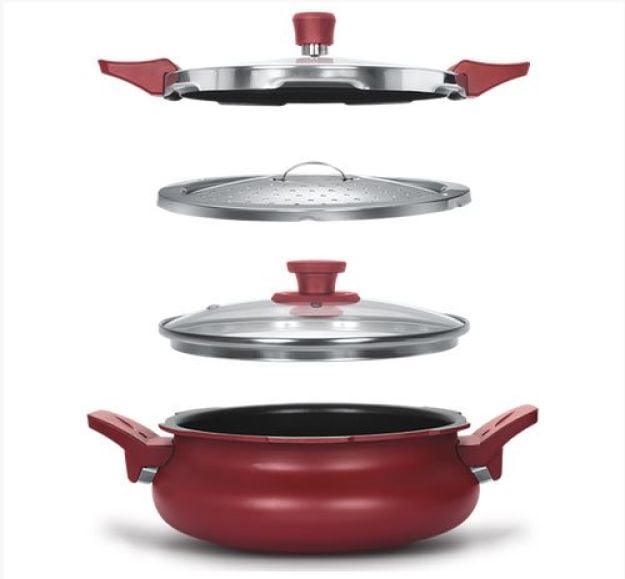 Image via official site
Why Should You Buy This?
This model would qualify as our suggestion for the best buy under this segment. In the same price range not only are you getting multiple accessories but a stylish, multipurpose appliance a well which is efficient in its performance and quite stylish.
Hawkins Contura: If you don't mind shelling a little more for style then Hawkins Contura can be your festive buy this season. The range comes in three captivating colours which can liven up your kitchen. Available in tomato red, apple green and mustard yellow, Contura comes with German hi-tech ceramic coating with anodized aluminum body and a stainless steel lid. It has a double thick (6.35mm) energy efficient base that absorbs heat quickly and evenly. It is anti-tarnish or corroding. This model is not induction compatible, however you can shallow fry with it with much ease. Contura comes with a safety valve and weighted pressure regulating valve. It comes with a five year guarantee.
Cooking with Contura was an absolute pleasure and an easy and delightful experience. The entire piece comes together beautifully. While cooking there were no leakages or liquid spillage. The vessel was an extremely 'neat' product with no residues, no hard stains, and a curvy body that made it extremely easy to stir in and cook. However, the model isn't dishwasher friendly. It comes with an elaborate manual that not only has detailed information about the product but 'how to cook' charts for cooking different ingredients. You also have 27 tested recipes enclosed in the manual. Hawkins Contura is available in market at INR 2600/-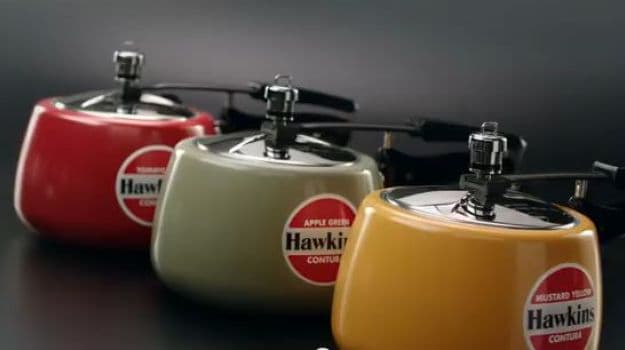 Image: YouTube grab
Why Should I Buy This?
Hawkins is one of the premier brands in pressure cooker manufacturing, therefore, one thing that one can be assured of Hawkins products is the quality and efficiency of the product. I reviewed three different Hawkins products and all of them spoke for quality and efficiency. Hawkins Contura is probably the most expensive on the list, but the style and designing is unique. It is not induction compatible but cooks faster and looks stylish. If your festive buy needs to be efficient yet super stylish and you don't mind shelling out a bit extra, then Contura should be your buy.
Bajaj Majesty PCX 65HD: Priced at INR 2395/- this model was fairly convenient to use and clean. It was easy to assemble, the nitrile rubber ring gasket was easy to remove, wash and re-assemble. Bajaj Majesty looks majestic with it black, hard anodized body. It is handi shaped yet looks sleek and is easy to cook in and stir. The model is induction compatible and comes with ergonomically designed non-inflammable handles. We reviewed a 5 liter model which was made of Hindalco aluminum and comes with a 5 year warranty. The weight valve was smooth in its operation and popped up on optimum pressure. There was no leakage or fluid spillage from steam vent or weight valve. The lid and its surface remained dry during the cooking process.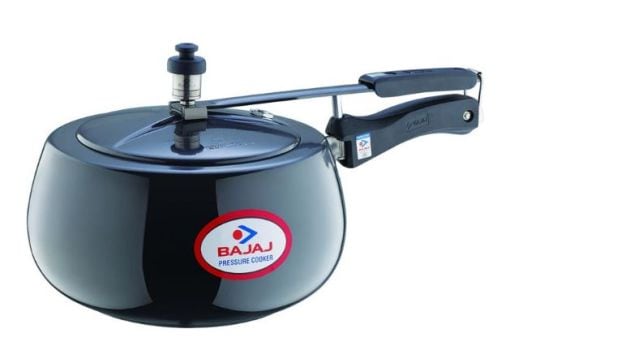 Image via official siteWhy Should I Buy This?
For those who are tired of their regular pressure cooker and would want something better, stylish, efficient yet pocket friendly, Bajaj Majesty would be their option. It is one of the very basic, high end pressure cookers available in the market which is easy to use, fuss-free to clean and efficient in its working.

(Pressure Cooker: The Latest and the Best Budget Buy)

Prestige:One of the leading and most loved brands of pressure cookers across the globe, Prestige has a few extremely attractive, stylish and most efficient pressure cookers in this segment. The company was unable to participate in our process, thus we did in-depth market research to shortlist a few models that would fit the bracket and can make a good purchase this festive season.
Prestige offers a range of lovely hard anodized pressure cookers in a similar price range in attractive colour options. Just in case you plan to visit a kitchen appliance store soon, consider looking for the following from Prestige.- Apple Duo Plus Range
- Cute Duo Plus
- Nakshatra Plus Handi Range