When you get out of bed on a Sunday morning with a bottle of water in your left hand and a Disprin in your right, there's no better feeling than to walk into a kitchen with the sweet lingering scent of waffles. Golden, crisp, honey-combed waffles sprinkled with snow-like icing sugar, make my heart thump and stomach growl. Not only are they the perfect cure to a solid hangover but definitely worth waking up for. And oh, did I mention that they go with literally every other breakfast special - bacon jam, maple syrup, blueberries, whipped cream, nutella, banana and even ham and cheese?

(Waffles for Breakfast and Beyond)

Modern waffle makers are usually of three types: stove top irons, electric machines like your sandwich maker and add-on moulds that can be shoved into the oven. Stove top irons are the kind you pour batter into and then hold on the stove till the waffle is baked. The moulds are made of silicon and once you pour the batter in them, they can be put in the oven till ready. The electric waffle makers are the easiest tools to re-create the magic of Belgian waffles which is why that's going to be our focus. And once you do get the perfect waffle maker, who's to say you can't create more magic with it? You can make egg waffles, chocolate waffles, french toast waffles and what not!

(Kitchen Appliances Review: The Best Toaster In India)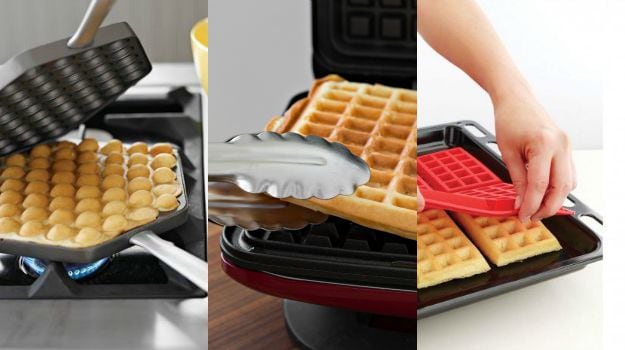 Image credits from left to right: Pinterest/williams-sonoma.com, istock & Pinterest/linenchest.com
Waffle Maker: What to Look Out for?
A waffle maker should be big enough to make at least two whole waffles and deep-pocketed so that the batter doesn't run out through the sides. We'd recommend a light one so that it can travel in and out of your kitchen cabinet with ease. You don't want your batter sticking to the sides which is why it should be non-stick. That way it can also be cleaned easily and you don't have to scrub and struggle. Another criterion we think ranks high is that the waffle maker should be heat resistant so that it doesn't get hot from the outside. It should have an indicator that lightens up once the waffles are done. And finally, it should give you perfect, evenly coloured or browned waffles.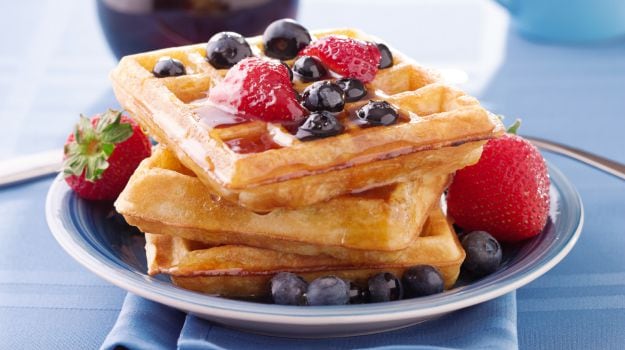 Some basic tips you must go over before you start using a waffle maker:
1. If your waffle maker has a Teflon coating on it then it's best to keep it on for 15-20 minutes or so till the smell wears off. This won't rub off the awful smell on your first batch of pancakes.
2. Be sure to get yourself a measuring cup which lets you keep track of how much batter to put into the waffle maker. If you put less of it then you risk having thin waffles and if you put in too much then the waffle might be gooey from the inside and could run outside.
Our Parameters for the Best Waffle Maker
Part of the reason I went without 'Waffle Sunday' for a very long time was because I didn't own a waffle maker and didn't know which one to buy. But after speaking with retailers and waffle-owners, I've finally come to a decision.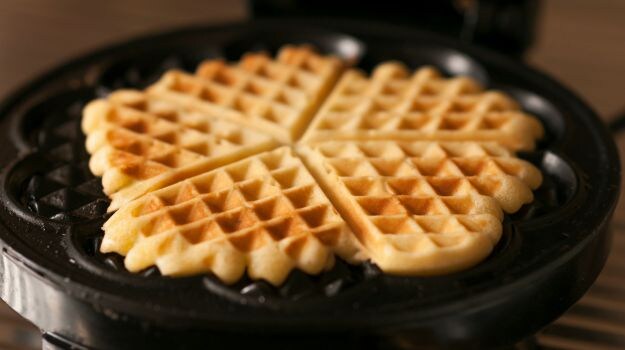 Like a grill, waffle makers are pretty easy to figure out. The first and most important criterion is obviously which waffle maker churns out the best waffles. The other features that need to be considered are browning, heat resistance, presence of an indicator light and longevity.
(Unbelievable Kitchen Appliances You'll Love - Part II)
Our Contenders
We settled on a price range of Rs.2500-Rs.6000 since most of the good brands have models that fall within this range. We also included brands which offer a waffle maker cum sandwich grill for those who want the joy of both.
1. Oster
2. Nova
3. Morphy Richards
4. Presto
5. Black & Decker
6. Cuisinart
| Brand | Model Name | Price* | Tempertaure Control | Indicator Light | Non-Stic | Cool Touch |
| --- | --- | --- | --- | --- | --- | --- |
| Nova | WM - 421 | Rs.3199 | No | Yes | Yes | No |
| Oster | CKSTWF2000, Stainless Steel | Rs.3700 | Yes | Yes | Yes | No |
| | CKSTWF1502-ECO, Ceramic | Rs.4000 | Yes | Yes | Yes | Yes |
| Black & Decker | Belgium Waffle Maker WM1240MB | Rs.4500 | No | Yes | Yes | Handles only |
| | Flip waffle maker | Rs.5100 | No | Yes | Yes | Handles only |
| Morphy Richards | Toast, Waffle & Grill | Rs.4300 | No | Yes | Yes | No |
| Cuisinart | WMR-CA Round Classic Waffle Maker | Rs.4990 | Yes | Yes | Yes | Yes |
| Presto | 03510 FlipSide Belgian Waffle Maker | Rs.6000 | No | Yes | Yes | Yes |
* The prices mentioned in the table aren't exact.

Our Verdict:

Due to price limitations, we didn't pick any waffle maker that gives restaurant quality traditional Belgian waffles but the kind that gives you slightly thinner, more classic American waffles. Here's our review, starting with the one we liked the most.

1. Oster

The waffle maker that received the perfect scores for cook-time, browning and swiftness was Oster (Rs.3700). The waffles came out brown and crisp in about 3 to 5 minutes and we didn't have to stand around for too long. Anyone who's used this product will know that the top is a bit shaky but once your waffle rises to perfection, it makes sense. A few users informed us that this waffle maker doesn't have much of a life if used frequently, but if you plan on using it only once every few weeks it's a good budget buy. The heating element is concentrated towards the centre so you might find the waffles to brown more there. The waffle maker's longevity could be an issue. This waffle maker is made from stainless steel but Oster also has another model 'CKSTWF1502-ECO' which is made with ceramic and costs a few hundred rupees more.

Oster has another flip model exclusively for Belgian waffles which is great and comes recommended by all retailers. It costs around Rs.8000 and since it was out of our price range it wasn't included in our review. But it's a good choice if you're willing to spend more.

2. Presto

This appliance is a bit expensive but definitely worth the investment. It's also one of the only waffle makers on this list that creates something that's closest to Belgian waffles in 2 to 3 minutes. Presto (Rs.6000) has a strong and sturdy waffle maker that can be turned around by 180 degrees so the waffles come out equally browned on both sides. It has a digital timer which not only tells you when the baking time is up, but it also beeps five times! The catch is that the beeper runs on batteries which need to be replaced from time to time. Also, there isn't an on and off switch so you'll have to plug and unplug the appliance for use.

3. Morphy Richards

This appliance is a dream come true for those who love both crispy waffles and grilled sandwiches. It doesn't make classic Belgian waffles but instead crispy ones. The appliance is a bit pricey but like any other Morphy Richards product, it might outlive the rest. It makes great waffles but takes much longer than it ideally should. If you're looking to replace your sandwich maker then this is a recommended buy because not only will it do that job well, it will also let you cook crispy waffles.
If you're looking for a combination appliance, Russell Hobbs also has a three-in-one appliance for sandwiches, Panini and waffles. It costs around Rs.4050 (approximately) and comes well recommended by both retailers and users.

4. Cuisinart

Cuisinart (Rs.4990) is an American brand and has been around since the 70s. It's unheard of in the Indian market and you won't find it in retail stores but it's available online. The point you must know is that it does not make traditional Belgian waffles but the classic American ones. It's got five browning options so you can toast the waffle maker for as long or as short as you like. Unlike a lot of the other brands, its body is heat resistant so you won't burn your hand if you were to accidentally touch it on the outside. There are however two downsides to this appliance: the knob used to regulate browning is flimsy and seems like it could come off at any point. Secondly, steam escapes only through the front portion of the appliance which also happens to be the point where you put your fingers to open the appliance.

But then my aunt pawned off her heavy 10-year-old waffle maker of the same brand to me and my life has never been the same again. If you're not lucky enough to be handed a gorgeous waffle maker but would still like to invest in one, then you've come to the right place.

5. Black & Decker

Black & Deker (Rs.4500) is a well-established name in the world of home appliances so it's only obvious it should be part of the review. Although, their waffle maker isn't listed on their own site anymore. You'll find it on other sites like Amazon, Flipkart etc. and also in a few retail stores. The waffle maker is sturdy, but when it comes to the actual job, it's not very efficient. It takes much longer to cook the waffles. Some users said it takes up to 10-12 minutes per batch.

6. Nova

The most basic waffle maker (Rs.3199), it makes very thin waffles and may not be the kind you'll like. The indicator light works promptly but I'm not really sure if it's accurate. The waffles turned out way too crisp, both on the outside and the inside. So you need to man your waffles to make sure they don't overcook. Another downside of this product is that for the price you pay, the finish is just about average.

(Kitchen Appliance Review: The Best Hand Blender for All Your Cooking Needs)

How to Handle Your Waffle Maker with Care

Now that you've got the waffle maker of your dreams, keep in mind these quick tips on 'how to clean a waffle maker':

1. Firstly, don't try and clean the waffle maker while it's hot. Let it cool completely. Then clean it with a damp cloth or thin towel. Let it dry and put it back where it belongs in the kitchen.
If the plates of your waffle maker aren't detachable don't dunk it in water. Instead, take damp towel of dry paper cloth.

2. If the batter has stuck to the insides of your waffle maker then pour a few drops of water in it and switch on the waffle maker till you can see steam. Now turn off the waffle maker and pull out the leftovers with a paper towel or rubber brush.

3. Another great way to do that is dip a wet toothbrush in baking soda and scrub till the batter bits come out. You can also use a sponge soaked in hot water and a bit of detergent to get to the crevices.



4. Never use a knife of sharp object to pull out anything from the waffle maker because they tend to leave a mark on the teflon coating.

Disclaimer



Always do your own research on products and companies before using a product you choose. NDTV, its affiliates and its management does not claim responsibility for any of the products/ or companies discussed on this site. There may be other refrigerator models available within the same price range and capacity that are not featured in this article.