One of my fondest childhood memories is the sound of a pressure cooker whistling away inside the kitchen. Those silvery, aluminum based pressure cookers looked more like huge apparatuses but gave out some of the most sensational and best loved delicacies. On a realistic note, can we ever imagine a single Indian household without the existence of a pressure cooker? The answer would certainly be negative. Not just any random kitchen appliance, a pressure cooker forms one of the most basic necessities for people in India. A modern day pressure cooker is much more than just the plain, aluminum or steel based cooker, these come with added features, stylish looks and energy & time saving properties. The new age pressure cooker is all glitzy, glamorous and much efficient as compared to its conventional counterpart. Despite this, traditional pressure cookers still hold much demand and can be found in almost all Indian households.
With festive season in full swing and Diwali just round the corner, we bring you one of the best ways to delight your family and loved ones. It is said that good food itself is reason enough for celebrations. This festive season, celebrate good food by gifting someone one of the most important culinary tools ever - a pressure cooker. In this piece, we set out to examine some of the latest stovetop pressure cookers available in the market. First up we have the basic models followed by the fancy ones that come with excellent design and added features, but just before we do that let's get down to understanding the bare basics of a pressure cooker, why is it an indispensable cooking appliance and everything else that you need to know.(Pressure Cooker: Your Buying Guide to the Hottest, Fanciest Models )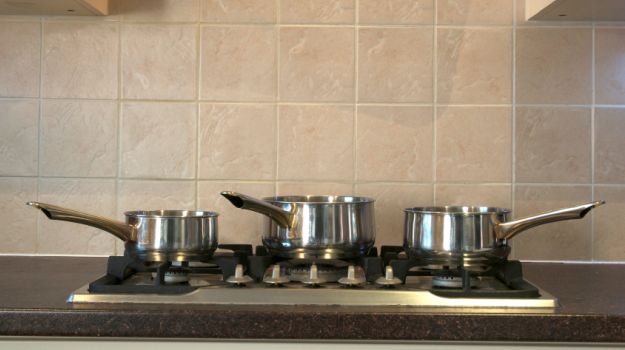 Why Should You Buy a Pressure Cooker?
You may have heard a one-off horror story of pressure cookers exploding with a mess of food splattered all over and a hole through the ceiling, right? Many have kept away from this wonderful appliance in vain. It is true that old generation pressure cookers were not that efficient in handling high pressure but the modern age pressure cookers are beyond what you and I would expect. So keep aside that reluctance and get one home today, here's why!
- Pressure cookers help you save energy and time - loads of it! When you pressure cook ingredients you're cooking more than 50% faster than regular cooking. Since cooking-time is reduced, you end up saving fuel and energy as well.
- Unlike boiling or any other cooking technique, pressure cooking facilitates mixing of all ingredients and fusing in flavours and aromas. Everything is sealed in and the flavour is transcended to another level.
- It is easy, convenient, inexpensive, fuss-free and absolutely safe to operate - ideal for one and all - for those who have no time, for the reluctant cooks and even for the experimental ones.
- Easy and handy to use, maintain and clean.
- Pressure cooked food is healthy.- You can cook a variety of things in just no time - vegetables, beans, soups, stews, grains, pot roasts, meats, rice et cetera.
(10 Kitchen Appliances for You to Gift Your Loved Ones
)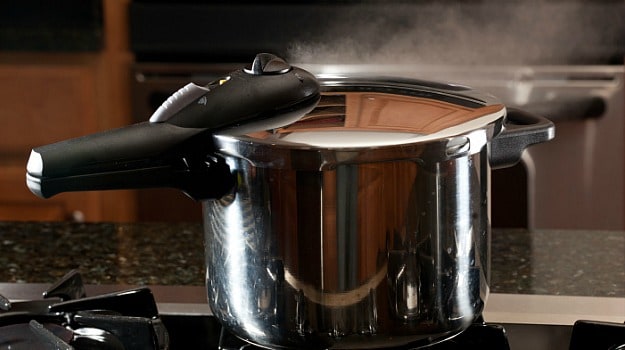 How Does a Pressure Cooker Work?
Simply put, when you add liquid in a pan and heat it, it evaporates, but when you do the same in an enclosed pan, the evaporated liquid (steam) is trapped inside which further helps in cooking. If boiling means cooking food with the help of heat and hot water, pressure cooking is a double treat. Not only is your food cooking in hot water, the steam puts pressure on food in form of heat which gets evenly and deeply penetrated in the food cooking it evenly. This technique is so efficient that you can actually cook large chunks of tough meat in half the time. Chefs from across the globe vouch for the precision with which a regular cooker delivers. All one would need is a little patience, some learning, practicing and skill of timing recipes well.
There are electric cookers available in the market but we chose to look at the stovetop ones as these have been widely used and have been popular in the country since the very beginning.

Every pressure cooker would include following parts:
The pan - which would be made of aluminum, stainless steel or a combination of metals. Traditional cookers are generally made of either aluminum, stainless steel or a mix of metals. On the other hand, the fancy ones are not only anodized but can also be non-stick, with ceramic or other different kinds of coating for the ease of cleaning and of course for the style factor.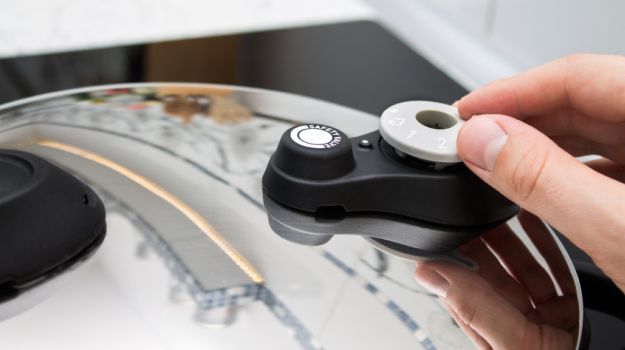 The lid - This sits on top of the pan. Different cookers come with differing lids. The latching mechanism differs from one to another. Traditional cookers will have a thin rubber ring (gasket) that will help seal the lid and the pan together, prevent steam from escaping and maintain optimum pressure. Many other variants come with a lid that has a thick rubber gasket attached from within. The latching mechanism also differs. Most brands have traditional latching system where the pan and lid handles are aligned and latched together; most others have an outer lid with a twist, press and turn mechanism.
The lid also has a steam vent which facilitates elimination of pressure atop which can be fixed the pressure regulator - commonly known as the whistle - which helps assess the cooking time and pressure moderation.
The Handles - When we talked to a few people around about their expectations from a pressure cooker, most complained about the handles in their cooker that would become so hot so as to make it difficult to hold and remove it from the gas. Companies these days have experimented a great deal with the material gone in to create cooker and lid handles. Plastic tends to get heated thereby making it difficult to handle the cooker; it is of the utmost importance to ensure that your cooker has handles that do not heat up.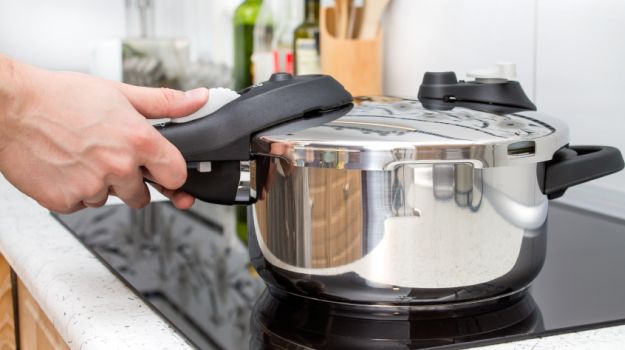 Pressure Regulator - Different cookers have different ways to regulate pressure. Some of the traditional cookers come with a whistle that helps indicate the level of pressure. Once the whistling commences it is indicative of optimum pressure level, you can then adjust your flame setting and time your cooking accordingly. In such models, you can either lower the flame setting or manually quick release pressure. Many advanced cookers come with a button/knob which can help release the steam. There also exist models that have a spring-based button which pops up once the cooker attains its optimum pressure.Safety valves - Every cooker comes with a safety valve and additional features that come into play in case the primary steam valve gets clogged and the pressure is unable to escape. Most safety valves look like a nut attached on top of the lid. These are made of alloy that are capable of melting as and when the pressure reaches beyond optimum. Many other models have a rubber valve for the same purpose. You also have features wherein the gasket adjusts itself in such a way so as to let out the excess pressure. It is important to ensure that your cooker has at least one of the above mentioned safety features in case of an emergency.Your pressure cooker may come with other accessories such as additional handles, steaming grid, cleaning brush, cookbooks, strainer, extra replacement parts et cetera.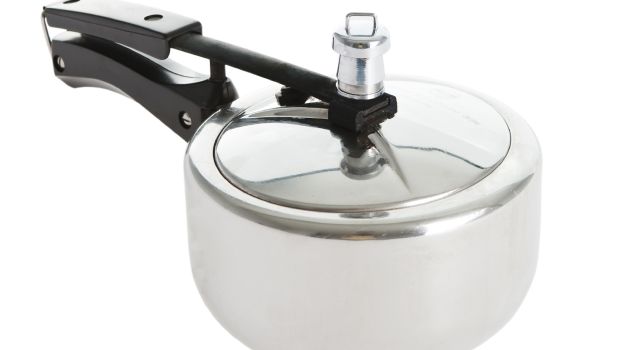 Getting StartedJust before you make up your mind to buy a brand new pressure cooker make sure you are aware of the following points:
- Foods that have the tendency to froth or clog the steam vent should not be cooked in a pressure cooker, eg. Oats, split peas, pasta- Just in case you have poured more of liquid, boil it without the lid followed by pressure cooking.- For evenly cooked food, make sure that all pieces are cut the same way (shape and size, in case of meats).- Make sure to get parts replaced at least once a year (gasket, et cetera).- Altitude at which you are cooking matters. Pressure cooking at higher altitudes takes longer time.- Always check steam vent for any clogging before use.- While aluminum is a better conductor of heat, stainless steel lasts longer and is sturdier. Mix of aluminum and steel would be the best.- Wider, bigger cookers are always the best buy. These are easy to stir in, cook. Your ingredients brown and cook evenly without getting overcrowded inside the pan.- Opt for thick, wide, heavy based disk bottoms, preferably with an aluminum disc. These will retain heat for longer.- You should use only 2/3rd of the total capacity of your cooker.- In a whistle weighted valve pressure regulator, watch out for subtle steam coming out of the steam vent. If the valve begins to jiggle it is indicative that the pressure has begun to form. First whistle would indicate optimum pressure level after which you can time and start your cooking.- Repeated whistles would mean that the cooker is still operating at its maximum pressure.- In case you put the heat to low, make sure there is still some hissing sound coming from the cooker, else it'll be a sign of pressure level dropping too low which would result in longer cooking time.While boiling point would be 100 degree Celsius it reaches to 121 degree Celsius inside a pressure cooker.- Never try to open the lid right after cooking. Wait for the pressure to release naturally, or, release it manually by pulling up the weighted valve or using the quick pressure release knob, or, keep the pressure cooker under running water and wait for the pan cool off.- Pressure levels inside the cooker range from low to high - 8psi to 15psi (pounds per square inch). No cooker should operate on more than 15psi.- You can boil, braise, steam, stew, poach, roast and even bake using a pressure cooker. Never try deep frying with a pressure cooker. Exposing cooker to hot oil for more than 15 minutes can be hazardous to the appliance and its efficacy.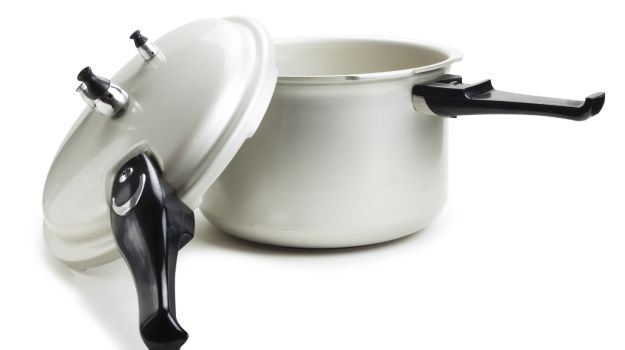 Stovetop Pressure Cooker: Review
We got in touch with some of leading and well-known brands in the business and asked them to nominate their best and latest models under the following category-

- Traditional stovetop pressure cooker within INR 2000/-

Products reviewed were provided from the respective companies which are as follow:
Bajaj
Brightflame
Butterfly
Hawkins
PigeonWe didn't hear back from Prestige hence the brand wasn't included in the review.
Parameters- Ease of use, maintenance and cleaning- Time of optimum pressure buildup- Length of warranty- Safety features- Budget
- Pressure regulating mechanism- Accessories and added features, if any
5 Litre Miss Mary from Hawkins: Hawkins Miss Mary was no pomp and show but efficient with optimum performance. Priced at INR/- 1265, this was the most economical model out of the lot that we tested. The rubber gasket was easy to fit, the lid went in smoothly and the entire cooker came together seamlessly. Miss Mary is manufactured using standard virgin aluminum. Cooking was fuss-free and quick. During cooking there was no water coming out but the steam. It took close to five minutes for the appliance to reach its optimum pressure. The weighted valve was easy to attach and rose smoothly to give out the steam. It was easy to clean. The product claims to save 53% of cooking time and energy.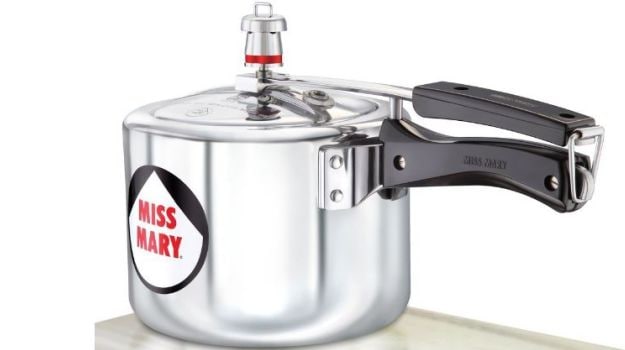 Miss Mary comes with a 5 year guarantee. In case of servicing, repair or replacement of parts, Hawkins has an excellent service support with close to 700 Hawkins authorized service centers. Miss Mary comes with a safety valve. It is the most basic model of Hawkins' range of pressure cookers. One of the impressive things about the product was the fact that it came with an elaborate manual unlike any of its competitors. The manual was explanatory with instructions, dos and don'ts, other salient information as well as five recipes. The manual also gives you a chart that will help amateur cooks with their first batch of preparations.
Pigeon 5 Litre Delux Aluminium Pressure Cooker: Priced at INR/- 1425 Pigeon delux pressure cooker is manufactured with virgin aluminum. The design of the pressure cooker differs from conventional cookers. In this model, the lid is slightly bigger and seals the top of the cooker like a cap - outer lid. The nitrile gasket is wide and attached from within the lid. There is no latching mechanism as such rather, the lid needs to be pressed and turned so that both handles are aligned and the apparatus is locked on its own, however those aren't used to outer-lid cookers will have to struggle a bit to get the locking of the pressure cooker right. The weight valve whistle is stylish in black colour and works perfectly so as to indicate the optimum pressure level. There was no water overflow and the entire body has very minimal stains after cooking. Cleaning was also fuss-free.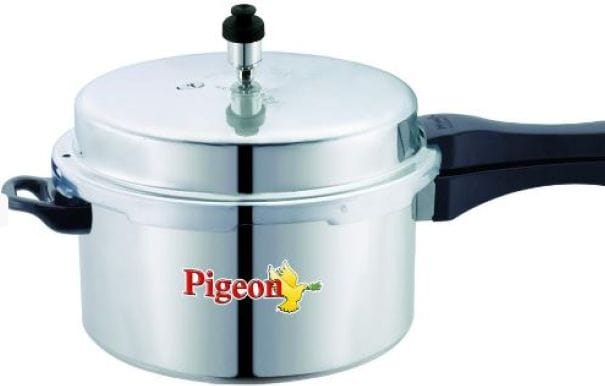 The model comes with steaming grid and ergonomic bakelight handles that don't get heated at all. One of the most impressive things about this model is that is comes with four distinct safety features. Apart from the safety valve and the weight valve there is a provision a gasket vent and gasket release system for the release of excess steam in case of emergency. Pigeon aluminum pressure cooker comes with a 5 year warranty.
Brightflame Pressure Cooker: The 5 liter model is priced at INR/- 1699 and comes with a Tri pro-clad ply encapsulation (body that includes 18/10 stainless steel cover body; 4.02mm thick aluminum; 430 grade steel). The product comes with an outer lid and a press and turn locking mechanism. It has a regular safety valve along with a couple of other safety features including a gasket release system as well as a gasket vent. While cooking, the weighted valve did not pop up smoothly. There was also additional water oozing out of the steam valve whenever the weighted valve tried to whistle and release pressure. Even after lowering the heat, some liquid bubbles kept dripping from the steam vent. The safety valve on the lid also had a little steam and liquid bubbles coming out from around its sealing. The model is induction compatible and comes with a 24 month warranty and a thermal ring at the bottom to facilitate faster cooking.

Bajaj Majesty DUO PCX 45: The aluminum based model is priced at INR 1675/- and comes in both outer as well as inner-lid version. We tried the traditional inner-lid model which comes with fuel-efficient base and is also induction-cooking compatible. The product has a standard safety valve, an easy to fix rubber ring gasket and a weighted pressure regulating valve that works perfectly fine, popping up smoothly on optimum pressure. Closing and opening of pressure cooking was smooth. Steam emission was also perfect with no liquid bursting out either from the steam vent or from any other part. The handles did not get heated; those were made of impact-resistant, non-flammable Bakelite. The product enjoys a five year warranty "solely against poor workmanship, manufacturing defect and use of faulty material only."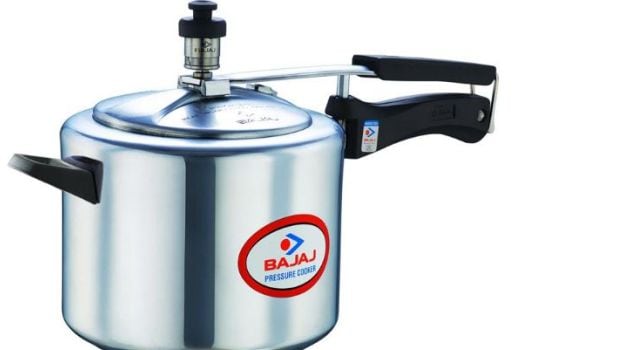 Butterfly PEARL PLUS:
As I finished testing this model, it became one of my personal favourites. Right from its outer sheen to the ease of use, ease in cleaning to its operation - everything about this pressure cooker seemed almost perfect to me. Its curvy body made it so easy to stir and clean. The piece came together beautifully. The rubber gasket is easy to remove, wash and put back. The steam valve works perfectly without letting any liquid come out of the steam vent. Butterfly pressure cooker comes with non-flammable handles made of Bakelight. It is safe to use on gas stoves, induction, electric plates as well as halogen. The product enjoys a year-long warranty. You also get a small manual along with the product which has the basic information about the product along with a simple cooking-time chart. The cooker is priced at INR 1750/-
Brand
Brand,Capacity
Warranty
Ease of Use & Cleaning
Safety Features
Locking Mechanism
Added Features & Accessories
Price
Hawkins Miss Mary
5 Litre
5 year guarantee
Extremely smooth in
operation and cleaning
Safety valve
Traditional inner lid
with ring gasket and latch locking
Cookbook with recipes & cook-time chart
1265/-
Pigeon Delux
5 Litre
5 year warranty
Trouble assembling
the first time; smooth operation and cleaning
Safety valve; gasket vent;
gasket release system
Outer lid with gasket
attached from within; no latching; press and turn locking mechanism
Steaming grid
1425/-
Brightflame
5 Litre
24 month warranty
Trouble assembling
the first time; disruptive cooking with liquid spillage along with steam; easy
to clean
Safety valve; gasket
vent; gasket release system
Outer lid with gasket
attached from within; no latching; press and turn locking mechanism
Additional handle
1699/-
Butterfly Pearl Plus
5 Litre
5 year warranty
Extremely smooth in
operation and cleaning; great design and style
Safety valve
Traditional inner lid
with ring gasket and latch locking
1750/-
Bajaj Majesty PCX 45
5 Litre
5 year warranty
Smooth in operation
and cleaning
Safety valve
Traditional inner lid
with ring gasket and latch locking
1675/-
Conclusion:
When it came to reviewing and selecting the traditional, basic pressure cooker, I had my priorities straight. I was looking for a model that has all the basic features, works perfectly with those features, is durable and economical as well. I was looking for a minimally basic cooking appliance which could easily be brought by a group of college going kids for their everyday cooking or by busy working professionals who would want to buy a basic pressure cooker for regular cooking.Here, style or added features were not on the priority list but rather safe and efficient operation along with economy. Keeping the above mentioned points in mind, there is none other than Miss Mary that could make the cut. For the price at which the cooker comes, I felt the product gives you more than what you could expect out of it. Of course, when it comes to style, Miss Mary may not be appealing but in twelve hundred rupees when you get durability, ease of operation, safe operation and efficiency, it becomes your best buy.
(How to Cook Rice, Pulses and Meat in a Pressure Cooker
)
Apart from Miss Mary, I felt Bajaj was also pretty good in its overall performance. Butterfly PEARL Plus was probably the most stylish and visually appealing one and at the same time quite efficient as well.
I made similar batches of toor dal in all pressure cooker. Apart from ease of use, cleaning and assembling another thing that I made a note of was the time each cooker was taking to release the pressure naturally as well to reach optimum pressure level. Interestingly, almost all models took close to 90 seconds to 2 minutes to completely release the pressure. On an average, each model took 4-5 minutes to reach optimum pressure level. Also, all outer-lid models usually have a gasket vent and gasket release mechanism as safety features. Outer-lid models were relatively difficult to assemble initially over the traditional, inner-lid ones.