Chicken karaage in Nanban cookbook. Photograph: Paul Winch-Furness
Japanese cuisine isn't all raw fish and seaweed. Southern comfort food such as chicken karaage and buttery fish-roe pasta are increasingly popular across the country – and now it is available in the US and UK, too.
What do you think of when you think of Japanese food? Raw fish? Rice? Seaweed? Healthy, clean ingredients? This is one side of Japanese cuisine, but it is far from the whole story. There is growing interest in Japanese comfort food, particularly dishes from the south. Diners are swapping sushi and soba for calorific, crisp karaage fried chicken, indulgent tonkotsu ramen broth spotted with pork fat and buttery pasta with chilli-cured fish roe.
It all started with the ramen craze, which has taken US cities such as LA, San Francisco and New York by storm in the past couple of years. The trend then spread to London, where there is now a fistful of excellent noodle shops, including Tonkotsu, Bone Daddies and Shoryu Ramen. Several restaurants, such as Kurobuta and the Bone Daddies pop-up Shackfuyu, are now going beyond the broth to serve playful dishes including miso-grilled chicken wings and mentaiko mac'n'cheese, a take on the hugely popular mentaiko pasta (think carbonara but with spicy pollack roe).
What started as a restaurant trend is likely to become as popular with home cooks thanks to Nanban, an accessible and thoroughly researched new cookbook by 2011 MasterChef winner Tim Anderson. He says the UK trend "trickled in from a lot of different places, but possibly more from the US than from Japan". He adds: "Japanese comfort food got popular in New York and San Francisco because there was a big Japanese expat community in those cities, which we don't really have here."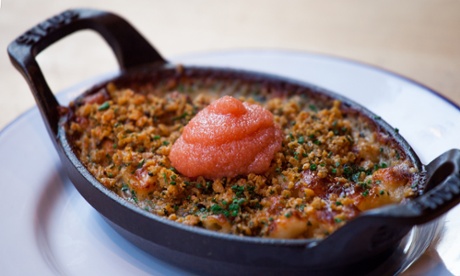 Anderson believes restaurants such as David Chang's Momofuku in New York influenced the London wave of ramen bars, but so did a less high-end source … Wagamama. "They set the precedent for ramen and laid the groundwork for the Japanese comfort food that came after … Even if it's not the best ramen in the world, it got people on board with the flavours and how to eat it."
Despite the growing popularity of ramen and katsu, there is still plenty of misunderstanding about Japanese food. Scott Hallsworth, the chef-owner of Kurobuta, says: "Just the other day, I overheard a bloke say something about Japanese food being all about purity. That simply isn't the case. The Japanese actually have a fairly varied outlook on food."
This diversity is something Anderson hopes to showcase with his cookbook, which is inspired by his time living in southern Japan. He says the soul food of the region, particularly the islands of Kyushu and Okinawa, "is all about punchy flavours and moreish comfort food".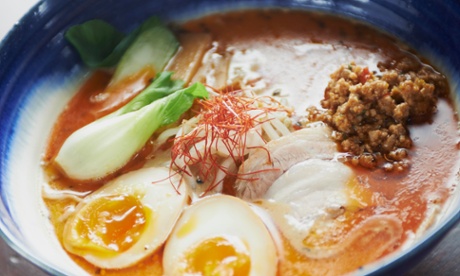 This part of Japan was more exposed to outside influences than other regions over the past few centuries, and it shows in the food. Portuguese traders in Nagasaki introduced their version of tempura, as well as ingredients such as refined sugar, chillies and vinegar from the spice islands of south-east Asia. "Chinese expat communities were making pork dishes, and broth in particular, around the same time that Japanese people were starting to eat more meat. That is sort of how ramen started," says Anderson.
Korean labourers brought mentaiko to Fukuoka, which has since been "wholeheartedly adopted into Fukuoka and Japanese gastronomy in general", says Anderson. The US and British military also brought their enthusiasm for all things carby and breaded to the big naval bases of Okinawa and Nagasaki.
"Japanese food is more regional than people realise," says Anderson. He points to Hokkaido, the northernmost island, where beer brewing and dairy farming have been popular since locals hired US and German agriculturalists and brewers in the late 19th century. Hallsworth agrees that it is time we stopped thinking of Japan as a monolithic food culture. "Japanese foods are extremely regionalised … A basic dish, such as tempura soba, has multiple regional variations."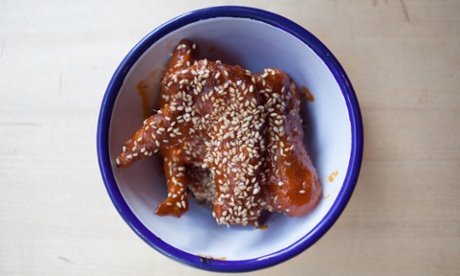 There is also an increasing interest in adopting and adapting other cuisines. Yōshuku, or western-influenced Japanese food, is widespread in the trend-driven restaurants of Tokyo and Osaka, says Ross Shonhan, the chef-proprietor of the Bone Daddies group. "Italian and Korean are probably the two most popular foods in Japan after Japanese, so pasta with all kinds of traditional ingredients is very common," he says. Shonhan has even spotted mentaiko with spaghetti in KFC.
But there is one universal Japanese institution to which the current trend owes a big debt: the izakaya, AKA the pub. Izakaya translates – delightfully – as "roof with alcohol". Across Japan, people pile into their favourite izakayas after work for cold beers and snacks: karaage, gyoza and juicy meat skewers (kushiyaki). Hallsworth says the izakaya was his biggest influence for Kurobuta. With its roots in a similar pub culture to the UK's, combined with the relatively low cost of a bowl of ramen and the deliciousness of the dishes involved, you can expect the Japanese comfort food trend to keep growing – much like your waistline after too many late-night helpings of karaage.