We've been reminded from time to time, how important that one glass of milk every day is! Remember how while growing up, our mothers would coax us to have a glass full of it every day? No wonder my father's morning meal still comprises a tall glass of milk! But then, there's me and perhaps many others like me, who cannot gulp down milk without cribbing a little. Milk is considered to be a complete food since time immemorial. It is full of protein and nutrients that are absolutely essential for human growth at all stages of life. Yet, it hasn't quite topped our most-liked drinks list yet.


You should know that Indian cuisine has managed to devise many delicious dishes with milk that you won't be able to resist! Milk is not only healthy; it also gives a unique rich flavour to foods and drinks plus lending its smooth texture.
Here we have 10 best desi milk-based recipes that are absolutely delicious and may help boost our intake of this wonder drink a bit more!
Thick, creamy and ever-so-delightful Thandai is a special beverage prepared extensively during festivals like Holi and Shivratri. It is also a much-loved drink during the peak summer season. Typically made with the goodness of a mixture of almonds, fennel seeds, rose petals, pepper, cardamom, saffron and sugar with milk, thandai can also be flavoured with different fruits and other spices. Find the recipe here.
(Also Read: 7 Unique Summer Drinks That Are Ideal To Reap The Benefits Of Milk)
An Indian meal is incomplete without a little rice! Here is the classic Zaffrani Pulao, full of dry fruits with the addition of milk, and saffron for a captivating aroma. Find the recipe here.
A popular Indian dessert, said to have originated in Alwar, Rajasthan, Kalakand is a sweetmeat made with a combination of paneer and milk that will simply melt in your mouth, giving a delectable flavour. Find the recipe here.


(Also Read: High-Protein Diet: How To Make Soya Milk At Home For Weight Loss)
Rasmalai is a delectable dessert brimming with round, little, feather-like soft cakes made of chhenna, bathed in the goodness of milk. Topped with nuts such as pista, almonds, and rabri, this is a blissful decadence that you simply can't say no to. Find the recipe here.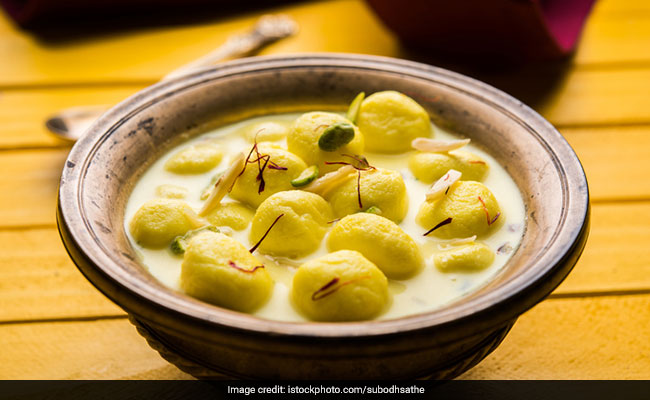 A delicious and dense dessert pudding that makes for the perfect festive treat, kheer is one desi dessert that marks every special occasion in an Indian household. Easy, quick and decadent, it is usually made from rice and milk combined with sugar, often topped with nuts and saffron strands. Find the recipe here.
Haven't we all seen our mothers and grandmothers brewing a vibrant glass of turmeric milk as soon as we get any infection? Haldi Doodh has been touted as a desi energy drink and a remedy for almost all common ailments. From having antiseptic, anti-inflammatory properties to boosting immunity, this wonder drink is said to have multiple benefits. Find the recipe here.
A popular Maharashtrian pudding made with just milk, yogurt and cardamom powder, which is whisked, steamed and refrigerated until set like a barfi! Find the recipe here.
An innovative delicacy with milk and lamb meat combined together - it is sure to work wonders on your taste buds. It is an exquisite, creamy lamb curry full of exotic spices, curd and aromatic saffron infused milk. Find the recipe here.
A Bengali cousin of the classic kheer, made of rice, ghee, nuts and truck-load of milk. This payesh recipe is made with mashed paneer, beautifully laced with saffron. Find the recipe here.
A trip to Hyderabad is often said to be incomplete if you miss out on its world-famous biryani. Well, you could also try and make it at home with this spectacular recipe! Char Minar Biryani is a hearty combination of lamb marinated in a smooth mix of spices and milk and further cooked in a spicy tomato and biryani masala along with milk. It gives a smooth, rich and creamy texture to the rice dish. Find the recipe here.
Try these milk-based Indian recipes at home and let us know your experience in the comments section below.
About Aanchal MathurAanchal doesn't share food. A cake in her vicinity is sure to disappear in a record time of 10 seconds. Besides loading up on sugar, she loves bingeing on FRIENDS with a plate of momos. Most likely to find her soulmate on a food app.