Coconut Milk Recipes- An ingredient which is loved for its creaminess and distinctive flavour, coconut milk has many spectacular dishes to its credit. Added into Thai curries, Burmese Khow Suey, or Indian cuisine's glistening fish and meat dishes like Mutton Stew, Chingri Malai Curry, Meen Moilee and the like, coconut milk is a power ingredient which can be used in many ways in the kitchen, including for vegan recipes as it is free of lactose.

How to Make Coconut Milk at Home
Since its flavour is subtle and mildly sweet, it makes the perfect base for curries and desserts as it readily blends in with other ingredients and spices. In South India particularly, it is an essential ingredient in the kitchen, and is most often extracted fresh at home. It's a simple process: all you need to do is take a medium-sized mature coconut, grate the flesh, and then blend it in the mixer using one cup of warm water. The strained liquid is what is known as the first extract, which is thick. You can repeat the process using the same grated coconut to strain the second and third extracts respectively, which are thinner in texture and more subtle in flavour. The thick milk is commonly used in making desserts, while the thinner milk is used in soups, curries, etc.


Tips for Cooking with Coconut Milk | Tips and Tricks

A perfect substitute to dairy milk or cream, you can use coconut milk in the same way as dairy cream while making fish or meat-based dishes and decadent desserts to lend in richness. However, the thick coconut milk should not be boiled as it tends to curdle.

Health Benefits of Coconut Milk

Coconut milk is high in oil content - mainly saturated fats, but also comes with essential nutrients like iron, manganese, potassium, etc. which help in building the body's immunity. It is often touted as a healthy milk but experts usually recommend to consume smaller amounts of the full-fat version.


If you have been thinking of bringing home a can of coconut milk to cook with, then we have the perfect recipes for you to try and woo your family.


Our list of 13 best coconut milk recipes is a roundup of popular Indian curries, Southeast Asian dishes as well as sinful creamy desserts - something for everyone. Try them and make the most of this vegan milk -
A popular Bengali dish, the fresh prawns are cooked in spices and coconut milk, and served with rice for a delicious whole meal.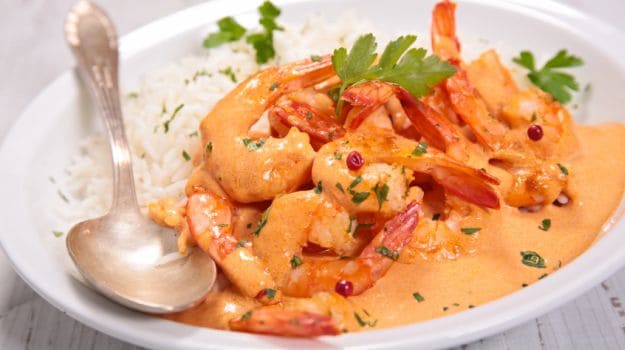 A delicious heaven for the prawn lovers!
Explore this Burmese delicacy bursting with authentic flavours. Khow suey is a one-pot meal with noodles and veggies cooked in coconut milk and garnished with peanuts and fried garlic.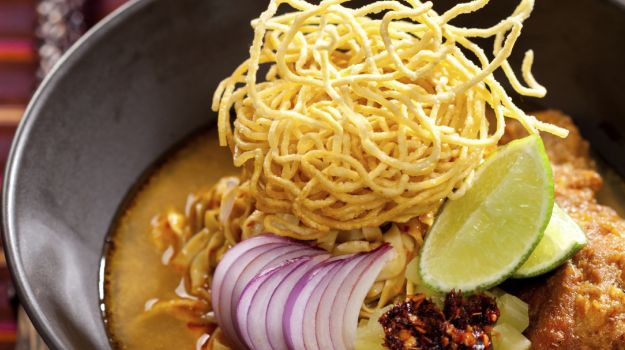 Unique, delicious and easy to prepare, Khow Suey is loved by one and all.
A simple curry made with tur dal, coconut milk and a handful of aromatic spices. Lip-smacking good! Perfect for lunch or dinner and also when unexpected guests arrive, prepare this within an hour and serve with rice.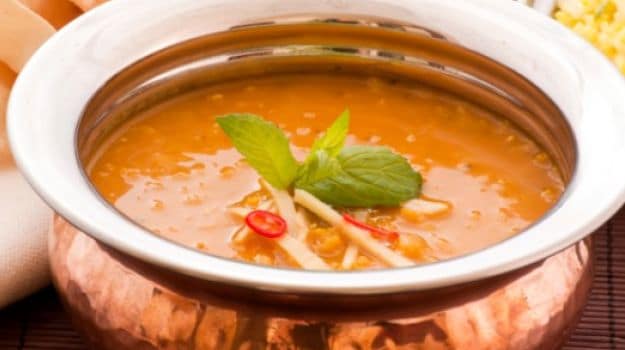 A flavourful lentil dish that you can make in a jiffy.
Kerala-style fish cooked in coconut curry, flavored with green chilli, curry leaves and turmeric. Serve hot with steamed rice for a wholesome meal.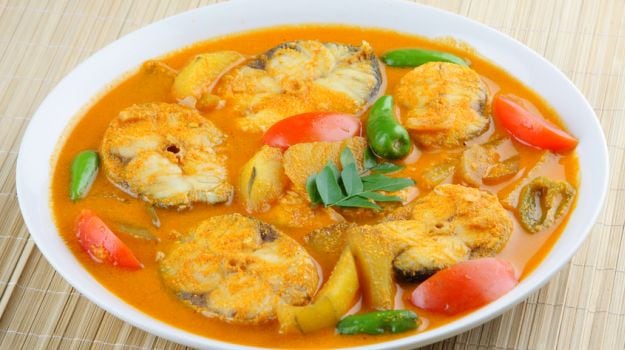 A delectable fish recipe for every occasion!
Kori Gassi is a delectable Mangalore-style chicken curry, originated in its Bunt community. Cooked in coconut milk, tamarind and a host of spices, 'Kori' translated to chicken and 'Gassi' is curry. This chicken curry can go well with crepes or rice.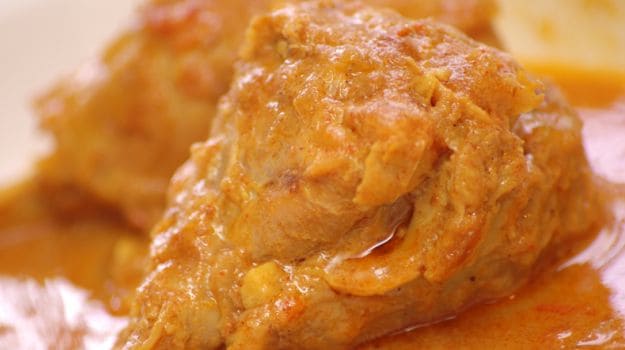 The combination of Kori Gassi with rice or crepes is simply delicious.
This classic Italian dessert is made from gelatine, heavy cream, vanilla pods and coconut milk. Chill and serve with sliced mangoes.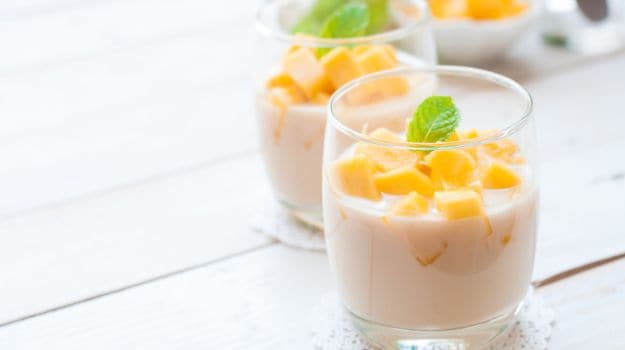 A dessert that is simple irresistible and can be a great option for a dinner party.
Succulent chunks of mutton simmered in delicate southern flavours of coconut milk, curry leaves, cinnamon etc.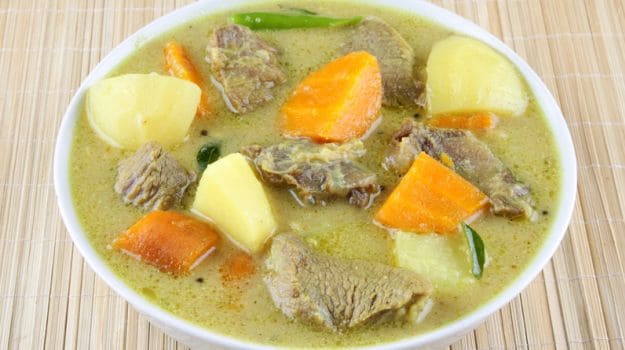 Healthy, delicious and fuss-free stew recipe, perfect for the winter season.
Herb infused and steamed leeks, baby corn and bok choy served with a coconut ginger emulsion. It makes for a simple and healthy lunch.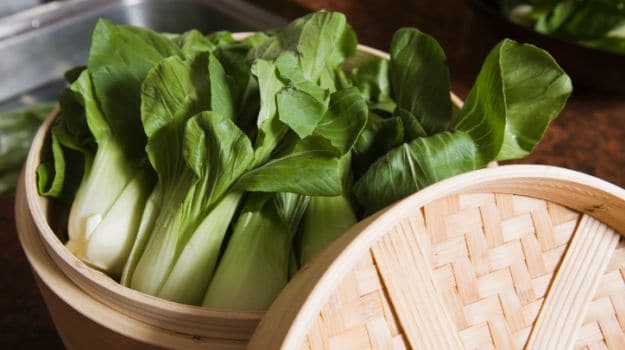 Bok Choy, Baby Corn and Leeks in a Coconut Emulsion
This is a classic Thai curry. Cooked in coconut milk and spices, the real essence of the chicken is brought out by the green curry paste.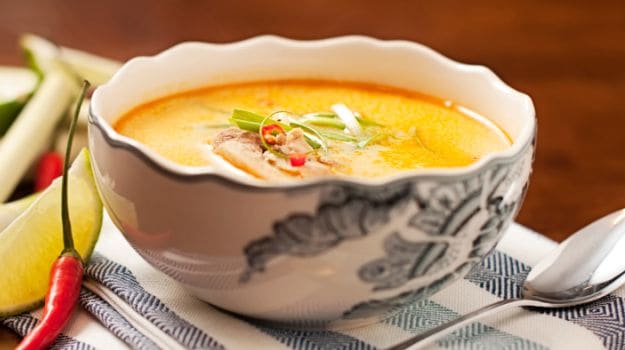 Thai Chicken Curry
A smooth coconut custard with a beautiful looking jamun sauce - it's hard to resist digging into. The jamun sauce has mild flavors of cardamom and rose water.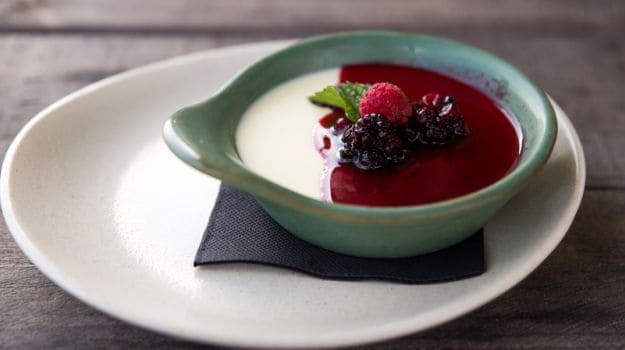 A must try dessert for dinner parties.
Tender chicken pieces cooked in a luscious coconut milk gravy, packed in a melange of different spices.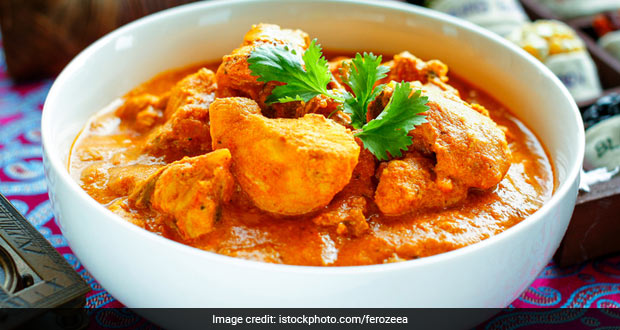 Tender chicken in a coconut milk gravy, adorned with spices.
Porridge is one of the most wholesome options at breakfast that can keep you running for long hours. Have it with Only Earth's coconut milk which makes it even more delicious and nutrient-rich.
A healthy, wholesome pasta recipe with the goodness of coconut milk!


Try these recipes at home and let us know which one you liked the most.