It's colourful and full of health benefits - so don't be bashful with beetroot, try it in delicious dishes from fritters to hummus

My late father, Henry, was something of a leader in food; where he led, I usually followed. He was an adventurous eater and possibly even a greedy one. Many of my favourite memories of him are of food "firsts"; the ones where he introduced me to new things, from smoked salmon to curries, or laksa noodles to a good real ale and other simple pleasures.
But for all those good memories, there was one that scarred me for life. Henry's favourite sandwich was made up of layers of pickled beetroot and piccalilli. He would sit there with a look of such beatific pleasure while stuffing his face with this monstrous sarnie. It made him blissfully happy. It made my stomach churn.

It wasn't just the pickle overload that revolted me. It was the taste of beetroot itself. Even when I had realised that perhaps the British way of pickling beetroot in malt vinegar wasn't that blameless root's finest hour, the unadulterated vegetable didn't do much for me either. It was just too sweet and tasted of mud.

But it wasn't my poor old father's baffled look of wounded disappointment, nor was it beetroot's now widely understood health benefits that made me realise I should do something about my dislike. It was really two things. The colour of beetroot juice, a dark pink-red, is probably my favourite colour in the whole colour spectrum and since colour is as important to how we perceive flavour, it seemed like a good idea to overcome my beetroot aversion. The second reason was more fundamental; I hate to feel as if I am missing out on something.

As with my former dislike of coriander, I decided to take a leaf out of Jeffrey Steingarten's book and teach myself to like the things I used to loathe. Essentially a little bit of what I didn't fancy, on a regular basis. My gateway to liking beetroot was a rather delicious and beautifully pink cake, and I was wooed by the seductive blandishments of Nigel Slater and Hugh Fearnley-Whittingstall. If those guys couldn't deliver a beetroot recipe that I would like, nothing could. They didn't disappoint.

If you are lucky enough to buy your beetroot with leaves and stems intact, then bear in mind that you can cook them. Cook them as you would chard (a relative) or spinach. To keep fresh beetroot in tip-top condition store them in a cool, dark place as you would potatoes. If you trim the beetroot of the stem they will stay fresher for longer - I tend to stick the stems in a jar of water to use later, chopped up in salads. The trimmed beetroot will stay fresh in the fridge for about two weeks.
1. Beef Lindstrom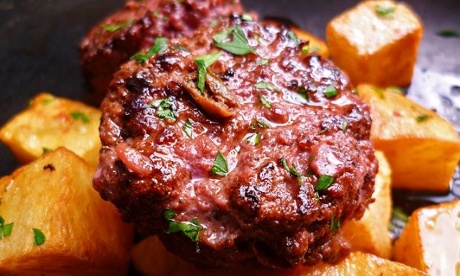 This classic Swedish dish popularised in the 19th century, was a favourite of the eponymous Mr Lindstrom who apparently grew up in Russia. I suspect the clue is in some of the ingredients: beetroot and capers. It makes a really delicious alternative to burgers or meatballs.
Serves 3-4
Ingredients:
500g minced beef
2 anchovy fillets, finely chopped
2 tbsp capers, chopped
1 tbsp tomato ketchup
2 tsp Dijon mustard
salt and freshly ground black pepper
100g raw or pickled beetroot (see instructions below), chopped
butter
1 tbsp white wine vinegar and a pinch of sugar (if using raw beetroot)
Sauteed potatoes, to serve

If using raw beetroot, melt a knob of butter in a small frying pan. Gently fry the beetroot for 5 minutes until beginning to soften. Add the vinegar and simmer until the liquid has evaporated. Set aside to cool.
Combine the beef with the chopped anchovies, capers, ketchup, mustard and seasoning. Add the cooked beetroot (or pickled beetroot, if using). Form into patties.
Heat a large knob of butter in a large frying pan. Gently fry the patties for about 3 to 4 minutes on each side, until lightly browned on each side and cooked through. Serve with sauteed potatoes.
Tip: Top with a poached or fried egg.
2. Smoky beetroot hummus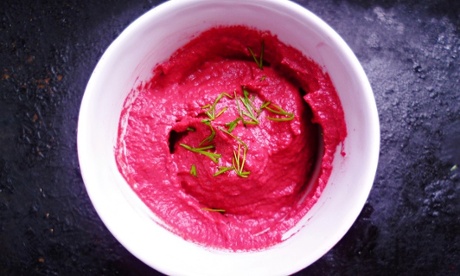 Serves 4
Ingredients:
2 medium-sized beetroot, washed and trimmed (about 200g)
water
half a can of chickpeas, rinsed and drained (about 200g)
juice of 1 lemon
1-2 tbsp tahini
1 garlic clove, chopped
salt, to taste
1 tsp smoked paprika
a pinch of dried chilli flakes
fresh dill, chopped, to serve (optional)
Preheat oven to 200C/Gas Mark 6.
Scrub the beetroot and trim the stems. Individually wrap each beetroot with kitchen foil and add about 1 tablespoon of water. Bake until tender, for about 45 minutes to one hour. When they are tender to the point of a sharp knife pressed into the skin, set aside to cool.
When the beetroot is cool enough to handle, peel and roughly chop. In a food processor, combine the chickpeas, lemon juice, tahini, garlic, salt, smoked paprika and dried chilli. Whizz to form a rough paste. Add the chopped beetroot. Blend again, as smooth or as chunky as you like. Add a splash of water if it is very thick, to loosen. (You could add a little olive oil if you would prefer.) Serve with a sprinkling of fresh dill.
Tip: To make a more fluid dip, add 1 or 2 tablespoons of plain yoghurt.
3. Beetroot fritters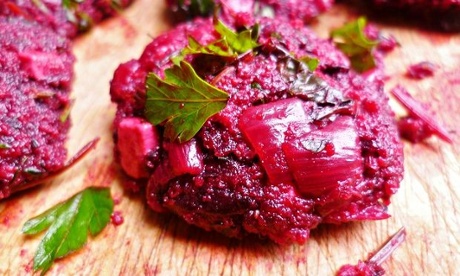 Fritters are a great way of using up raw vegetables and these beetroot fritters are no exception. I have also included the stems and leaves. While the handful of herbs and feta cheese are optional (I just happened to have them to hand), the spices aren't because they really do complement the earthy sweet flavour of beetroot. It may be worth wearing disposable gloves to make this recipe. It can be a little messy and the beetroot juice may stain, although it is not permanent!
Makes about 12 to 14 fritters
Ingredients:
300g beetroot, washed, peeled and roughly grated
salt
1 egg, beaten
a small handful of chopped fresh herbs (optional) - I used a mix of parsley and dill with a little mint
2 tsp ground cumin
half tsp caraway seeds
freshly ground black pepper
40g feta cheese, crumbled (optional)
4 tbsp dried bread crumbs
olive oil
a knob of butter
Roughly grate the peeled beetroot (in a food processor is fine). Tip into a bowl and sprinkle with about 1 tablespoon of salt. Set aside for 1 hour, stirring occasionally.
Drain the beetroot and squeeze out any excess liquid.
In a clean bowl, combine the beetroot with the chopped herbs, cumin, caraway, black pepper, feta and breadcrumbs. Leave for about 10 minutes to allow the breadcrumbs to soak up any excess liquid.
If you are using the beetroot leaves and stems, wash them to remove any grit and blanch for 1 minute. Drain and rinse under cold running water. Squeeze out any excess water and chop finely. Combine with the rest of the beetroot mixture.
Add enough of the beaten egg to form a thick paste. (You may not need all of the egg. If it is too runny then add extra breadcrumbs.) Cover the bowl and refrigerate for 30 minutes to firm up.

Form the mixture into patties. (I find the easiest way is to make a ball and then press down with the heel of my hand.) Heat the oil in a large frying pan. Add the butter and when foaming, add some of the fritters. You will probably need to do this in batches as you don't want to crowd the pan. (It is much easier to turn and flip the fritters if there is a little space in the pan.) Cook for about 3 minutes on each side until crisp and lightly browned. Transfer to kitchen paper to drain. Serve hot.
Tips: For a crisp finish, lightly flour with plain or gram (chickpea) flour. The raw mixture can happily be prepared the day before cooking and will last well in the fridge.
4. Beetroot halwa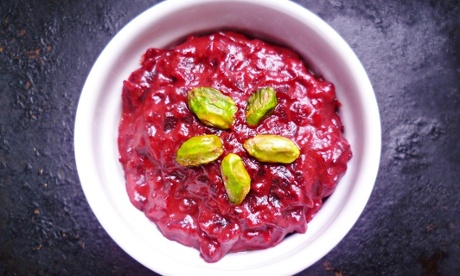 This pudding from the Indian subcontinent was naturally sweet before I added the sugar. but the additional 3tbsp actually gives the final dish a beautiful glossy finish. Ground cardamom gives a lovely hint of citrus too.
Serves 3-4
Ingredients:2 beetroot (about 100g), grated
3 tbsp ghee (or clarified butter)
450ml milk
3 tbsp sugar
half tsp ground cardamon
a splash of orange blossom water (optional)
pistachio nuts, to serve
Rinse the beetroot, then peel and grate. In a heavy-based saucepan, heat the ghee. When melted, add the beetroot. Gently fry over a low heat for 5 minutes, stirring to ensure the mixture doesn't catch and burn. Add the milk. Bring to the boil and then simmer for about 20 minutes, stirring occasionally. The liquid should reduce by about 75% until it thickens and begins to look glossy.
Add the sugar, stir well and continue to simmer over a very low heat, stirring regularly to prevent the mixture from catching. Add the ground cardamom and orange blossom water (if using). Continue to simmer, stirring constantly, until all of the liquid has evaporated and the mixture is thick and glossy. The halwa can be served warm or chilled. Decorate with a few slithers of pistachio.
Tip: This is often served decorated with cashew nuts rather than pistachios, as well as a handful of dried fruit such as sultanas.

Other ideas for using up beetroot
5. Felicity Cloake's perfect borscht recipe; gently spiced with black peppercorns, allspice, bay leaves, and tangy with cider vinegar. Her suggestion of adding crunchy cabbage just added to the pleasure.

6. Eventually, I had to bite the bullet, or in this case, beetroot and pickle the stuff. It really is rather nice!
7. Everyone is talking about Urvashi Roe's beetroot pasta, which looks divine, topped with a carrot top pesto.

8. Beetroot definitely has an affinity for cheese, as this lovely beetroot, pear and goats cheese salad from Frugal Feeding demonstrates.

9. I am rather blown away by Kate Hackworthy's amazing chocolate beet nut butter cups - they look absolutely divine!

10. Kavita Favelle of Kavey Eats home-cures trout with beetroot. Not only is it incredibly pretty, it turns out to be quite easy too. I am definitely giving this a go!

11. You must try Anneli Faiers of Delicieux's seriously good warm beetroot, potato and anchovy salad with black olive tapenade dressing.

12. Having learned to love borscht, I decided to spice things up a bit with this Indian rasam; a delicious beetroot soup with curry spices.

13. Like me, Jeanne Horak-Druiff of Cook Sister wasn't much of a fan of beetroot. Her eureka moment was in roasting and pureeing them as in this gorgeous beetroot risotto.

14. Why wouldn't you want to try something as vibrant as this nutty beetroot, nashi pear and carrot salad?

15. Siobhan McGuinness of Vohn's Vittles makes these wonderful puffed tartlets with beetroot and bramble jam.

16. I really like Claire of Out of the Ordinary's beautiful beetroot and squash tart with cherry tomatoes and pine nuts

17. I love food on a stick, or just as patties; these beetroot and lentil kofta contain middle eastern spices and make perfect party food.

18. Natalie and Valerie Wong, collectively known as Twinny Dip, poach their beetroot in wine for this sublime salad with gorgonzola and hazelnuts.

19. Choclette of The Chocolate Log blog makes these gorgeous savoury beetroot muffins with wild garlic and goats cheese.

20. Ren Behan makes a very pretty beetroot salad with walnuts and feta.

21. Fiona MacLean spices up her fabulous chocolate and beetroot truffles with just a pinch of cumin.

22. Karen Burns Booth of Lavender and Lovage has loads of beautiful recipes on her website, it is very difficult to choose just one. I've plumped for something that just screamed "eat me!" - smoked mackerel with hot beetroot and horseradish cream.

23. Nazima Pathan's bitter chocolate beetroot and hazelnut cupcakes, with brown sugar - grownup and slightly naughty!

24. Jacqueline Meldrum of Tinned Tomatoes uses leftover potatoes as well as beetroot to make this unusual toasted sandwich - utterly delicious.

25. Packed full of antioxidants, how about Helen at Fuss Free Flavours' pretty-in-pink beetroot and berry smoothie?

26. If you have the baking bug, then you should definitely try Dominic Franks of Belleau Kitchen's impressive and elegant chocolate, beetroot and apple bundt cake.

27. Janice Pattie of Farmersgirl Kitchen keeps things simple by baking her roasted beetroot with honey and thyme.

28. If you'd like a bit of a retro vibe, Galina Varese of Chez Maxinka makes vinegret, a classic cold Russian salad, with beetroot, carrots, apple and sauerkraut.

As I am now learning, beetroot seems to have an affinity for all sort of things, from cheese to nuts, or with fruit such as apples. It's a winner with spices too. How would you cook beetroot?
Interested in finding out more about how you can live better? Take a look at this month's Live Better challenge here.
The Live Better Challenge is funded by Unilever; its focus is sustainable living. All content is editorially independent except for pieces labelled advertisement feature. Find out more here.

Beetroot fritters with beetroot hummus. Photograph: Rachel Kelly