It should effortlessly melt in your mouth, be tender and soft from within and should retain all the delicious flavor - that's a perfect steak for your. To attain this perfection, you need to use the right marinade. Every different steak including chicken, mutton, fish or
cottage cheese
requires different marinades which results in distinct flavours and make for the
perfect grill for the season.
According to Celebrity Chef Sadaf Hussain, contestant on MasterChef 2017, "Making a perfect marinade requires precision. A good marinade has acid which helps tenderise the meat, oil which prevents the food from sticking on the pan or grill and seasoning to help enhance the flavour of the dish. So, basically use 1 part acid + 3 part oil + seasoning of your choice.""A basic marinade for any steak recipe requires acid that includes yogurt, raw papaya, vinegar, buttermilk, lemon or any other citrus fruit. Blend it with basil oil, olive oil, mayonnaise and top it with your favourite seasoning," he adds.
Basic tips to marinade steaks
Marinate prawns and other shellfish for 10-15 minutes, where as other seafood items should be marinated for 15-20 minutes. If you marinate for a longer period, fish can become mushy.
Chicken can be consumed after 3-12 hours of marination, but lamb and other red meats taste well if marinated for more than 3 hours but not more than 24 hours.
You should marinate vegetables for 30 minutes; it gives them a nice and rustic flavour.
Don't use too much salt in a marinade, it pulls out all the moisture and makes the meat dry.
Here are some steak marinade recipes suggested by Chef Sadaf that you must try at home:
1. Marinade for Chicken Steak
To prepare a marinade for chicken steak, you would need, 2 large cloves garlic, 1 tablespoon chopped fresh ginger root, 1 teaspoon ground roasted cumin seeds, 1/2 teaspoon ground cardamom, 1 tablespoon paprika, 1/3 cup plain yogurt, lemon juice from two lemons and some ghee. Blend all ingredients and make a smooth paste. Take a big bowl, add the chicken and pour all the paste on it. Rub the paste nicely on each piece and leave it for about 3-4 hours. Your steak will be juicy and flavourful.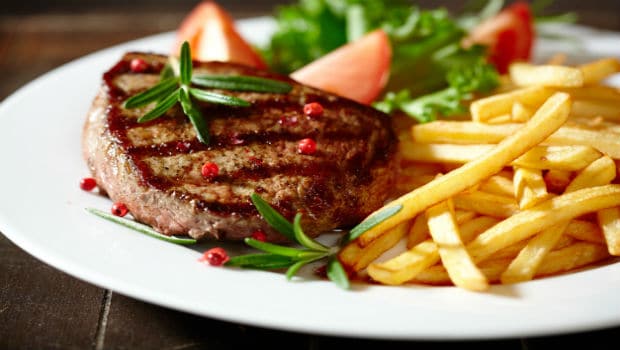 Chicken steak with tomatoes and fries
2. Marinade for Fish Steak
If you wish to grill one whole pomfret fish, make a marinade with 1 tablespoon yoghurt (low fat), 1 tablespoon mustard paste, 1/2 tablespoon red chilli powder, 1/4 tablespoon turmeric, 1/2 tablespoon salt, 1/2 tablespoon mustard oil and 3-4 tablespoons of lemon juice. Mix all the ingredients well and make a smooth paste. Take the fish and cut slits into it and add the paste. Now cover the outer layer of the fish with the paste and leave it for not more than 15-20 minutes and then grill to perfection.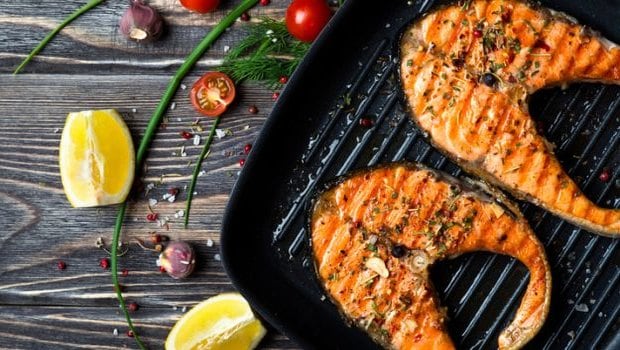 Take the fish and cut slits into it and add the paste
3. Marinade for Classic Lamb Steak
To make a marinade for lamb steak with 4 lamb chops, use 3 tablespoons oil, lemon juice, 3 large cloves garlic minced, 2 teaspoons of finely grated fresh ginger, 1 teaspoon salt, 3/4 teaspoon cumin, 1/2 teaspoon coriander, 1/2 teaspoon turmeric and 1/8 teaspoon black pepper. Combine all the ingredients together with the lamb chops and mix well. Ensure that every piece has been coated well. Let it sit for about 5-6 hours before grilling.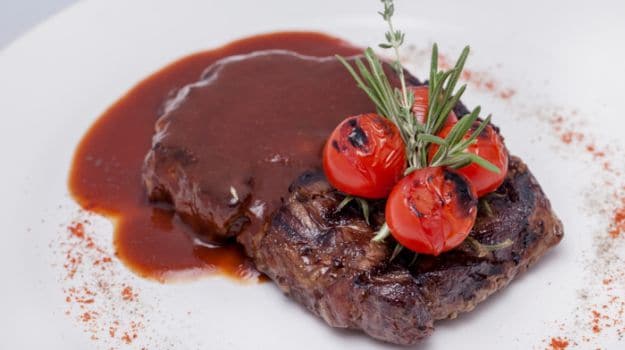 Classic lamb steak
4. Cottage Cheese Steak
Use 400 grams of firm cottage cheese (paneer). For the marinade, mix 1 onion, 1 capsicum, 1 large tomato, half cup hung curd, 1 teaspoon Kashmiri Mirch (chili) powder, 2 pinch of turmeric powder, 2 tablespoon ginger-garlic paste,half teaspoon caraway seed (shajeera), 1 teaspoon cumin seed (jeera), 1 & half tsp coriander seed (dhania), 2 green cardamoms (elaichi), 2-3 cloves (laung), 7-8 black peppercorns, 1 tablespoon lemon juice and salt to taste. Dry roast all the masalas and blend them into a powder form. Mix all the ingredients in a huge bowl and coat the paneer chunks properly. Keep it for about 20-30 minutes and then grill.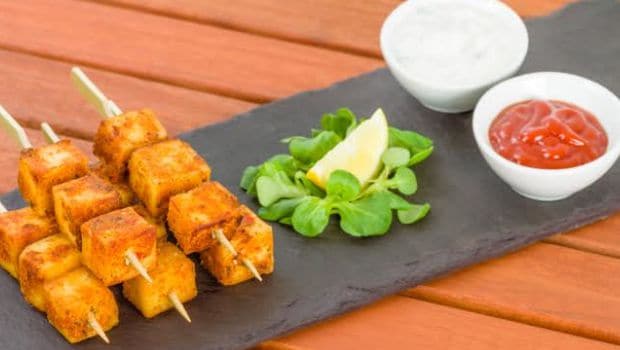 Cottage cheese steaks
Enjoy preparing some delicious and flavoursome steaks with these easy marinade recipes.