There's hardly anyone who doesn't like to indulge in decadent curries. What's a better way to have them over a weekend?! Weekends call for special treats; nothing compares to the joy of indulging into a delicious, fiery and wholesome dinner while enjoying your days off. After all, getting through the entire hectic work week wasn't easy. We did it successfully and hence, we all deserve a reward. Don't you agree? Having said that, here we bring you 5 Amritsari curry recipes that are just perfect to have for a wholesome weekend dinner. From Amritsari chicken masala to murgh makhani, magaz masala and more, each and every recipe in this list deserves a round of applause. Take a look below to learn the recipes.


Also Read: 7 Delicious Amritsari Recipes That You Must Try
Here're 5 Amritsari Curries You Must Try This Weekend:
1. Amritsari Chicken Masala - Our Recommendation
We are starting the list with the recipe we like the most. If you are craving for a lip-smacking chicken curry without investing a lot of time in the preparation, this recipe is a must try! In this recipe, chicken pieces are tossed in a flavourful gravy and topped with a dollop of butter. Click here for the detailed recipe.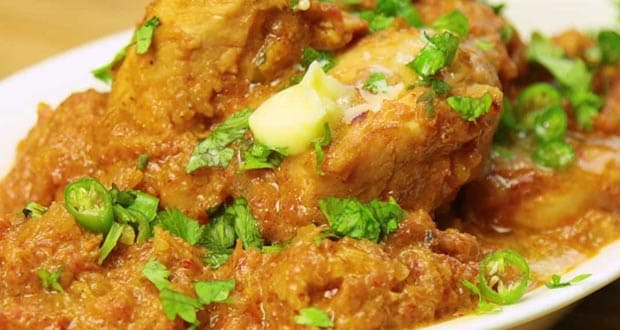 2. Amritsari Murgh Makhani
Butter chicken lovers, raise your hands! Here we bring you a recipe that is sure to make your weekend dinner memorable. Murgh Makhani is a very popular Amritsari recipe that can be found on many restaurant menus. It is easy to make and is also loved by all. Click here.
3. Amritsari Magaz Masala
As the name suggests, this recipe consists of mutton's brain that is tossed in a host of spices and cooked to perfection. This mutton curry is the perfect dish to prepare and relish during special occasions and can be best paired with naan or chapati. Find the recipe here.
4. Amritsari Paneer Bhurji
A vegetarian's delight! This paneer bhurji recipe is not only high in taste but also high in nutrition. In this recipe, mashed paneer is tossed in tomato-onion gravy full of rich and flavourful spices. Topped with butter, fresh coriander and served hot with your favourite bread alongside. Click here for the recipe.
5. Amritsari Chhole
Another recipe that every vegetarian swears by. Amritsari Chhole is a delicious recipe that can easily be made at home with a few interesting ingredients and some basic steps. This simple and quick recipe will leave you wanting for more. Find the complete recipe here.
So, what are you waiting for? It's time for you all to cook a storm in the kitchen. Try out these recipes this weekend and let us know how you liked them in the comments below. For more such interesting stories, keep coming to our website!