Story Progress
Back to home
Amritsari Chicken Masala Recipe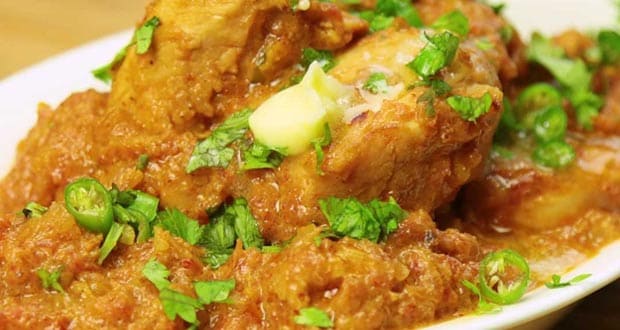 How To Make Amritsari Chicken Masala
NDTV Food
About Amritsari Chicken Masala Recipe | Chicken Masala Recipe: Amritsari Chicken Masala is an authentic North Indian dish,simply made in the unique amritsari rich and creamy gravy and flavored with fresh cream, butter and fresh tomatoes. Also known as chicken makhani or murgh, this dish is a very well-known recipe in the Indian restaurants. The unique colour of the gravy comes from the tomato puree. The delicious dish can be made easily at home as it does not require too many ingredients or Indian spices.

Ingredients of Amritsari Chicken Masala
For Marination:
500 gms chicken
2 tsp ginger garlic Paste
3 tsp curd
1 tsp lemon Juice
1 tsp vinegar
1 tsp coriander powder
1 tsp cumin powder
1 tsp red chilli powder
1 tsp salt
2 tsp onion, chopped
For Gravy:
2 tsp butter
1 tsp red chilli powder
1 tsp coriander powder
1 tsp cumin powder, chopped
1 tsp ginger
1/2 cup water
1 tsp salt
1 Green chilli
6 Tomatoes
1/2 tsp sugar
3 tsp butter
3 tsp cream
For marination:
1.
Take chicken in big bowl. 2.
Add ginger-garlic paste, curd, lemon juice, vinegar, coriander powder, cumin powder, red chilli powder, salt and chopped onion to the chicken. 3.
Mix all the ingredients thoroughly. 4.
Keep aside for marination for 2 hours.
For gravy:
1.
Take butter in a hot pan, add red chilli powder to it. 2.
Saute them in a pan. 3.
Add coriander powder, cumin powder and chopped ginger to it. 4.
Saute them well. 5.
Add water to the pan and mix well. 6.
Add salt, green chilli, tomato and sugar. Mix well. 7.
Take butter in another hot pan and spread it all along the sides of the pan. 8.
Add the marinated chicken into the pan. 9.
Saute the chicken with the butter. 10.
Cover the pan to let the chicken cook. 11.
Remove the lid and check if the chicken has turned golden brown and the butter has subsided. 12.
Add the cooked tomato gravy to the chicken and mix well. 13.
Cover the pan again and let it cook for a while. 14.
Now remove the lid and add cream to the gravy. 15.
Mix them well. 16.
Serve hot, topped with butter, coriander leaves and green chillies. Recipe Notes
While you savour upon this delicious Amritsari version of Chicken curry, also see our selection of best India chicken curries that you can try next time.
Watch the step by step recipe of Amritsari Chicken Masala: