With the rise in the consumption of quick-to-make processed foods that are easily available in market, people are forgetting the importance of a healthy breakfast. Most of us are opting for foods that can be prepared in few minutes during rushed mornings. A healthy breakfast is important, especially because it is supposed to keep you energised till lunch time. A good breakfast also boosts your metabolism and keeps your blood sugar levels stable. For the weight-conscious lot, the biggest benefit of a healthy breakfast is that it will help you remain full for a longer period of time, leading to less untimely cravings and bingeing on unhealthy snacks. Sprouts are tiny balls of nutrition that can help increase the nutritional value of your morning meal. Sprouting is process of germination of seeds and legumes, wherein they are soaked in water till they sprout and eventually eaten raw. There are a number of grains which can be used for sprouting. But the most common ones include pulses such as soybean, peas, moong dal, chickpeas, oilseeds etc.
Munch on sprouts to enjoy its healthful benefits!

Here are some benefits of eating sprouts -

1) Aids In Digestion
Sprouts are known to help in digestion. Sprouts contain a high amount of living enzymes inside them which help in breaking down the food to such an extent that it becomes easier for the digestive tract to absorb nutrients. They are also rich in fibre. High fibre foods help the stool bulk up and that makes it easier to pass out of the body.
2) Improves Blood Circulation
Sprouts help in boosting blood circulation. They contain a significant amount of iron and copper, which helps in maintaining a good amount of red blood cell count. This further helps in optimising the performance of cells and organs in our bodies. A healthy blood supply will also stimulate hair growth.
3) Helps Lose Weight
If you are worried about consuming too many calories, then sprouts are the best option for you. They have negligible amount of calories. Sprouts are also rich in fibre which will make you feel full for a longer period of time. They are also known to inhibit the release of the hunger hormone known as ghrelin.
4) Boosts Eyesight
Sprouts are rich in vitamin A, which improves the eyesight. The antioxidants that are present in sprouts are known to protect the cells of eyes from the free radicals.
5) Regulates Cholesterol Level
Omega-3 fatty acids are present in abundance in the sprouts. These acids are known to increase the good cholesterol.
Here are some fun ways in which you can include sprouts in your breakfast-
1) Sprout filling for omelette/sandwich/dosa
Make an omelette and then fill it with lentil sprouts. Try not to cook the sprouts as they stay the most nutritious when not cooked. You can also toss in tomatoes, cheese and pepper to the sprout filling and add it to your sandwich. If you relish dosas then you can make the dosa filling of sprouts and you may end up liking it more than your regular masala dosa.
An omelette garnished with sprouts will make a fulfilling a breakfast.
2) Add sprouts to your oats

If you have a cup of oats every morning then you can make it even more nutritious by adding sprouts to it. Throw in some fruits to make it sweet. Now you have a crunchy sweet oatmeal that will fill you up and also nourish you.
Boring and bland oats can be made interesting by adding sprouts to them
3) Sprouts sabzi
All those of you who like to have parantha and sabzi in the morning; you can make the regular mix vegetable sabzi and add sprouts to it. Adding sprouts in the end would be more beneficial as it may lose some of its nutrients if it's cooked for too long. This way, you can add it to any suitable sabzi. You can amp up the taste by adding suitable herbs and spices to it.


(Also Read : How To Make The Yummy Handi Corn Sabzi At Home)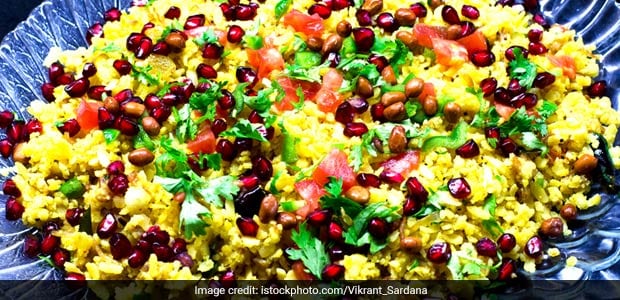 The combination of veggies and sprouts is a tasty and a healthful one.
4) Sprout salads/chaat
Some people have salads in breakfast. If you are one of them, then you must really toss in some sprouts in your salad. It won't just make it crunchier but also more nutritious. Add a dressing to it and you are ready to have a bite of a very nutritious and tasty breakfast.


( Also Read: Here is how you can try making Mixed Sprouts Corn Chaat At Home)
Make your salads interesting by adding crunchy sprouts in them.
5) Add sprouts to your yogurt
It could be buttermilk, regular curd or Greek yogurt. Just toss in some sprouts and you have a crunchy yogurt in place of a plain one. Add some chat masala or pepper to level up the taste.
The protein-rich yogurt and sprouts will leave you feeling satisfied.
Try these different breakfast recipes which are filled with the healthful benefits of sprouts and witness your health transform.