Moong dal is a very common lentil found in many Indian homes. It is highly nutritious and is a very good source of plant protein that vegetarians swear by. Yellow dal and chawal is on the list of comfort foods for many Indians even now. The dal is now gaining international fame, with many westerners warming up to the moong bean and using whole moong or green gram in salads, in the both sprouted and dry forms. Moreover, as an increasing number of people around the world convert to vegans and vegetarians, lentil burgers are also gaining traction. But did you know that your beloved moong dal may also be used to beautify your skin, especially your face? Yes, that's true. Read on to know how.
Moong dal face packs are used as home remedies for dull, dry skin, sun tan, acne and also as an easy hair removal technique. Dal face packs are easy-to-make, cost effective and save you a lot of time by eliminating the need for you to make recurring trips to the parlour. Moong dal is a very potent beauty ingredient, as it contains vitamins A and C, which can ensure a natural glow for the face and it can also condition your hair and reduce breakage. Moong dal can be used in both its avatars- the green and the yellow one. Green moong is the whole moong, while the yellow one is obtained by removing its outer covering.Also Read: Moong Dal For Weight Loss: Here's How India's Favourite Dal Can Help You Burn Fat
Here's how to use moong dal in face and hair packs:
1. Moong Dal Face Pack For Dry Skin: If you have dry, flaky skin, you may use this face pack to make it soft and supple. All you have to do is soak a little green gram in some raw milk overnight. The next morning, grind the soaked dal to form a paste and apply it on your face for 15 minutes. Rinse it off and dab your face with a soft towel. This face pack is very gentle, but if you have a sensitive skin, you may want to consult your dermatologist before using anything on your face.
2. Moong Dal Face Pack For Acne:Moong dal has cleansing properties and doesn't let the pores in your skin get clogged up by dirt and oil. If you have a frequent acne or pimple breakout problem, you may want to use this face pack. All you need to do is soak some moong dal in water overnight and grind to form a fine paste. Add some melted ghee to the paste and gently massage your face with it, using your fingertips. Use the face pack two or three times a week for better results.
Also Read: 6 Interesting Ways to Cook With India's Favourite Staple- Moong ki Dal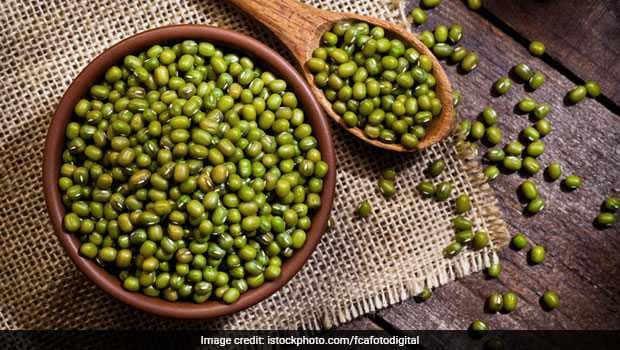 3. Moong Dal Face Pack For Removal Of Facial Hair: Chemical bleaches may prove to be harmful for your face and threading is a painful procedure. If you have fine hairs on your face that you want to remove, this face pack is the perfect remedy. All you need to do for this face pack is soak some green gram in water overnight and grind it in the morning. Add a bit of sandalwood powder or chandan powder to it, along with orange peel powder. You can add a little milk as well to make a paste-like consistency. Massage your face with the paste every once in a while. After two or three applications, you might see a reduction in facial hairs.
4. Moong Dal Face Pack For Sun Tan Removal: Sun tan is very common during summers. To remedy the effects of harmful UV rays on your skin, apply this face pack. Soak the dal overnight and then grind to form a paste. Add some chilled curd or aloe vera gel to the paste and apply it on the affected area for a few minutes. Wash it off gently and dab with a clean towel. Repeat the process as and when needed to get rid of tanned skin.Also Read: Moong Dal Pakodi: The Bite-Sized Snack Is A Street-Side Sensation
5. Moong Dal Hair Pack For Hair Growth: To boost hair growth, grind some pressure cooked moong dal to a paste and add one egg yolk, some lemon juice and yogurt or curd to it. Mix the ingredients well and apply it on the scalp and hair. Use a mild shampoo to wash off the pack.
6. Moong Dal Pack For Shiny Hair: To restore shine to dull hair, combine moong dal powder, rose water and apple cider vinegar to form a paste and apply it on your hair and scalp. Leave it on for at least half an hour and wash it off with a gentle shampoo.
So now you know! Grab that jar of moong lentils today and start preparing these face and hair packs, to give yourself a beauty boost.